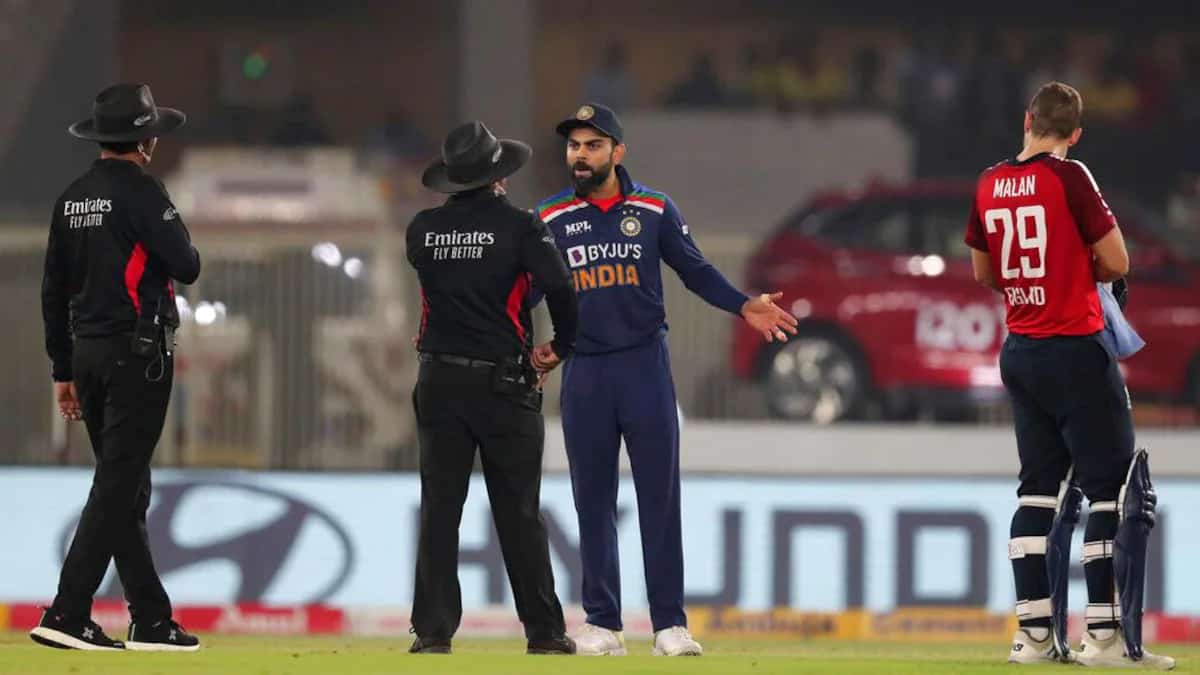 Virat Kohli Talking To Umpire | Source: Twitter
Team India on Saturday registered a terrific 36-run win over England in Ahmedabad to clinch the 5-match series 3-2. The Indian skipper, Virat Kohli played an unbeaten knock of 80 runs to help the hosts post a massive total of 224 for 2 in 20 overs. In reply, the visitors failed to chase the target and were restricted to 188 for 8.
One of the match's highlights was perhaps Kohli's spat with opposition batsman Jos Buttler when the latter got out. The incident took place when Buttler was dismissed by Bhuvneshwar Kumar in 14th over.
The 30-year-old was on his long way back to the pavilion when Kohli followed him. Buttler kept on walking towards the dugout before taking few steps back to confront the India star, who scored 80 not out runs in the match.
England skipper Eoin Morgan, however, downplayed the entire incident and said that it's not an uncommon happening for two people to engage in an on-field conflict.
"I don't know actually (what exactly happened). Obviously, Virat is very animated when he plays, a big character in the game, that's just who he is; he rides the emotions of the game. Sometimes in tight games, people can have conflicts, that's not uncommon. I think that was the instance," said Eoin Morgan.
Eoin Morgan Hails Ben Stokes's Role in England T20I Team
Morgan further talked about Ben Stokes, who did not have the best of series with the bat and the ball. The left-hander, batting mostly at no. 6, contributed a dismal 84 runs with the bat from three innings and picked up three wickets with the ball in the five-match series.
Speaking about Ben Stokes' role in England's T20I team, Eoin Morgan said that the all-rounder has done an 'exceptional job' in fulfilling the challenging responsibilities assigned to him.
"The role Ben has played for us in the middle order, when he has had opportunities to play, he has done a really exceptional job. It is actually a really difficult role to fulfil. It's something he has taken on board and embraced. In the last game, he played really really well. We would have liked him to kick on, but it didn't necessarily happen, but his contributions when given the opportunity have been really well," said Eoin Morgan.
England and India will lock horns with each other in a three-match ODI series in Pune on Tuesday.