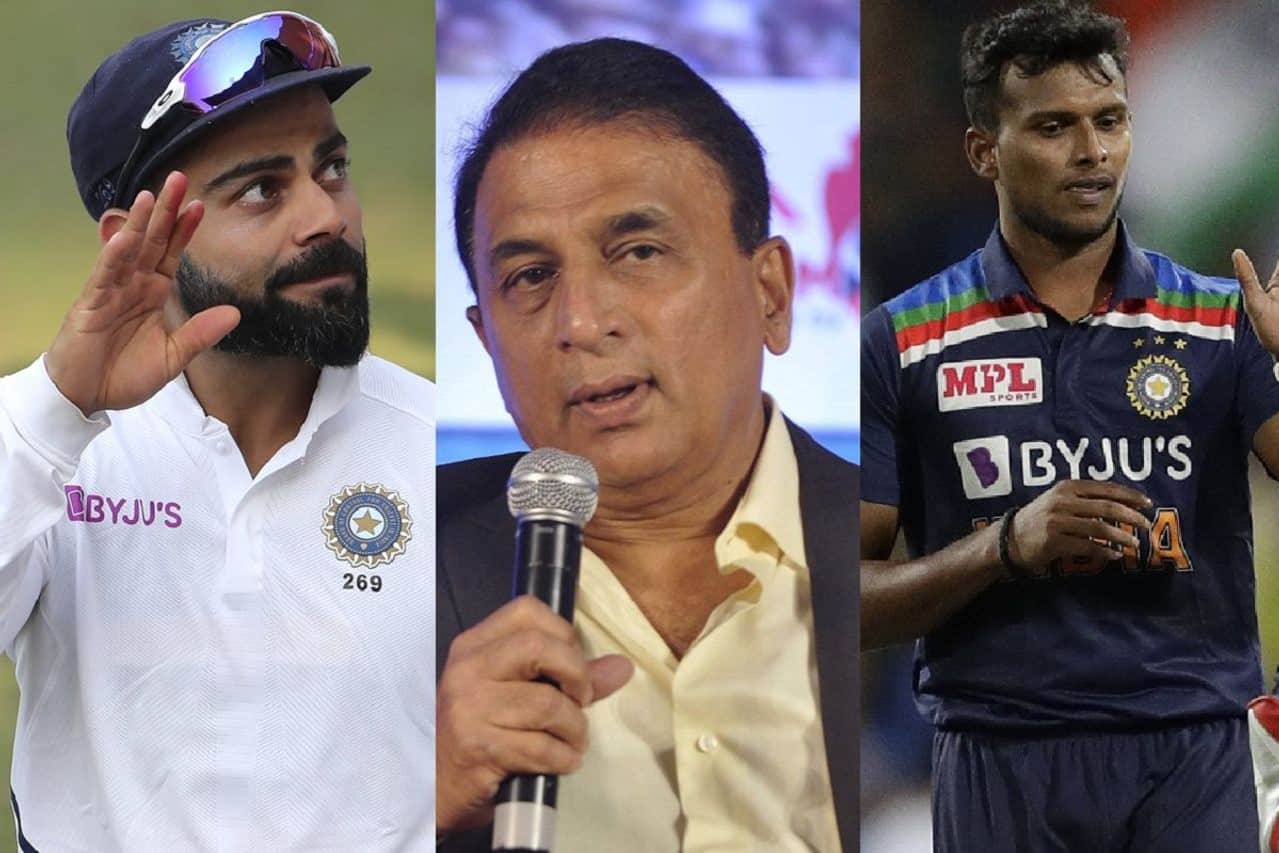 Virat Kohli, Sunil Gavaskar & T Natarajan | Source: Twitter
Former Indian captain and legend Sunil Gavaskar slammed the Indian team management for having different rules for different players, taking the example of T Natarajan, who made his ODI and T20I debut for India in the series played against Australia earlier this month and Indian skipper Virat Kohli.
T Natarajan, the new Yorker King of India, came directly to Australia from the UAE after the conclusion of the 14th edition of the Indian Premier League, where he played for SunRisers Hyderabad. He was picked in the India T20I Squad as the replacement for injured Varun Chakravarthy.
T Natarajan missed the birth of his first child last month as he was plying his trade for the Hyderabad based franchise in the Indian Premier League 2020 and was then asked to directly fly to Australia for the T20 Internationals.
Not just this, the team management of team India then asked Natarajan to remain in Australia as a net bowler for the Test team which means he will get to return home and see his daughter for the first time only after the conclusion of the Border Gavaskar Trophy series, which is ending on January 19.
India skipper Virat Kohli, on the other hand, has already headed back to India on December 22 to be with his wife Anushka Sharma who is going to give birth to their first child in January. Kohli was granted paternity leave to stay with his wife and witness the birth of his first child.
Gavaskar raised this point in his latest column for Sportstar.
"(T Natarajan) had become a father for the first time even as the IPL playoffs were going on. He was asked to stay on for the (Australia) Test series but not as a part of the team but as a net bowler. Imagine that. A match-winner, albeit in another format, being asked to be a net bowler.
"He will thus return home only after the series ends in the third week of January and get to see his daughter for the first time then. And there is the captain (Virat Kohli) going back after the first Test for the birth of his first child," Gavaskar wrote.
Notably, Ajinkya Rahane will lead the team India in Kohli's absence in the remaining three Tests. The second Test is scheduled in Melbourne from December 26. The remaining two Tests will be played in Sydney and Brisbane.