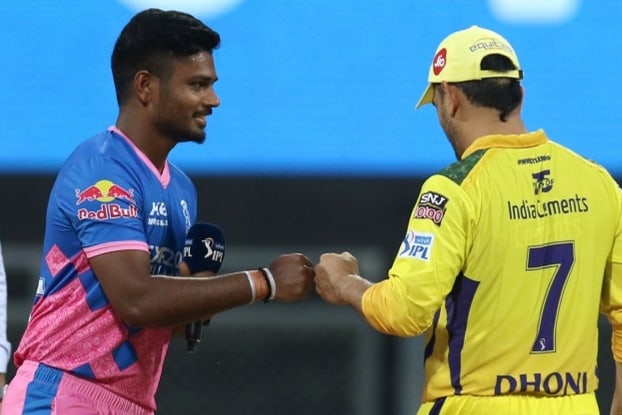 Sanju Samson and MS Dhoni | Source: Twitter
The scheduled Indian Premier League game between Chennai Super Kings (CSK) and Rajasthan Royals (RR) has been postponed after a couple of cricketers and several non-playing members who are part of the season were reported to have tested positive for the coronavirus.
As per reports, the entire CSK squad has been put in hard quarantine thus eliminating the possibility of a contest. The step was taken after CSK bowling coach Laxmipathy Balaji was tested positive and was in contact with the players.
Also, except bowling coach L Balaji and the bus cleaner everyone else tested negative on Tuesday which means CSK CEO Kasi Viswanathan is now Covid-19 negative.
We Can't Play Against Rajasthan Royals: CSK Official
Now, a CSK official told the newspaper The Indian Express that everybody who had come in contact with the coach will have to go under six-day quarantine.
At the same time, he also said that Chennai will not able to play their match against Rajasthan Royals and has asked BCCI to reschedule the game. Notably, Chennai's bowling coach Balaji was sitting with the players in the dugout during their previous match against Mumbai Indians on May 1.
"The coach is asymptomatic. However, as per the BCCI's Covid protocols, everybody who has come in contact with him will have to undergo a six-day quarantine. We can't play our next game (against Rajasthan Royals). The BCCI knows about the testing protocols and how many tests need to become negative before an all-clear is given. We have communicated it to the BCCI. They will have to reschedule the game between CSK and Rajasthan Royals," the CSK official said.
Meanwhile, BCCI is reportedly planning to shift the remainder of the Indian Premier League (IPL) 2021 to Mumbai as the Covid-19 crisis deepens over the league. The move is being contemplated after the emergence of COVID-19 positive cases within IPL bio-bubbles in Ahmedabad and Delhi.
Mumbai can host IPL 2021 matches in three stadiums – Wankhede, DY Patil and Brabourne. While the Wankhede Stadium hosted ten matches during the first half of IPL 2021, the other two venues were used for training purposes.
If the Chennai Super Kings vs Rajasthan Royals match gets postponed, it will be the 2nd match of IPL 2021 to be affected by Covid-19. IPL 2021 game between Royal Challengers Bangalore and Kolkata Knight Riders on Monday was also rescheduled after two KKR players were tested positive for Covid-19.
Also, since Delhi Capitals played their last match against Kolkata Knight Riders, they have also been asked by BCCI to go under 7-day quarantine.