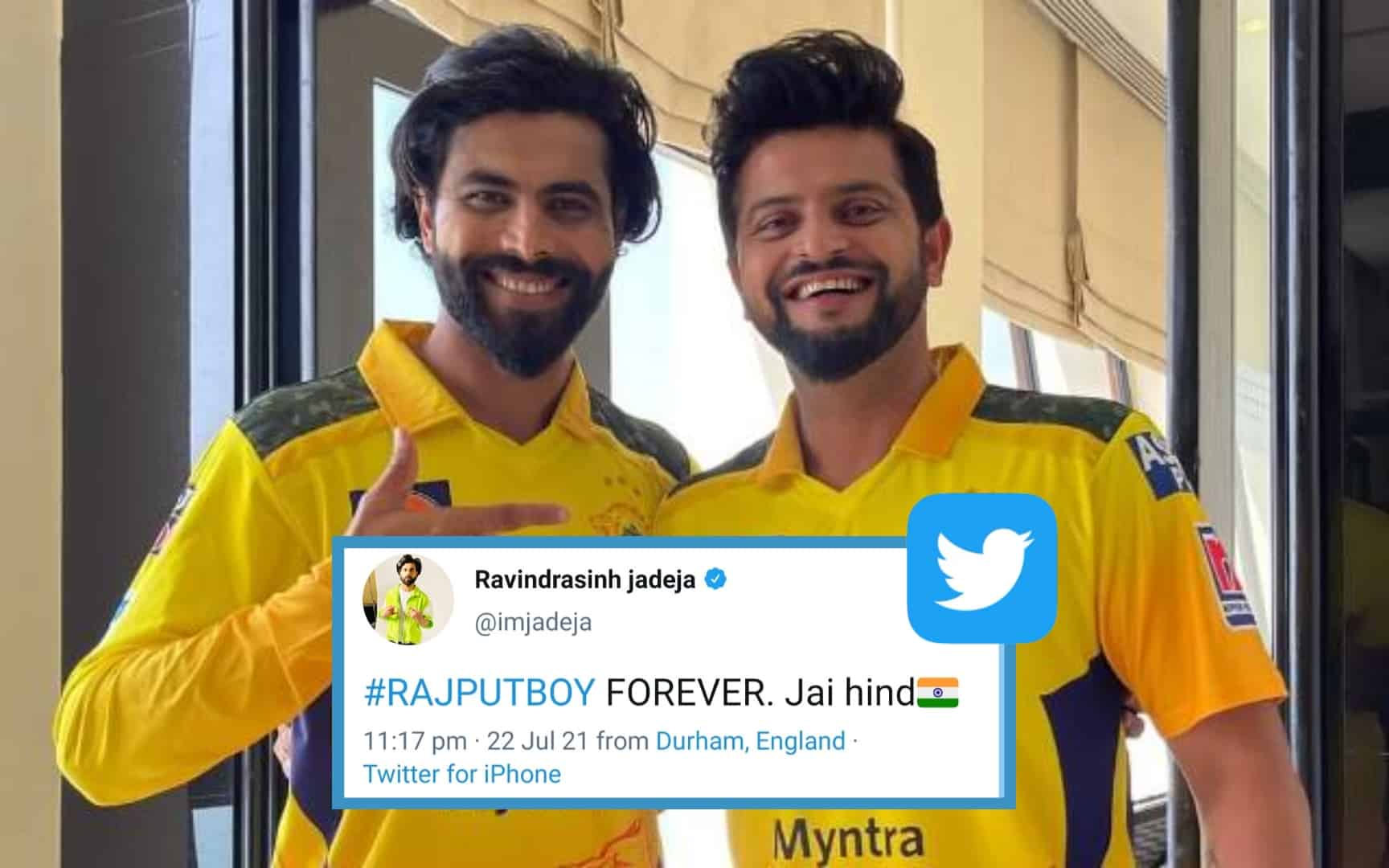 Ravindra Jadeja and Suresh Raina | Source: Twitter
The star cricketer of the Chennai Super Kings, Suresh Raina has been caught in a controversy on Monday when he equated 'Chennai culture' with his Brahmin identity.
Raina, who hails from Uttar Pradesh, said:
"I think, I am also Brahmin. I have been playing since 2004 in Chennai, I love the culture… I love my teammates. I have played with Anirudha Srikanth, Badri (Subramaniam Badrinath), Bala Bhai (L Balaji)… I think you need to learn something good from there. We have a good administration, we have the license to explore ourselves. I love the culture there, and I'm lucky to be part of CSK. Hopefully, we will play more matches there."
However, he was subsequently attacked on Twitter where he was accused of being 'casteist'. Also, there were fans who came in support of their star player and started trending "I am Brahmin too" on the Microblogging website.
"Rajput Boy Forever," Tweets Ravindra Jadeja
Ravindra Jadeja, who plays for the same franchise in the IPL and is a very good friend of Suresh Raina comes in support of his CSK compatriot. While he didn't directly lash out at the deep agenda against Raina, Jadeja's, "RAJPUT BOY FOREVER" post on Thursday night shows his awareness towards the matter.
Last year, Jadeja too had to face a similar situation after he had posted a tweet of him being a Rajput. He had invited controversy with his sword swishing act video he posted on his official Twitter handle with the Bahubali song playing in the background.
On 12 April 2020, he posted the video and its caption has left many unamused.
"A "SWORD" MAY LOOSE IT'S SHINE,BUT WOULD NEVER DISOBEY IT'S MASTER #rajputboy," the caption of the tweet read.
The 'Rajput boy' part in the caption has created a furore on social media as many felt that it is offensive. According to them, Jadeja has hurt their sentiments highlighting his caste.
Coming back to Raina, the Uttar Pradesh-born hasn't been only criticized on Twitter but got a backing as well who felt that the player is being targeted wrongly.
Being a well-known personality is not an easy task in a country like India where your every move is being monitored. In the current era, where social media use is at its peak, anything can be blown out of proportion, and then what you have done for the country thus far, doesn't even matter.