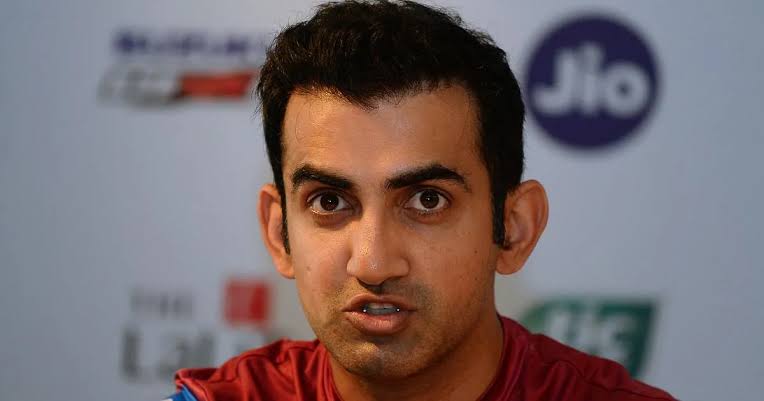 Gautam Gambhir | Source: Twitter
Former India opener Gautam Gambhir has slammed Virat Kohli for dropping Suryakumar Yadav from the Playing XI for the third T20I against England. The likes of Suryakumar Yadav and Ishan Kishan were handed their debut call-ups for the national team in the shortest format for the England T20Is as the team management looked to strengthen the bench strength for the forthcoming T20 World Cup
But unlike Kishan, Suryakumar did not get the chance to impress with the bat on his debut. This has raised a few eyebrows with former India opener Gautam Gambhir coming down heavily on skipper Virat Kohli for the harsh decision.
Gambhir, speaking to ESPNCricinfo, expressed his astonishment at captain Kohli's decision to bench Suryakumar in the third T20I, stating that the Mumbai Indians star, who was in terrific form for the franchise in their victorious campaign in IPL 2020, should have got a consistent run at least for a few matches in the series before being dropped from playing XI.
"It amazes me, seven months before the World Cup he starts preparing for World Cup and probably after the World Cup he will start preparing for the next World Cup. It really doesn't matter, the kind of form you are in matters. Imagine if there is an injury issue, what have you seen of Suryakumar Yadav, what have you seen of Suryakumar Yadav in international cricket. I hope nobody gets injured but if there is an injury case and somebody needs to bat at number 4 and number 5. For example, there has to be a replacement for Shreyas Iyer, who are you gonna go for," said Gautam Gambhir.
Suryakumar was one of the most prolific scorers of IPL 2020 with an aggregate of 480 runs in 15 innings at a strike rate of 145.01. His exploits included four fifties. Along with the runs he scored at crucial moments for his team it was also the rate at which he scored them which stood out throughout the season.
"So at least look at someone whom you have got into the setup. Probably give him that 'opportunity in three or four games and see where he stands. If he delivers, you have got a backup for someone already batting at number four. If you get someone play him in that series and see what he is giving in the future. We keep talking about preparations but this is just no preparation for the World Cup. It's just about looking at the same players what you have seen for so many years," Gambhir added.
No One Even Talks About Manish Pandey Now: Gautam Gambhir
The cricketer-turned-politician further claimed that he would be hurt if he would be Suryakumar Yadav as he is not even young to hope for more chances going forward. Gambhir also took the example of Sanju Samson and Manish Pandey – both of whom have been ignored by the selectors. He predicts that Suryakumar might also undergo the same fate if he gets chances and fails.
"It would hurt me if I was Suryakumar Yadav, if I was in his position, what I am not 21-22, I know I am 30. We know what happens in Indian cricket, once you turn 30, the insecurity starts creeping in. Look at what has happened to Manish Pandey, no one even talks about him, Look at Sanju Samson, no one probably ask the question where is Sanju Samson. You will ask Suryakumar Yadav, you will give him couple of games and suddenly if he doesn't perform you will say 'oh we are looking at another youngster," the 39-year old added.