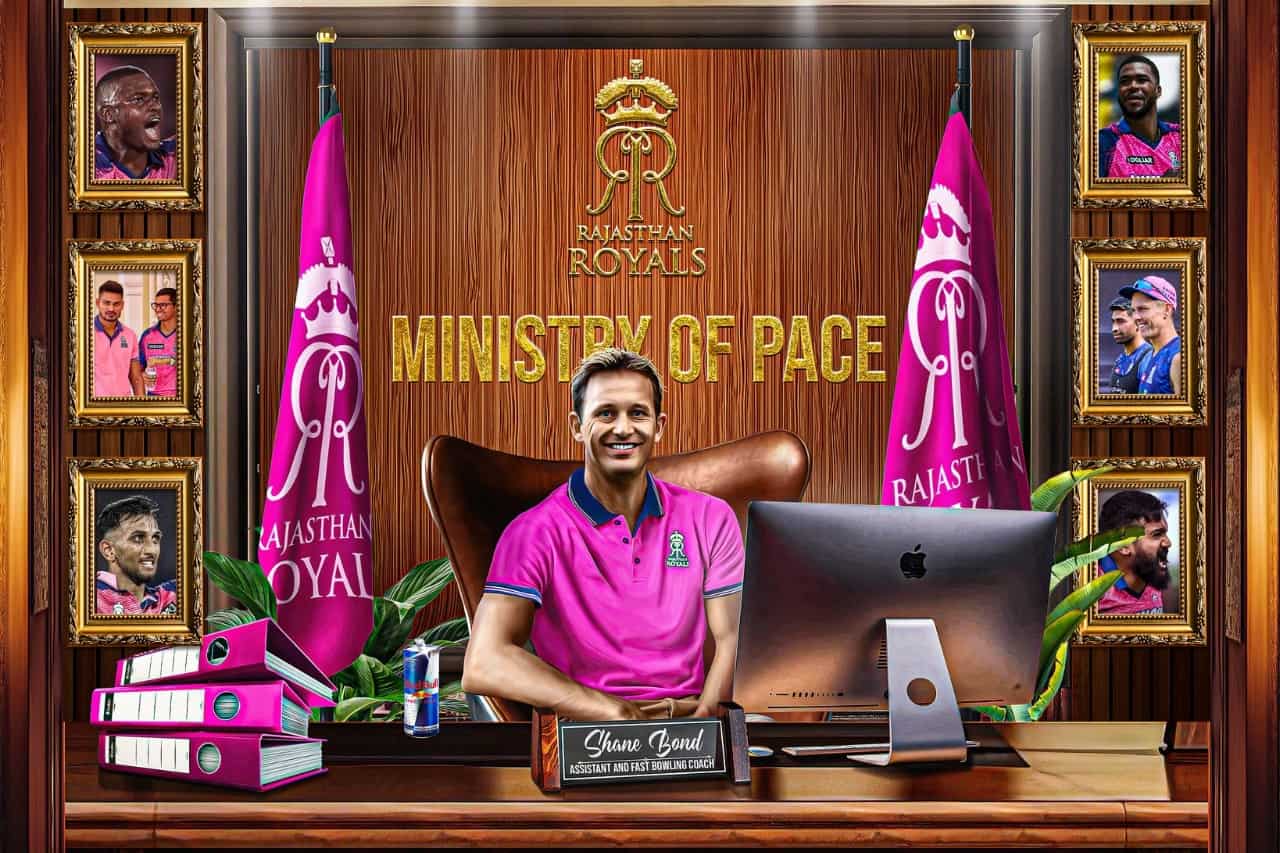 Shane Bond Named Bowling and Assistant Coach for Rajasthan Royals | Source: X/Twitter
Rajasthan Royals, the winners of the first-ever Indian Premier League season, have enlisted the iconic New Zealand bowler Shane Bond to serve as their bowling coach. Bond will embrace a dual role, stepping in as the assistant coach and fast-bowling coach as they gear up for IPL 2024.
Bond, who used to be the bowling coach for New Zealand from 2012 to 2015, played a big role in their wild ride to the 2015 ICC Cricket World Cup final. And in 2015, he switched sides to the Mumbai franchise in the IPL, where they went on to grab four titles in nine seasons, all thanks to his wizardry.
With his guidance, quite a few fast bowlers, including stars like Jasprit Bumrah, Mitchell McClenaghan, and Trent Boult, evolved into T20 stars. With Rajasthan Royals, the 48-year-old is set to work his magic on the current batch of fast bowlers, which includes Prasidh Krishna, Navdeep Saini, Sandeep Sharma, and others.
Kumar Sangakkara, the Director of Cricket for the Rajasthan Royals, rolled out the red carpet for Bond, singing his praises as one of the greatest fast bowlers of modern-day cricket. Sangakkara stressed Bond's extensive experience and his role in nurturing some of the world's top-tier bowlers.
Here's what Kumar Sangakkara said:
Shane is one of the greatest fast bowlers of modern-day cricket, and brings with himself a wealth of experience and knowledge having mentored some of the best in the business. He has served in the IPL and in India for a number of years and is well-versed with the processes involved within the franchise ecosystem."
"He is someone who has a keen eye for helping the best become even better, and we are delighted to welcome him to the franchise and look forward to seeing the impact he can make towards moulding us into a title-winning team."
Before Bond stepped in, the legendary Sri Lankan fast bowler Lasith Malinga was the man in charge as the bowling coach for Rajasthan Royals. However, he recently accepted the role of bowling coach for the Mumbai Indians in the upcoming season of the Indian Premier League. It's almost like a trade deal between fast bowling coaches between the Mumbai Indians and Rajasthan Royals.