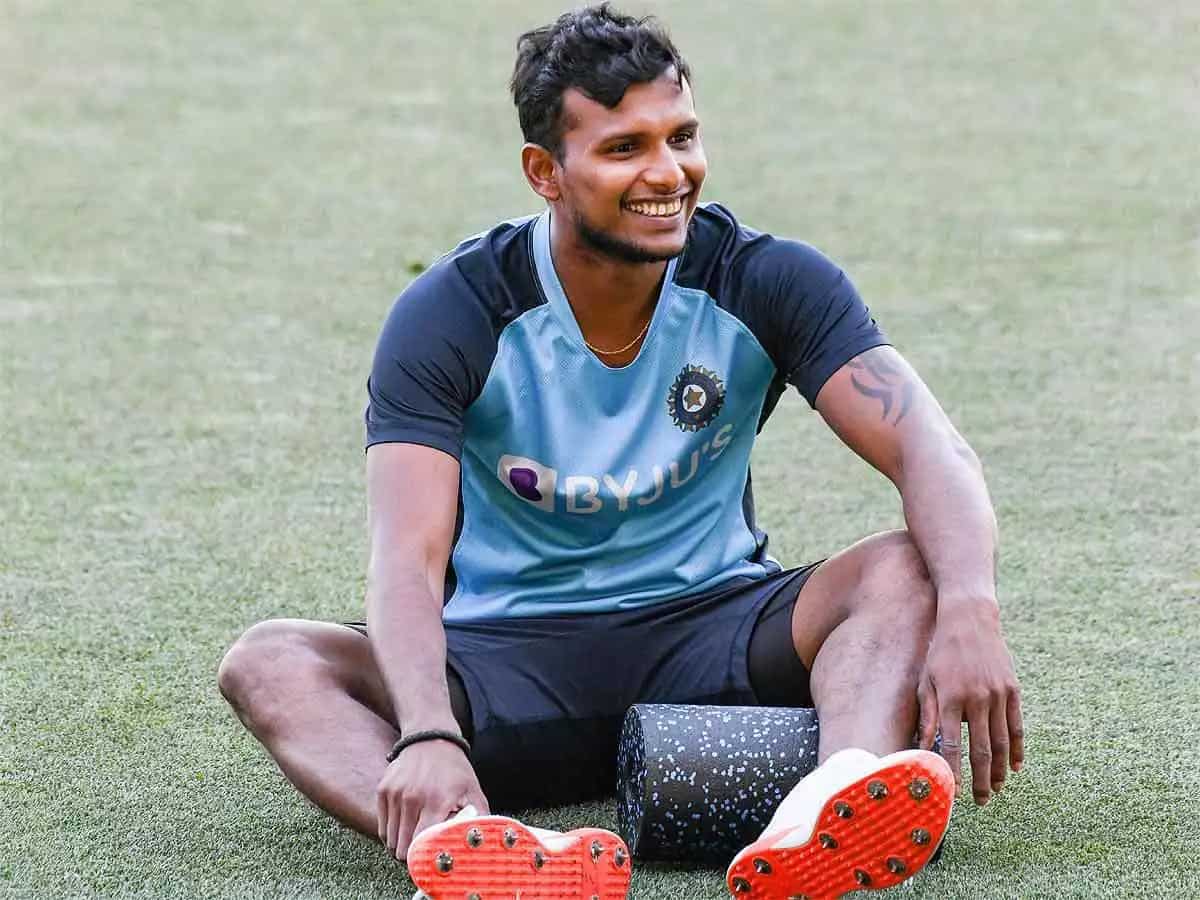 T Natarajan | Source: Twitter
T Natarajan had an amazing debut in Australia last month. He has caught the attention of many cricket experts and Pundit all around the world. In fact, he became the first Indian to debut in all formats of the game in a single tour. He first came into the major limelight after delivering pinpoint Yorkers in IPL 2020, and from there, there has been no looking back.
He spent a long time with the Indian team in his debut outing and being in bio-bubbles meant added time with the team and teammates. The pacer is not part of the squad for the first 2 Tests against visiting England side. He naturally misses the Indian dressing room atmosphere now.
"Definitely (missing being part of the squad), especially after being with the team for the last few months. But I do understand that it's important to take a break. Given that I did not spend time with the family in the last six months, I am fine with it. But undoubtedly, I will feel bad that I'm not able to be with the national team when they are playing in Chennai," said Natarajan while speaking to the Times of India
"I Am Looking to Play in All Formats" – T Natarajan
T Natarajan's rise began from the IPL 2020 where he made headlines with his pin-point yorkers and a knack of taking wickets in the death overs. Looking toward the future, T Natarajan said he is keen to play all three formats of the game consistently and will maintain his workload accordingly.
"I am looking to play in all formats and will maintain my workload accordingly. I am keen to work on my strength and endurance levels in the coming months. This is the first time I've played for six long months at a stretch in my life. Because I trained continuously during those months of lockdown, I was able to take care of the workload in IPL and in Australia," he added.
India and England are set to lock horns in four Tests, three ODIs, and five T20Is. The first two games of the 4-game series will be played in Chennai before the cricketers move to Ahmedabad for the third and fourth Test. The squad for the last two Tests in Ahmedabad matches is yet to be announced. Given Team India's recent injury woes, T Natarajan is likely to get the call-up.
India's Squad For First Two Tests Against England
Virat Kohli (c), Ajinkya Rahane, Rohit Sharma, Shubman Gill, Mayank Agarwal, Cheteshwar Pujara, Wriddhiman Saha, Hardik Pandya, KL Rahul (subject to fitness), Rishabh Pant, Jasprit Bumrah, Ishant Sharma, Mohammad Siraj, Shardul Thakur, Ravi Ashwin, Kuldeep Yadav, Washington Sundar, Axar Patel.