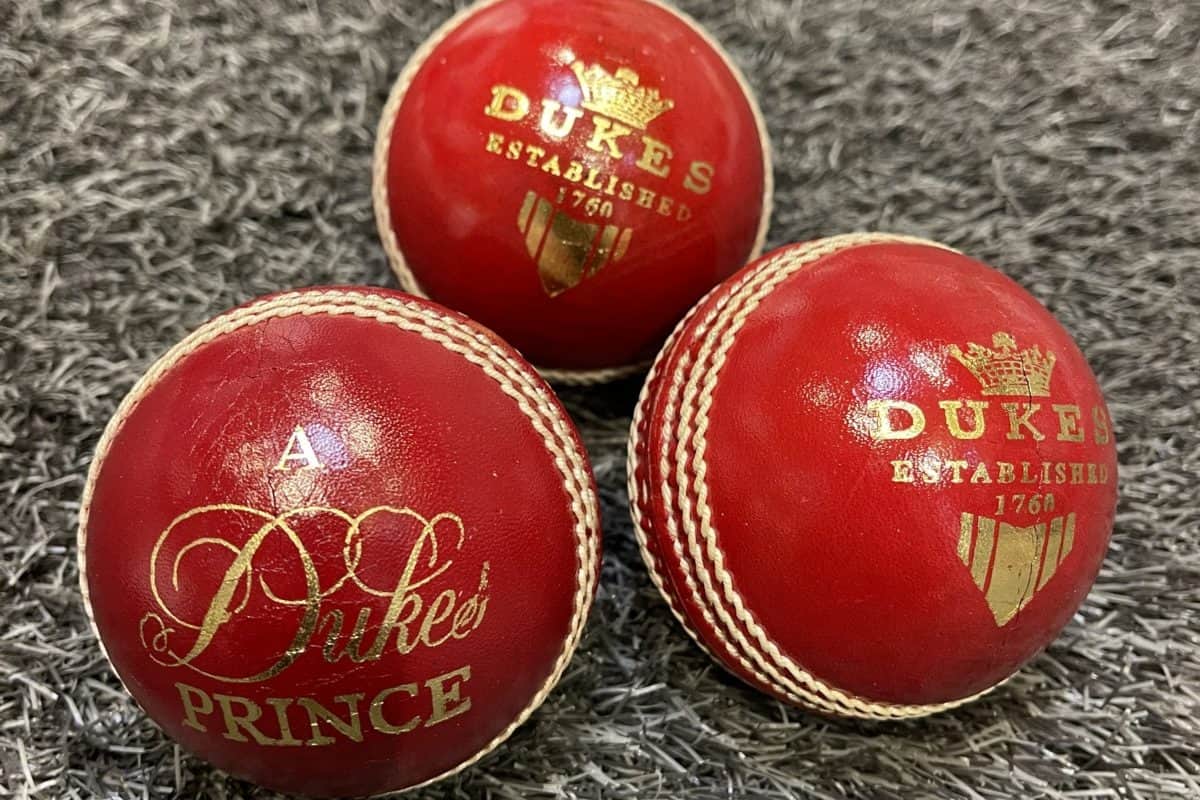 Source: Twitter
India and New Zealand are all set to play the World Test Championship final in Southampton on June 18. The match will give us the first winner of the Test championship and is expected to be a closely fought match between two competitive teams. The final will be played with a Duke ball instead of a Kookaburra or SG ball.
While many of you might have heard about the different kinds of balls used in Test Cricket, few would have no idea about the matter. Well, no problem then, we will give you a quick glimpse of all the three types of cricket balls used in Test Cricket.
Basically, three balls are approved by law that can be used in playing in a test match – Duke Ball, SG Ball, and Kookaburra Ball.
While Dukes are used in England and West Indies, India uses SG cricket balls. Kookaburra balls are the most commonly used in Australia, New Zealand, South Africa, Pakistan, Sri Lanka, and Zimbabwe.
Difference Between The Three Balls?
Stitching
Duke and SG cricket balls are hand-stitched while Kookaburra is half hand-stitched and half machine-stitched.

The hand-stitch gives a prominent seam and threads are closer to each other which makes it lasts longer than Kookaburra, which has two outer rows of machine-stitching and two inner rows of hand-stitching.
Seam
Duke Ball: The duke ball is held by six rows which go backward and forward across the joint which helps in holding the ball together for a longer period and keeps the shape of the ball intact.
SG Ball: The SG Ball uses a thicker thread to stitch the seam and it is much closer than the other balls.
Kookaburra Ball: The Kookaburra ball has two hand-stitched threads holding the two halves of the ball together. The outer row is stitched to have a good grip for the bowlers to hold.
Playing Conditions
The nature of the pitch and conditions also play a major role in the usage of cricket balls.
England generally has overcast conditions and green pitches which help in seam retention and shape of the ball. India, on the other hand, has rough conditions, and pitches tend to crack open. So, an SG ball is well suited since the thick thread keeps the ball intact for a longer period.
Even though the ball loses its shape faster, Kookaburra has been well suited for the bouncy conditions in Australia and South Africa.
Many players prefer Duke balls in Test Cricket since it tends to assist the bowlers more which maintains the balance between the bat and ball.
Even though SG cricket balls have a thicker thread but a few complaints have been received by the manufacturer from the Indian team.
Duke Ball In WTC Final
In the World Test Championship(WTC) Final, ICC has decided to use BSI Grade 1 Duke Balls. The Dukes Special County Grade 1 Red cricket ball is fully hand crafted for use at the highest level of the game. The very best selection of premium Alum tanned English leather goes through top secret pre prodction processes in the Dukes factory to ensure the very best levels of performance. These balls are being used in Test cricket and county cricket in England since 2012.
Jasprit Bumrah Loves Bowling With Duke ball
Bumrah, last year in June revealed that he feels most comfortable bowling with the Dukes ball manufactured in England compared to India made SG. During a chat for ICC podcast featuring internationals Ian Bishop and Shaun Pollock, Bumrah spoke on a lot of issues, including how he developed an outswinger (inswinger for left-handers).
The right-armer also articulated about the secret of his eight-step run-up which helps him to produce extreme pace.
"I love bowling with Dukes. It seems it swings, so basically, when you have a little bit of help, it does help as it is difficult to be a fast bowler with grounds getting shorter and wickets getting flatter," said Bumrah.
"So if the ball does something, it becomes even more competitive. So you feel you are in the game. With no help, you only have few things to play with. So I enjoy bowling most with the Dukes ball. I always want to bring new things. My different action, maybe once or twice people will be surprised, but they will find you out. So you need to improve and keep on evolving," he added.