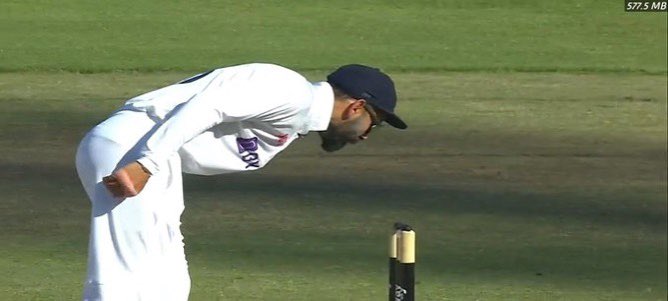 Virat Kohli | Source: Twitter

Indian skipper Virat Kohli lost his cool in the 22nd over of the third and final Test at Newlands as the decision against Dean Elgar's wicket was overturned by the DRS.
Ravichandran Ashwin trapped Dean Elgar in front and the umpire raised his finger as it looked plumb. However, after giving it a long thought, the South African captain opted for a review. The replays showed that despite the ball hitting Elgar below the knee-roll, the ball was going over the stumps.
The entire Indian cricket team along with skipper Virat Kohli were stunned by the decision. KL Rahul, the vice-captain, looked disappointed as well as he accused the third umpires of favouring the home team while Virat Kohli also behaved furiously on the field.
Virat Kohli, KL Rahul, R Ashwin Stump Mic Conversation – Details Here
R Ashwin, Virat Kohli and KL Rahul, who clearly looked furious with the decision being overturned, went up to the stump mic and made comments that they could have avoided.
"You should find better ways to win Supersport," R Ashwin said, taking a dig at the broadcasters.
"The whole country is playing against eleven guys," – KL Rahul said.
Virat Kohli then walked up to the stumps and said: "Focus on your team as well and not just the opposition. Always trying to catch people".
Watch Video – Dean Elgar LBW Review:
Shaun Pollock & Sunil Gavaskar Discusses Dean Elgar Controversial LBW Review Decision
Virat Kohli and KL Rahul might be fined and penalized for expressing their frustrations. The Cricket fraternity are also not looking impressed with the on-field behaviour of Kohli and co. Here are some Twitter reactions: