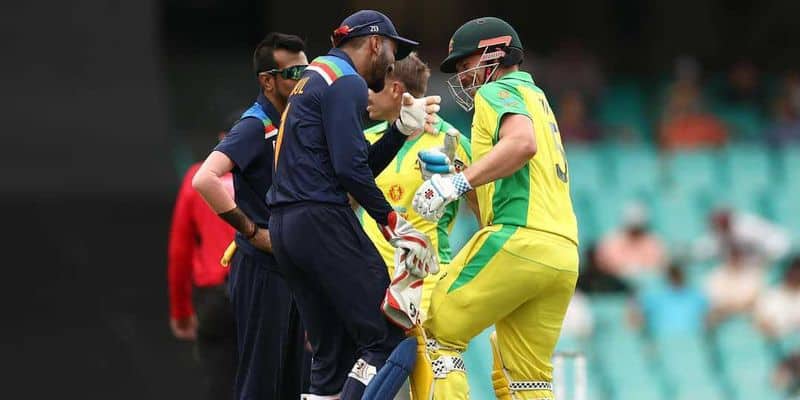 Now the days are gone when Australia was considered as the real rivals of Indian boys. With time passed and due to the IPL, the relationship between both cricketing giants has softened. The advent of Indian Premier League has changed relationships between these players; resulting in many friendships and stronger bonds.
On Sunday, a similar such scene was witnessed in the second ODI of the three-match series between India and Australia when a nasty delivery, a rank high full-toss, from Navdeep Saini hit Australia's limited-overs captain Aaron Finch.
The incident took place in the 12th over when the ball slipped out of Saini's hands and hit Finch's tummy. After this, Yuzvendra Chahal, his teammate in IPL and KL Rahul walked towards the Australian captain to check on him, Rahul hilariously poked fun at the right-hander's belly when Finch interrupted him.
Here Is The Clip Of Incidence:
While Finch was possibly trying to poke fun at himself by saying he has a lot of natural padding, in terms of his belly, to not get hit severely, Saini apologised for his mistake.
Meanwhile, the on-air commentators Ajit Agarkar and Harsha Bhogle while commenting on the incident said that there seems to be too much friendship between the two cricketing giants, who are generally known to play tough against each other.
As long as the match is concerned, Aussie captain Aaron Finch once again won the toss and opted to bat first. While batting first, Australian men will be aiming to post something above 350 on the scoreboard, India, on the other hand, need to win this match at any cost in order to keep the series alive.
While India once again entered the field with the same XI, Australia brought a change by giving rest to Marcus Stoinis due to injury and bringing Moises Henriques in their Final XI.