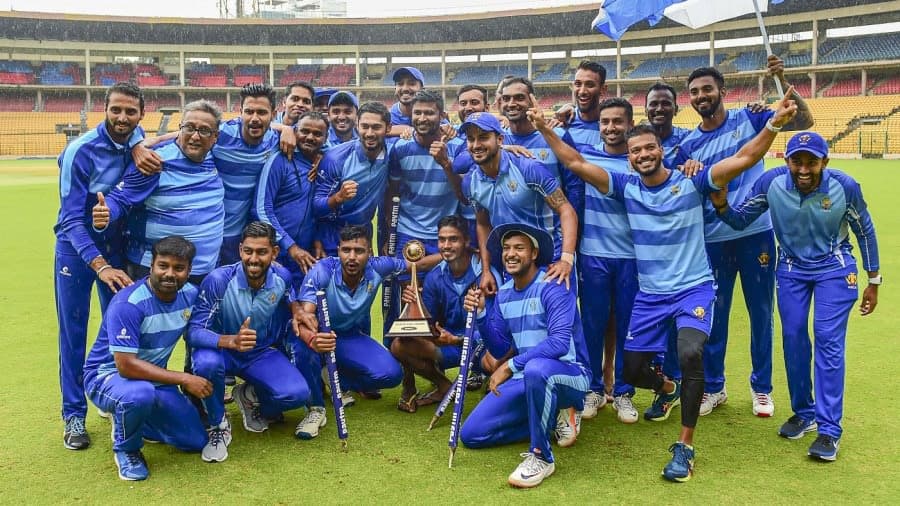 Image Source: Twitter
The Board of Control for Cricket in India (BCCI) has released the schedule of Vijay Hazare Trophy. This will be the second domestic tournament in between coronavirus pandemic after Syed Mushtaq Ali. 
The tournament will begin on 20 February. The final will be played on 14 March. The board selected 6 cities for the tournament and unfortunately, Delhi is not in the list. 38 teams including defending champion Karnataka will play in the tournament.
All the 38 teams are divided into 6 groups. The first 5 groups (A, B, C, D, E) have 6-6 teams, while Group-F has 8 teams.
After the group stage, pre-quarterfinal matches will be played from March 7. The quarterfinal round will take place on 8 and 9 March. Both semi-finals will be held on 11 March, while the final will be on 14 March.
All matches will be organised at Surat, Indore, Bengaluru, Jaipur, Kolkata and Chennai. Despite the dwindling cases of Corona, Delhi has been excluded from hosting this tournament. Earlier, Syed Mushtaq Ali Tournament was also not held in Delhi.
3 Corona Tests During the Quarantine Period
According to the schedule, all players will have to report on the venue 7 days before the tournament starts. All quarantines will remain here. Meanwhile, the players will have the Corona Test on 13, 15 and 17 February. After the negative report, players will be allowed to practice on 18 and 19 February.
Group and Venue Details:
Elite A: Gujarat, Chhattisgarh, Hyderabad, Tripura, Baroda, Goa (Venue: Surat)
Elite B: Tamil Nadu, Punjab, Jharkhand, Madhya Pradesh, Vidarbha, Andhra Pradesh (Venue: Indore)
Elite C: Karnataka, Uttar Pradesh, Kerala, Odisha, Railways, Bihar (Venue: Bengaluru)
Elite D: Delhi, Mumbai, Maharashtra, Himachal Pradesh, Rajasthan, Puducherry (Venue: Jaipur)
Elite E: Bengal, Services, Jammu and Kashmir, Saurashtra, Haryana, Chandigarh (Venue: Kolkata)
Elite F: Uttarakhand, Assam, Nagaland, Meghalaya, Manipur, Arunachal Pradesh, Mizoram, Sikkim (Venue: Chennai)