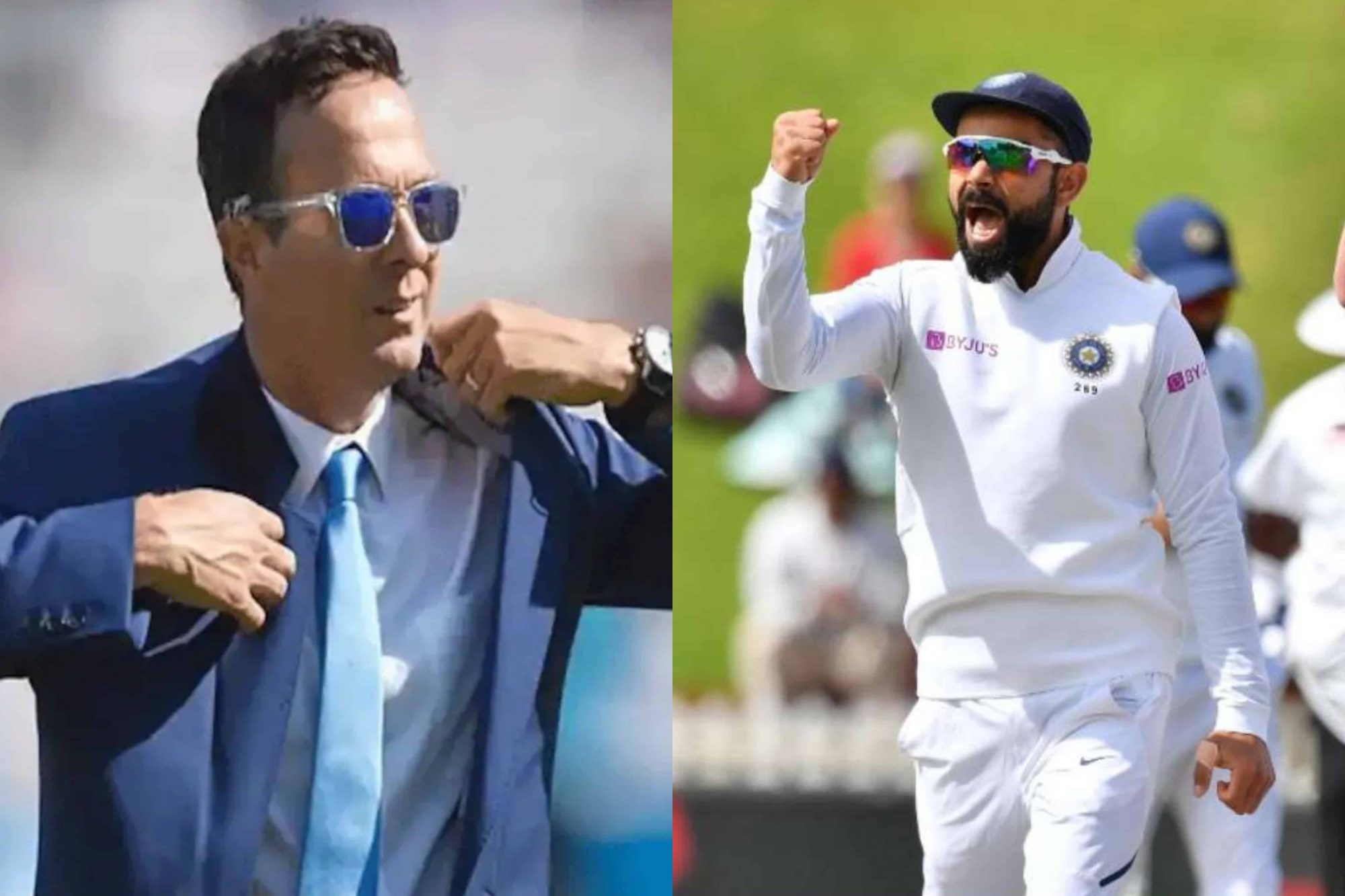 Michael Vaughan and Virat Kohli | Source: Twitter
The final of the World Test Championship is now less than a month away. While the Kiwis have already arrived in UK ahead of their two-Test series against hosts England and for the WTC Final against India, Virat Kohli amd Co. are yet to touch down England. The final of the World Test Championship will be played from June 18 at the Ageas Bowl in Southampton.
This, in some ways, is the repeat of the 2019 World Cup semifinal clash between these two sides which the Kiwis won. Also, what needs to be kept in mind is New Zealand thrashed India in a Test series at home, 0-2 last year.
Meanwhile former England captain Michael Vaughan, who is recently in headlines for his controversial comments has come up with his pick to win WTC final.
Vaughan has said that New Zealand will win the final given the conditions will be more suited to them as a team. He also said that Virat Kohli's men might find it difficult to cope up with the conditions which might see them lose the final.
Vaughan Reckons New Zealand Have Conditions In Their Favour
"New Zealand (will win). English conditions, the Duke ball, and India on the back of a busy schedule… they'll arrive pretty much a week before and go straight into it, [and] New Zealand have two test matches, you could argue warmups against England to get them prepared for the final. So it's quite an obvious one for me," Michael Vaughan said on Spark Sport.
"So it's quite an obvious one for me, New Zealand will be better prepared and they'll have more of a group of players who've played more cricket with the red ball, particularly the Duke ball here in the UK. New Zealand, all the way," the 46-year-old added.
Vaughan weighed in on the possibility of the current New Zealand side being the best in history. Of course, there have been New Zealand greats in the past who have defined the previous eras, but Vaughan reckons there's something about the current team that really distinguishes it from the rest.
"It's not difficult, you haven't had many great teams. You've had great players, you go back to the 80s, Richard Hadlee and Martin Crowe were up there with the greatest to have ever played test match cricket. As a team, Brendon McCullum's team were exciting and vibrant but I never felt they were consistent because they let the opposition in by playing so aggressively," Vaughan added.
"Under Kane Williamson you've started to play high class, disciplined test match cricket over long periods, and real quality teams do it over day one to five. And it takes until the end of day five to wear a team down to get that win, this is what this New Zealand side can do."
Meanwhile, Vaughan has been in the news for his recent comments on Kohli and Williamson. He said that Virat Kohli is famous because he is an Indian and has more social media following.
He further fuelled the controversy by saying that Williamson will score more runs than Kohli in the upcoming summer of Test cricket. However, the statement didn't go well with the fans and cricket fraternity as Vaughan faced a huge criticism for his comments.