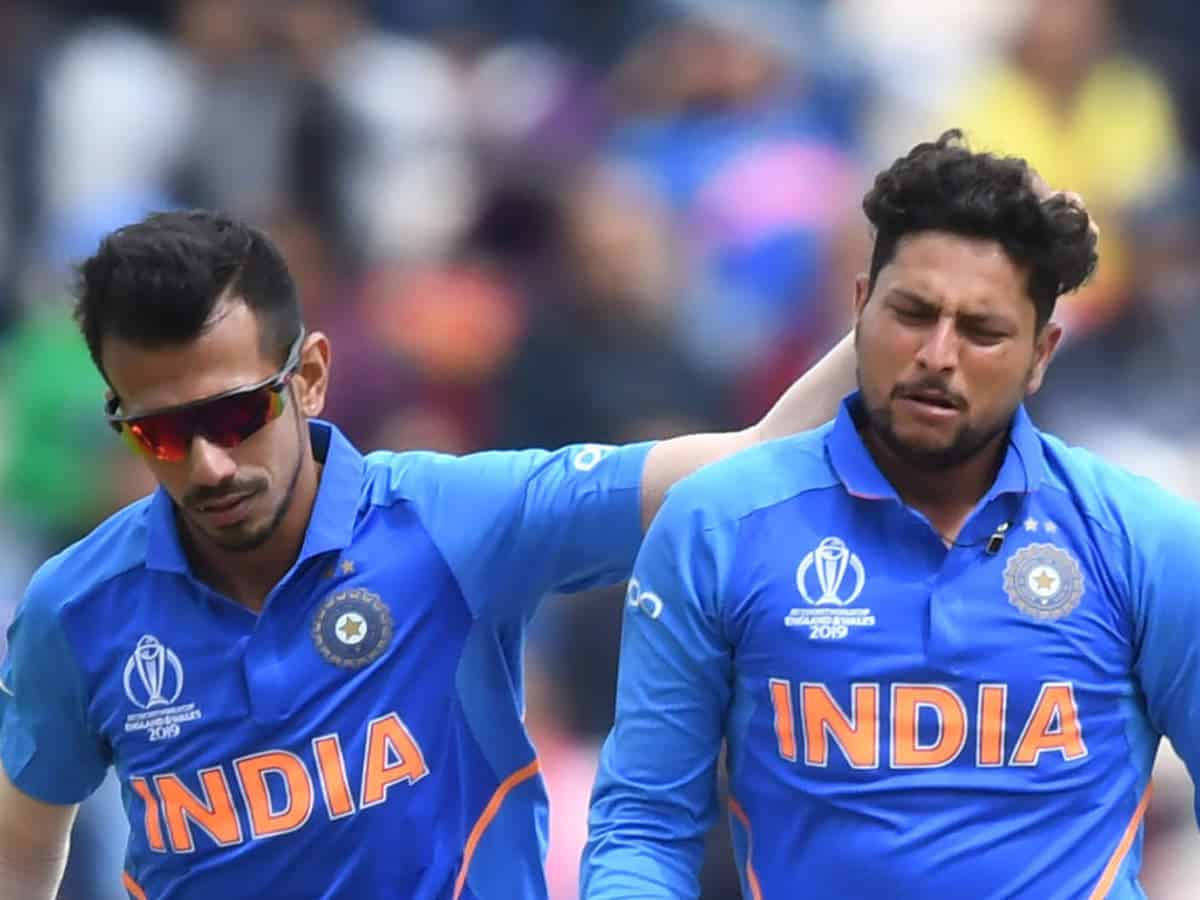 Yuzvendra Chahal and Kuldeep Yadav | Source: Twitter
Team India spinner Yuzvendra Chahal is looking forward to the 'Kul-Cha' reunion in India's upcoming tour of Sri Lanka next month.
While the Indian Men's team has landed in England for a three-and-a-half-month-long tour, a second-string Indian side would tour Sri Lanka for a white-ball series, starting from 13th July and concluding on 25th July 2021.
Both Chahal and Kuldeep would make it into the squad and the former is confident that both will feature in the playing XI. Incidentally, they haven't played together for quite a time after Kuldeep lost the trust of the selectors following a rough patch.
But Yuzvendra Chahal is sure that the left-arm leg spinner will once again in action when the Indian side tours to Sri Lanka.
Speaking to Times Of India about sharing the Indian locker room with Kuldeep, spinner Chahal said that he is sure that the KKR spinner will feature in the playing XI of the Indian national side against Sri Lanka.
"I am sure we (Kuldeep and I) will be in the eleven once again in Sri Lanka. I have been missing bowling alongside him (Kuldeep). We have bowled a lot of spells together. We enjoy each other's company," Chahal was quoted as saying.
The duo of Chahal and Kuldeep has often been called as 'Kul-Cha' by ardent supporters of the Men In Blue. Under the presence of former India captain MS Dhoni, both premier spinners had managed to raise their stocks in white-ball cricket on the international circuit.
Team India's limited-overs series against Sri Lanka will be contested between July 13 and 25. Indian opener Shikhar Dhawan and all-rounder Hardik Pandya are in the fray to lead the second-string side against Sri Lanka.
"As you all call us 'KUL-CHA' (laughs), we want to continue to shine and win as many matches as we can for India. We have good coordination on the field and off the field as well. We understand each other. We have planned and taken so many wickets together. I am sure I will get the chance to bowl with him in Sri Lanka. I am looking forward to playing with him after a long time," Chahal added.
Yuzvendra Chahal was last seen in action in IPL 2021, playing for RCB. He picked 4 wickets in just 7 games at a strike rate of 41.66. Kuldeep Yadav, on the other hand, didn't feature in a single game for Kolkata Knight Riders. He has been also been dropped from India's Test squad for the upcoming UK tour.