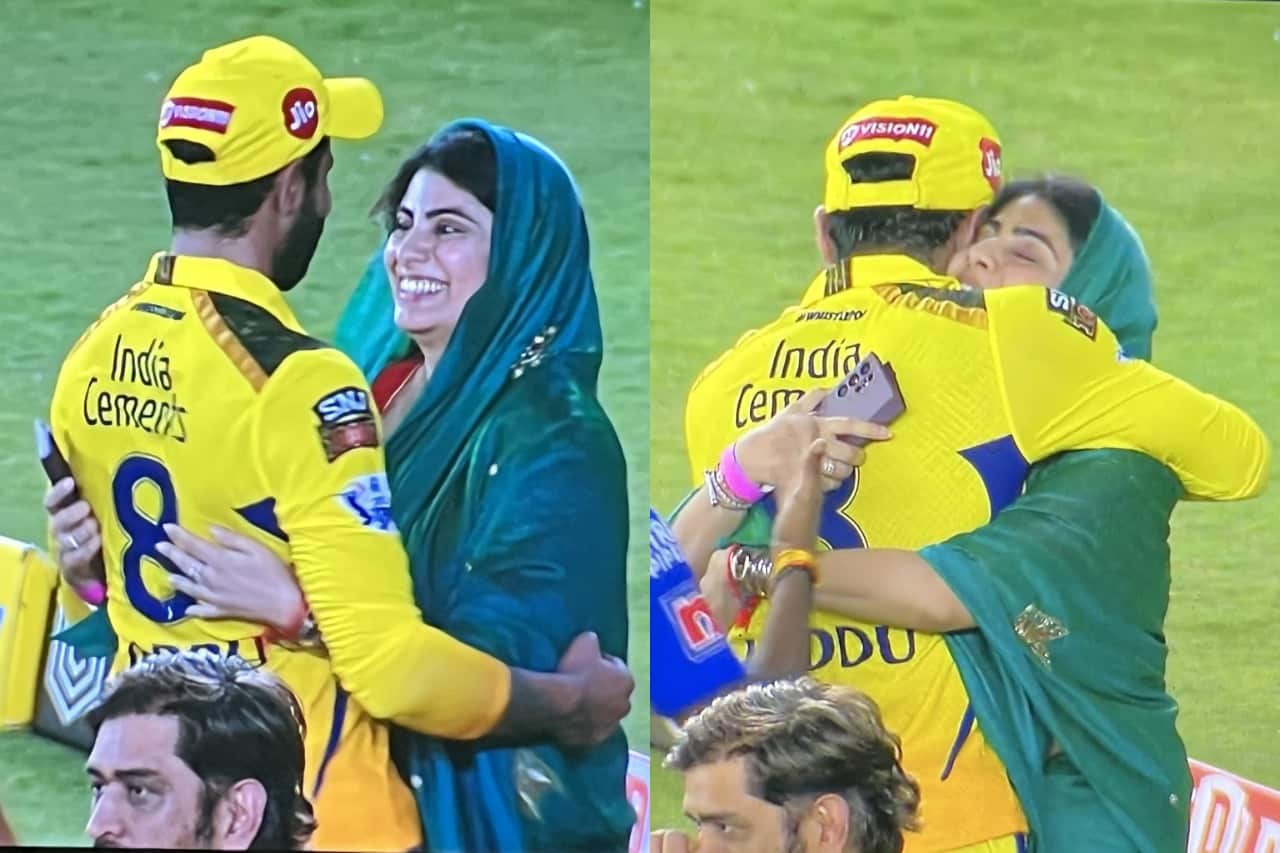 Ravindra Jadeja With Wife | Source: Twitter
A stellar batting performance saw the Chennai Super Kings (CSK) beat the defending champions, Gujarat Titans (GT), by five wickets in the IPL 2023 final, which turned out to be a last-ball thriller at the Narendra Modi Stadium on Tuesday, May 30th.
It was an extraordinary display of nerve and skill as Ravindra Jadeja smashed a six and then a four off the final two deliveries. With the championship hanging in the balance, his magnificent performance not only clinched the title for his team but also etched his name as the team's hero.
In the midst of it all, a heartwarming moment unfolded, capturing the heartfelt reaction of Ravindra Jadeja's wife as he finished the game, portraying the depth of her investment in his success.
Overflowing with excitement, Jadeja's wife couldn't contain her emotions as she tightly hugged her husband, and the beautiful pictures capturing their bond became viral on social media. Here take a look:
These pictures set the bar for cuteness today! Don't think anything else will top it. pic.twitter.com/4ifaBdPb4o

— Shivani Shukla (@iShivani_Shukla) May 29, 2023
Notably, Jadeja's wife has consistently been his pillar of support through thick and thin. Just recently, she expressed her heartfelt emotions for him in a touching tweet, saying, "Work hard in silence, let your success be your voice. Sending you more strength, my beloved @imjadeja."
'Work hard in silence, let your success be your noise'.
More power to you, my love @imjadeja.
❤️❤️❤️ pic.twitter.com/JEBWc3hMfb

— Rivaba Ravindrasinh Jadeja (@Rivaba4BJP) May 23, 2023
Over the past few days, rumours have been circulating, hinting at a possible discord between Jadeja and the CSK management. Adding to the mystery, Jadeja's cryptic Twitter messages have only served to amplify the speculations surrounding their relationship.