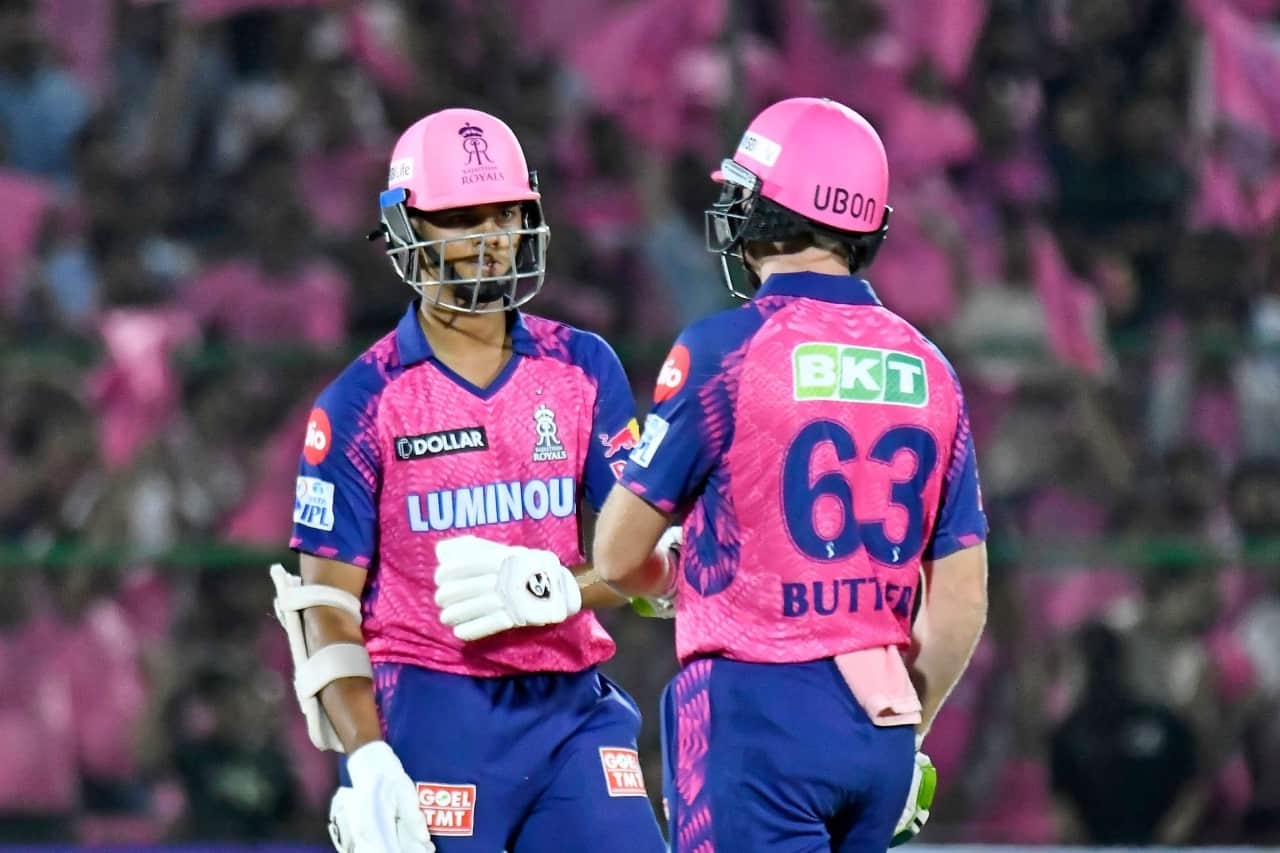 Yashasvi Jaiswal & Jos Buttler | Source: GettyImages
Rajasthan Royals can finally breathe a sigh of relief as they have made an astounding comeback in the tournament after losing three matches on the trot by defeating Kolkata Knight Riders by nine wickets on May 11 at Eden Gardens, Kolkata.
The highlight of the match and the talk of the town was Yashasvi Jaiswal's incredible innings of 98 runs off just 47 balls, which was laced with 12 fours and five sixes. Jaiswal's superb knock ensured that Rajasthan Royals chased down the target of 150 within 14 overs.
The match witnessed another moment of brilliance when Jos Buttler, the star English batter, put the team's interest ahead of his own and sacrificed his wicket for Yashasvi Jaiswal, the man in form. A communication breakdown in the second over of Kolkata Knight Riders' chase resulted in Buttler losing his wicket for Jaiswal.
The incident took place in the second over of Kolkata Knight Riders' run chase, with Andre Russell bowling to Jos Buttler. Yashasvi Jaiswal, who was at the non-striker's end called for a quick single but Buttler appeared to be in two minds, resulting in his run-out at the striker's end as Russell's accurate throw hit the stumps directly.
The 21-year-old reflected on Jos Buttler's selfless act after the match and expressed his gratitude towards the Englishman. He further stated that the moment inspired him to take responsibility and finish the game for his team. Here's what he said:
"Between Jos bhai and me, I am learning a lot. Today, he sacrificed his wicket because of my mistake, and I really respect that. We all know that it happens in the game, nobody does it purposely. But that was the moment where I decided to take responsibility, thinking 'it is okay' but I need to take responsibility from here on."
Yashasvi Jaiswal opens up on missing century
Yashasvi further spoke about missing out on his century, but he stated that he was okay with it, as at that time his priority was to finish the game for his team. Notably, the Rajasthan opener came tantalisingly close to scoring his second century of the IPL season, but fell just two runs short of the mark.
"I thought that I would go for a six to get the hundred if I could, but it is okay. The other thing I had in mind was that I have to play long and finish the games, so even at the end, that was the only thought in my mind, to leave the field by finishing the game. I will remember this innings a lot. It was short-lived but also very intense."