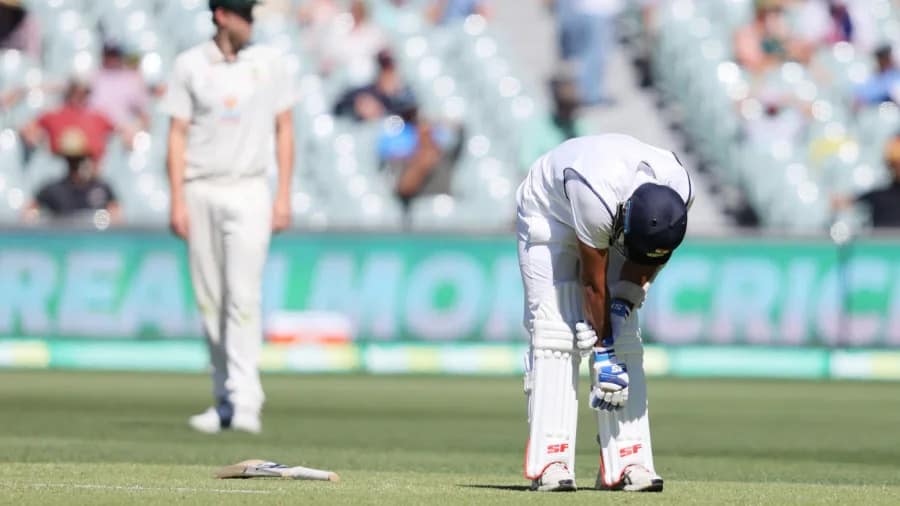 Mohammed Shami | Source: Twitter
India has suffered yet another blow as team's senior-most pacer Mohammed Shami has been ruled out of the remaining 3 Tests after suffering a fracture in the Adelaide Test on Saturday.
The scans reports have confirmed the same. This comes after India were handed an 8-wicket defeat by Australia in the opening match of the series.
The 30-year-old hurt himself while trying to play a short ball by Pat Cummins. Mohammed Shami tried to tackle the short ball, but the ball missed the fleshy part of his right arm and hit him flush on the bone. His arm was later strapped and he tried to continue batting. However, he had to be taken off the field as he was in too much pain.
Sources revealed that Shami's scan reports confirmed that the pacer suffered a fracture and will be unable to feature in the upcoming three games.
"Yes, he has a fracture and that is why he could not grip the bat and lift it at the crease. It looked bad and the worst fear has come true," ANI quoted a source as saying.
India skipper Virat Kohli had earlier spoken about how Shami was in pain and scans were conducted to check the extent of the injury.
"No news on Shami, he is going for a scan now. Was in a lot of pain, could not even lift his arm. We will probably know in the evening what happens," Kohli had said at the post-match press conference.
India, who are already missing senior pacer Ishant Sharma in the Test series, will now be under immense pressure in Shami's absence. While the onus will rely majorly on Jasprit Bumrah and Umesh Yadav to carry the pace attack, the likes of Navdeep Saini and Mohammad Siraj will have to step up in Shami's absence.
Mohammad Shami is a Class-Bowler: Josh Hazlewood
Australia pacer Josh Hazlewood had said that Team India would find it hard to have a replacement for the "class-bowler" if he was indeed unavailable for the remainder of the series.
"It is obviously a blow, we gonna see how bad it was. He will undergo scans to see if there is any fracture or bruising. We wanna find out how much damage is done," Hazlewood had said during the virtual post-match press conference.
"He is a class-bowler and he showed this in the game. So India might have to dig deeper in their arsenal to try and cover and him but we probably expect him to play, I am not sure how bad the injury is," he added.