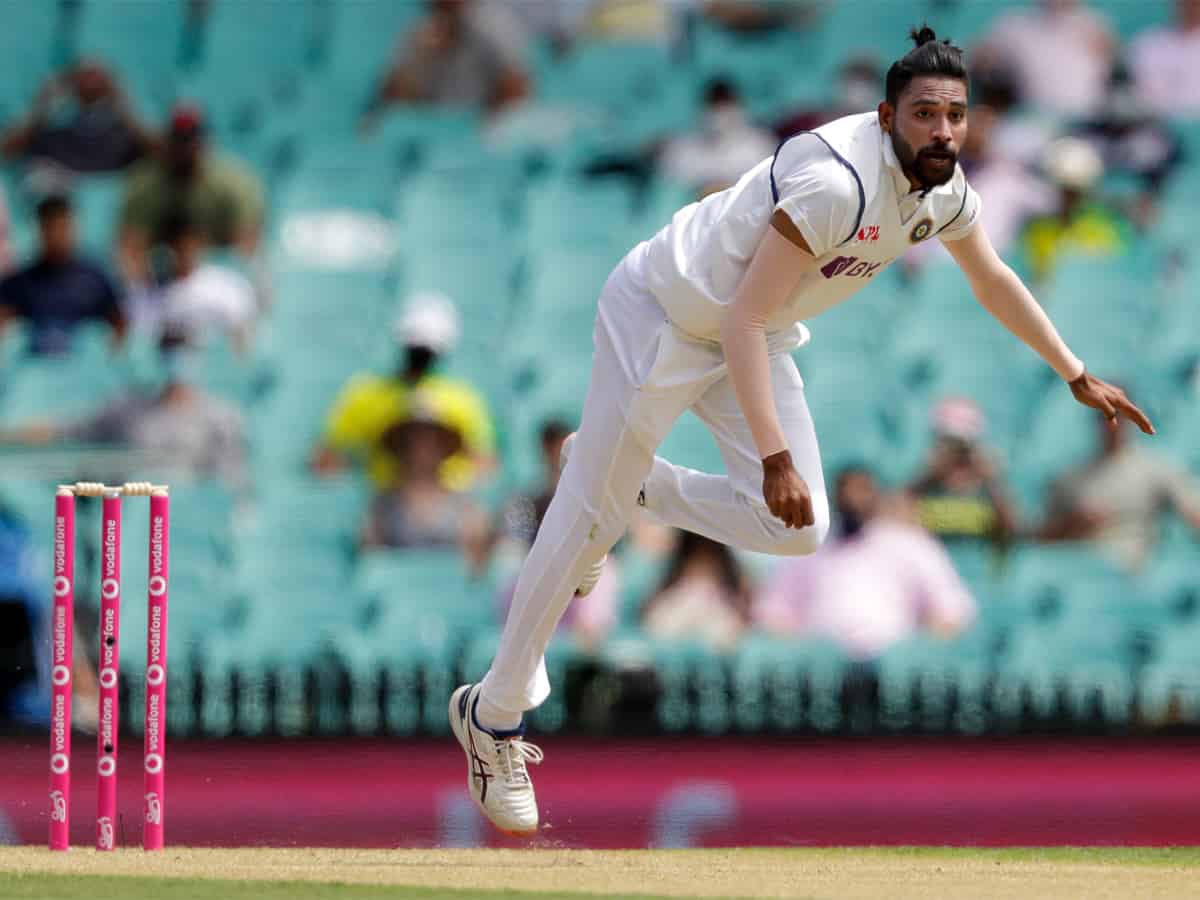 Mohammed Siraj | Source: Twitter
On the fourth day of the Sydney Test match, Team India's fast bowler Mohammed Siraj was once again racially abused by the set of spectators. Like Day three, once again racial remarks were made against Siraj on Sunday at the Sydney Cricket Ground (SCG) Viewers' Gallery. 
While Mohammed Siraj was fielding at the boundary, he was again abused by the spectators despite tight security, after which the match was stopped for about 15 minutes to investigate the matter. After this, team India complained to the umpires during the match, after which security personnel removed the group of spectators sitting at the Sydney Cricket Ground out of the stadium, who had made racial remarks on Siraj.
On the third day of the Sydney Test, Mohammed Siraj was constantly abused and mocked by the group of the spectator. According to sources, Mohammed Siraj was called 'Monkey' by a group of spectators present at a stand at the Sydney Cricket Ground, reminiscent of the 'Monkeygate' episode of the Indian team's tour of Australia in 2007-08.
Interestingly rather amusingly, the Monkeygate episode also took place during the Sydney Test, when Andrew Symonds claimed that Harbhajan Singh had called him a 'monkey' many times, but the Indian off-spinner got a clean chit after the investigation.
Indian off-spinner Harbhajan Singh has expressed his anger on Twitter after this insolence with Mohammad Siraj. Bhajji took to Twitter and wrote, "I personally have heard many things on the field while playing in Australia about Me My religion My colour and much more…This isn't the first time the crowd is doing this nonsense…How do u stop them ??"
Harbhajan Singh's Tweet:
On Sunday, during the 86th over of the second session, when Siraj was fielding near the boundary, a spectator from the gallery of SCG commented on him and after this, Siraj immediately approached Captain Ajinkya Rahane and informed him about this.
Seeing the seriousness of the matter, Indian captain Ajinkya Rahane told umpire Paul Reiffel about this. Reiffel informed the match referee without delay and then the match referee told the security officials about the matter and asked them to investigate it.
The security personnel inspected the place from where the voice came according to Siraj. Many people were questioned and then went out of the police stand with four-five people. Due to this incident, the game stopped for about 15 minutes.
Earlier on Saturday, officials of the Indian cricket team had complained that spectators had made racist comments on Siraj and Jasprit Bumrah. After the end of the third day's play, the ICC, stadium security officials were seen having a long conversation with Bumrah and Siraj.
Cricket Australia, after the incident, has issued an official statement saying that it condemns such an incident. CA's head of integrity and security, Sean Caroll, has said that those who are involved in such incidents, CA will never welcome them.