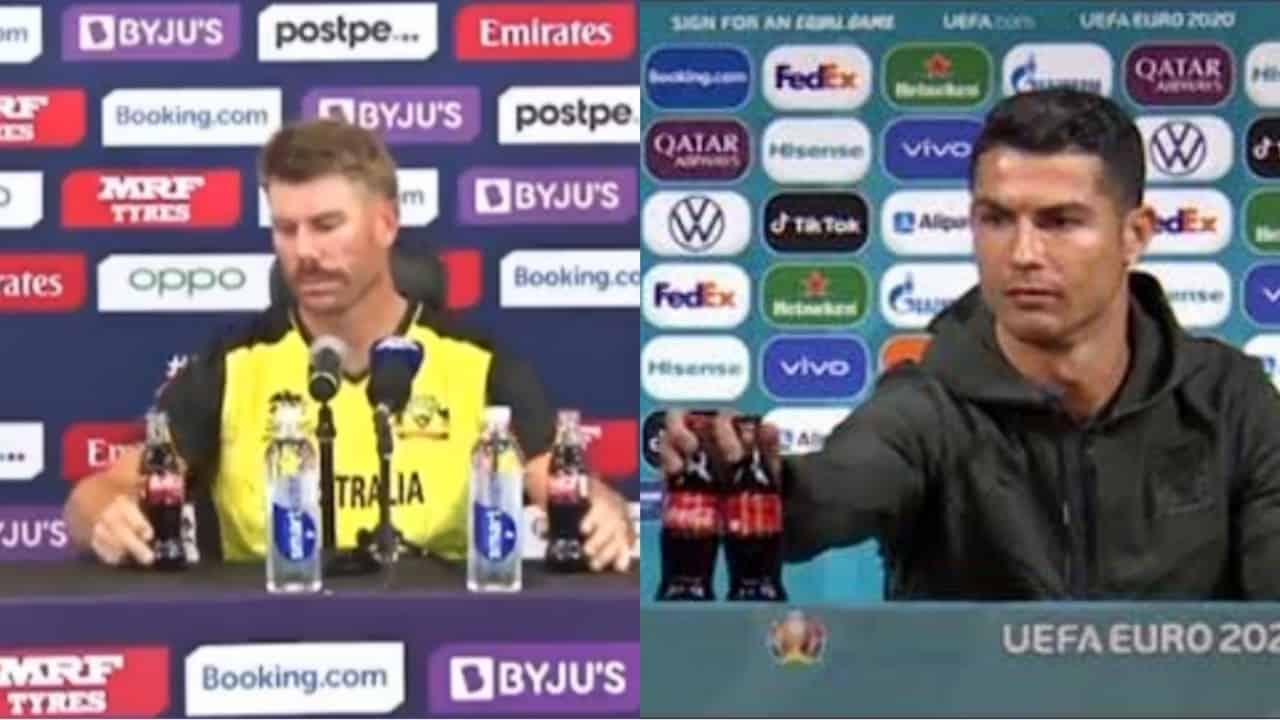 David Warner and Cristiano Ronaldo • Source: Twitter

Australia's star opener David Warner imitated Portugal captain Cristiano Ronaldo's Euro 2020 stunt during the ongoing T20 World Cup as he removed the bottles of Coca-Cola placed on the table during the post match conference.
Just before the start of the press conference after he guided Australia to a seven-wicket victory over Sri Lanka on Thursday, Warner picked the two soft drink bottles lying on the table in front of him and said with a smile, "Can I remove these? Though I have to put it there."
"If it's good enough for Cristiano, it's good enough for me. That's right," he added while putting the two bottles back. The video has been doing rounds on social media and has been getting people's attention.
In the pre-match conference of Portugal's Euro 2020 opener against Hungary, Ronaldo removed the bottles of Coca-Cola lying on the table in front of him during the event, holding the two bottles and saying: "Drink water."
It was later revealed that Coca Cola's shares had fallen by 1.6 per cent after that incident, costing the company a loss of $5.2 billion.
Coca Cola had later issued a statement saying, "everyone is entitled to their drink preferences" and everyone has different "tastes and needs".
Talking about the match, Warner shared two solid partnerships, — 70 in 6.5 overs with skipper Finch (37 off 23 balls) and another 50 in 6.3 overs with Steve Smith (28 not out off 26 balls).
Australia, will now lock horns with arch-rivals England on Saturday in Dubai.