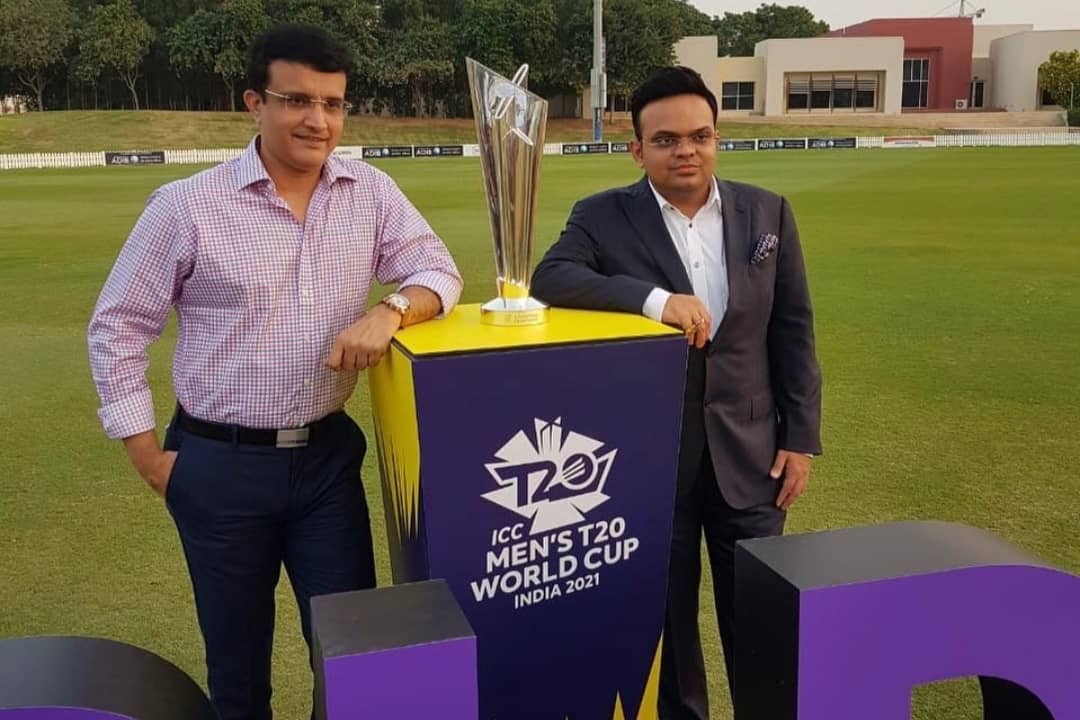 Sourav Ganguly and Jay Shah | Source: Twitter
The Board of Control for Cricket in India has confirmed that the UAE will be the destination for the T20 World Cup if the tournament can't be held in India due to the Covid-19 pandemic, the BBC reported.
As per Cricket Australia, senior BCCI official Dhiraj Malhotra, as quoted speaking to BBC's Stumped podcast, said that plans were still in discussion to host the T20 World cup in India despite the rising COVID cases and that UAE could be the alternative location to host the World Cup if not in India.
"I've just been named one of the tournament directors, so I'm doing everything we can to make sure it happens," Malhotra told BBC's Stumped podcast.
"We will be doing normal scenario, and worst-case scenario, so with all that we're talking to the ICC at the moment. It would be (shifted to) the UAE. We're hoping again that it would be done by the BCCI. So, we'll take the tournament there, but it'll still be done by the BCCI," he added.
The UAE proved its ability to stage a major T20 tournament by hosting last year's Indian Premier League, holding 60 matches at just three venues – in Dubai, Abu Dhabi and Sharjah – in a little more than seven weeks, all in a bio-secure bubble.
As long as the 14th edition of the Indian Premier League (IPL) is currently underway in the country, in the absence of crowds. The tournament that started on 9th April 2021 will go on till 30th May 2021. The Chennai Super Kings (CSK) are currently the table toppers, followed by Delhi Capitals (DC) and Royal Challengers Bangalore (RCB).
The country recorded almost 2000 COVID cases on Thursday, down from a peak of nearly 4000 in late January but has crucially administered more than 10 million vaccine doses to its almost 10 million citizens.
India's COVID Situation
India has registered 3,86,452 new coronavirus infections in a span of 24 hours, the highest single-day rise so far, pushing the total tally of COVID-19 cases to 1,87,62,976, according to the ministry's data.
Karnataka, Kerala, Chhattisgarh, West Bengal, Tamil Nadu, Andhra Pradesh and Rajasthan are the other states in the list of 10. Maharashtra has reported the highest daily new cases at 66,159, followed by Kerala 38,607 and Uttar Pradesh 35,104.
In a significant development, more than 19 lakh (19,20,107) tests were conducted in a span of 24 hours, making it the highest single-day tests done in India, the ministry said.
India's total active caseload has reached 31,70,228 and now comprises 16.90 per cent of the country's total infections. A net increase of 85,414 cases have been recorded in the total active caseload in a day.