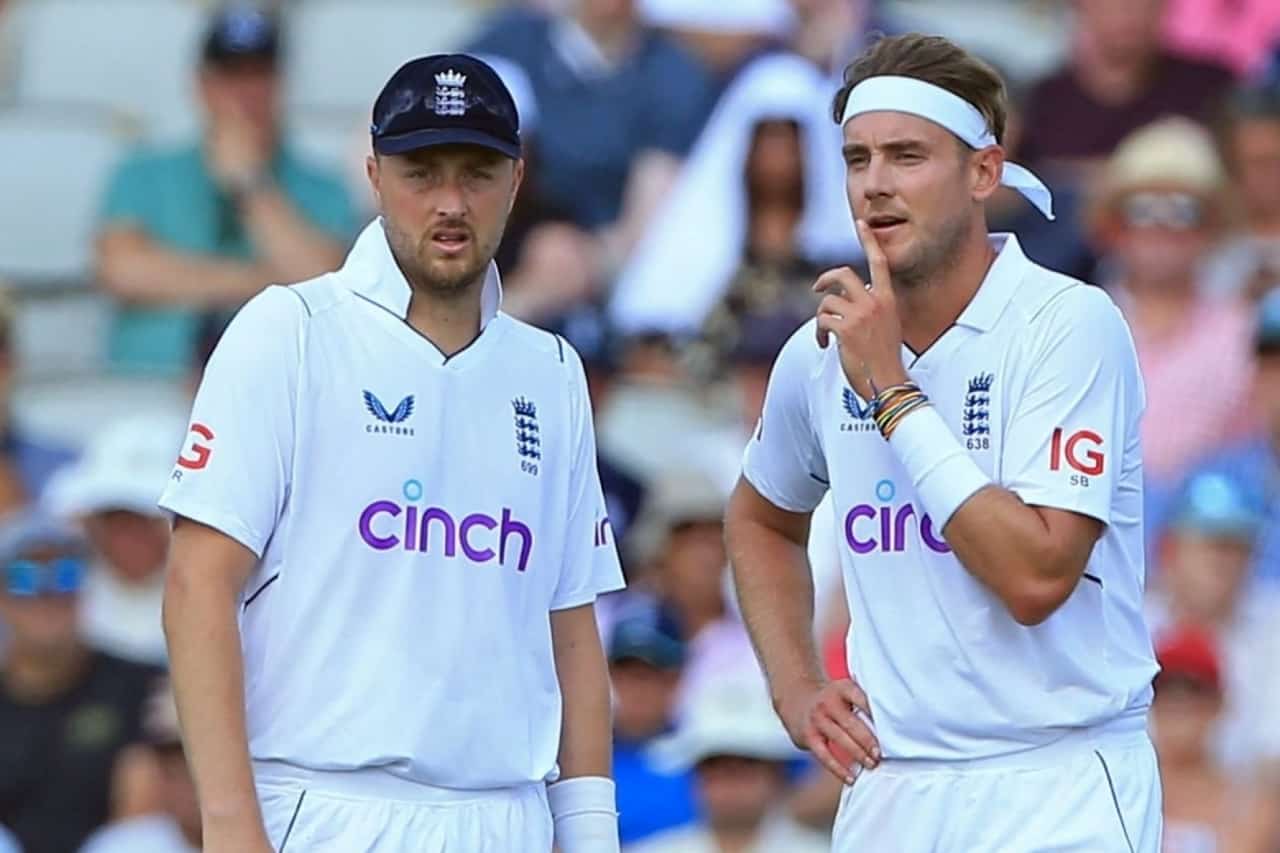 Ollie Robinson (L) & Stuart Broad | SOurce: Twitter
Australia starts the Ashes Test series with a thrilling two-wicket win over England at Edgbaston, taking a 1-0 lead in the five-match series.
There is no denying that the series opener was packed with drama, action, and a fair share of heated moments. One incident that took center stage was England pacer Ollie Robinson's controversial send-off to Australia opener Usman Khawaja.
The incident did not go down well with the Australian camp, and Robinson has faced significant backlash ever since. While Ricky Ponting expressed dissatisfaction with Robinson for associating his name with the controversy, Matthew Hayden didn't mince words, describing the England pacer as an entirely forgettable cricketer.
Meanwhile, ahead of the second test at Lord's, Stuart Broad has come out in defence of Ollie Robinson, stating that Ricky Ponting, a renowned ex-Australian, had his share of contentious moments in the past and called him a 'huge sledger' of his time.
"Ricky Ponting had a bit of a nibble because Robbo brought his name into things during a press conference, but not because Ricky was a huge sledger," Broad wrote in his column for the Daily Mail.
"Ollie had a bit of a mind blank, Ricky Ponting was the most famous ex-Aussie cricketer he could think of, and that Australia team he played in was hardly full of shrinking violets, so the hoo-ha that was created surprised us."
I didn't like Matthew Hayden's disparaging comments: Stuart Broad
Broad further expressed his disagreement with Matthew Hayden's 'forgettable cricketer' remarks and stressed that as long as the International Cricket Council (ICC) had no objections to Robinson's behaviour, others should let the matter go.
"A lot more has been made of words on the field between Ollie Robinson and Usman Khawaja than ought to have been, to be honest. Ultimately, the ICC had no problem with Ollie's reaction to dismissing Khawaja in the first innings and I didn't like Matthew Hayden's disparaging comments about him."
"Ollie averages 21 with the ball in Test cricket over a decent amount of time and bowls in a very similar way to Glenn McGrath. Yes, there was a bit of emotion on the field, but off it we are obviously seeing the Australian guys in the pavilion corridors all the time, eating lunch in the same room and we enjoyed a nice-natured week. Now a couple of expletives the other way and everyone is piling in. Where are we going with this?"