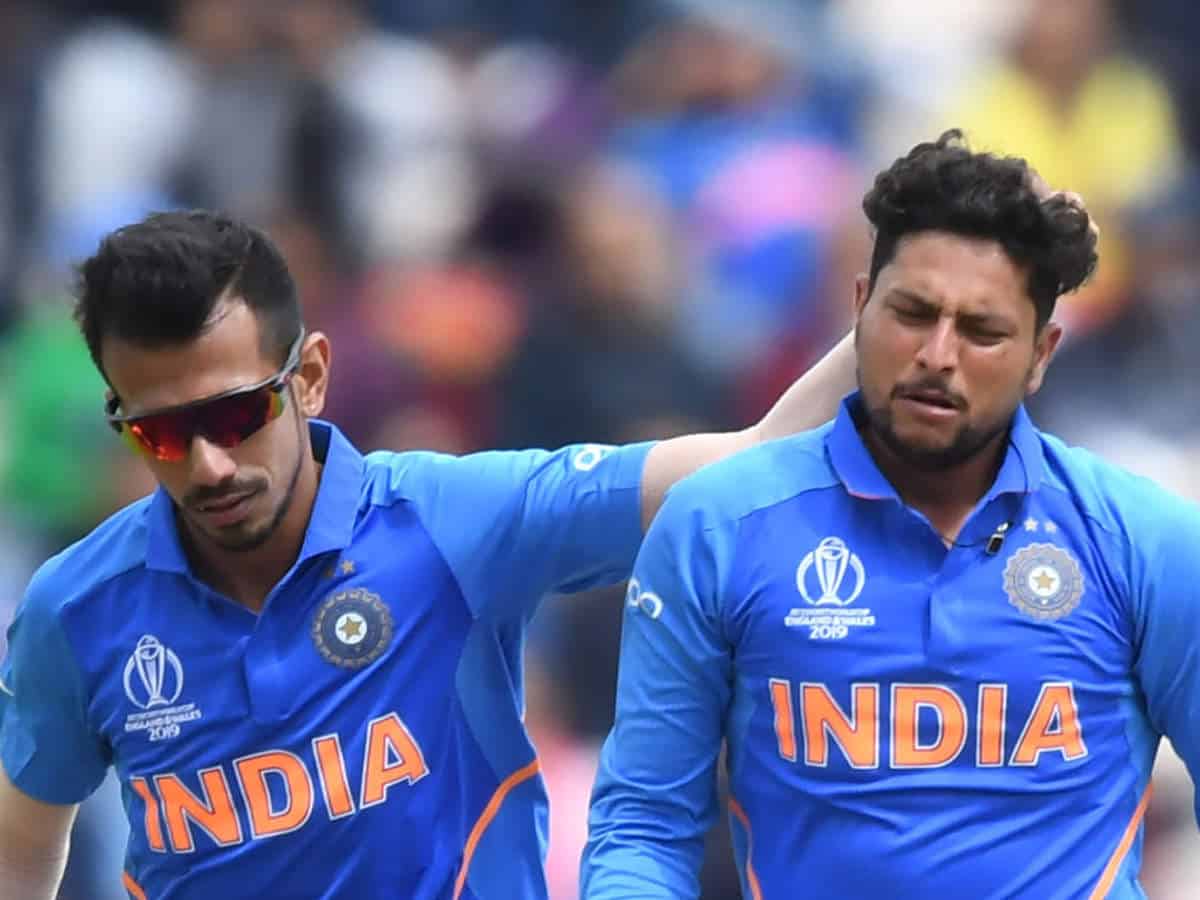 Yuzvendra Chahal and Kuldeep Yadav | Source: Twitter
The duo of Yuzvendra Chahal and Kuldeep Yadav, often regarded as 'Kulcha', last played in an ODI game together during the 2019 World Cup in England, in which Chahal leaked 88 runs in his 10 overs, while Kuldeep managed a wicket after conceding 72 runs.
Kuldeep and Chahal appeared together in 34 of India's 53 One-Day Internationals between July 2019 and September 2019 . India was victorious in 24 of them. Kuldeep Yadav had a hat-trick for India during this time, and Chahal had his career-best figures of 6/42 against Australia, becoming the first Indian bowler to take a six-wicket haul in the country.
India enjoyed decent success when they used to bowl in tandem and their famous partnership was given a name as well — 'Kul-Cha'. However, if the last two years are to be taken into consideration, Kuldeep and Chahal have hardly played together for India.
In an interview with Sports Tak, Chahal was asked about the reason why Kuldeep and him do not get to play together now. The Indian leg-spinner gave a very straightforward answer and said that all-rounder Ravindra Jadeja's return to the side as the reason for the management not fielding both the leg-spinners together in the eleven.
Yuzvendra Chahal points out that because Hardik Pandya has had back injury issues, Jadeja came into the eleven as an all-rounder at number 7, and Pandya continues to be in the side as a pure batsman.
But since Jadeja is also a spinner, one of Kuldeep or Chahal had to be benched, as more often it was the chinaman who was dropped owing to his drop in form. Yuzvendra Chahal reckons the combination wouldn't have been broken if Jadeja were a seam-bowling all-rounder! Nonetheless, the Royal Challengers Bangalore leg-spinner says he would still be happy if the team wins matches even if he isn't in the eleven.
"When Kuldeep Yadav and I used to play, Hardik Pandya was also there and he would bowl. In 2018 Hardik Pandya got injured and Ravindra Jadeja made a comeback (in white-ball cricket) as an all-rounder, the one who could also bat at number 7. Unfortunately, he is a spinner, we could have played together if he was a medium pacer. It was the demand of the team.
"Kuldeep and I played 50-50 matches in any series. Sometimes he would play 3 matches of a 5 matches of a series, sometimes I would get the chance. The team combination is needed, 11 players make a team and 'Kulcha' was not making it. We were there till Hardik was there, we were also given chances. The need of the team was to have an all-rounder at No. 7 position. I am happy even if I am not playing but the team is winning," Chahal said.
Kuldeep Yadav, recently, talked about his mental struggles after having to sit out for a prolonged period of time. Chahal, in the meantime, hasn't been at his best, both at the international level and for Royal Challengers Bangalore (RCB) in the Indian Premier League (IPL).