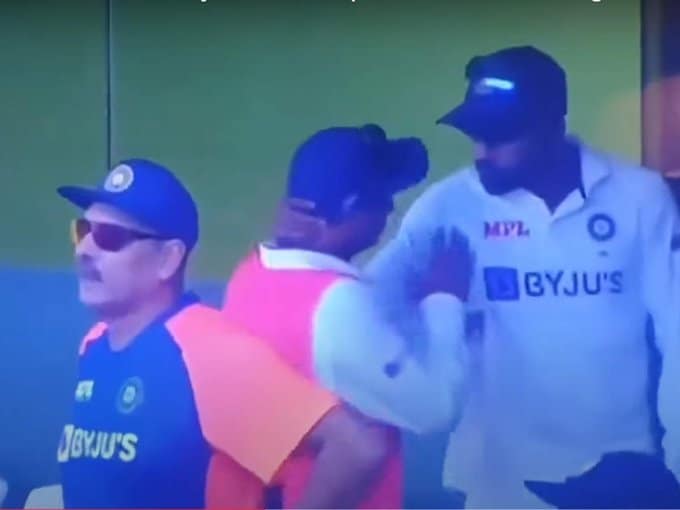 Mohammed Siraj grabbing Kuldeep Yadav's Neck | Image: Twitter
Before the start of the first Test between India and England, all had predicted left-arm spinner Kuldeep Yadav and pacer Mohammed Siraj to make it to the playing XI. However, the India team management, sprung a surprise as both players were left from the final XI.
While Siraj was the man of the show in the recent concluded Australia series, the Chinaman for a long time, has been used as a net bowler, making batsmen practice in the nets.
The team management preferred Ishant Sharma as the second fast-bowler, while Shahbaz Nadeem was chosen as the second spinner in place of Siraj and Kuldeep respectively.
Now making the most of their time sitting in the dressing room, the duo were captured on camera but the video has surely got mixed reactions.
In a very bizarre incident that happened after the first day of India vs England first Test, pace bowler Mohammed Siraj was seen grabbing spin bowler Kuldeep Yadav by his neck.
It seemed as if both players were having a light moment. The incident happened after the end of the first day. The players were returning to the dressing room and Mohammed Siraj was standing at the door. In the video that has gone viral on social media, Kuldeep Yadav, who wasn't part of India's playing XI was walking towards the door. However, Siraj standing there, grabbed Kuldeep by his neck. Kuldeep, on the other hand, was taken by surprise by Siraj's action but he too joined in the fun as he was seen listening to his teammate patiently.
Netizens soon started questioning the act and are asking if it was out of fun or in anger.
Watch video:
Twitter Reaction: