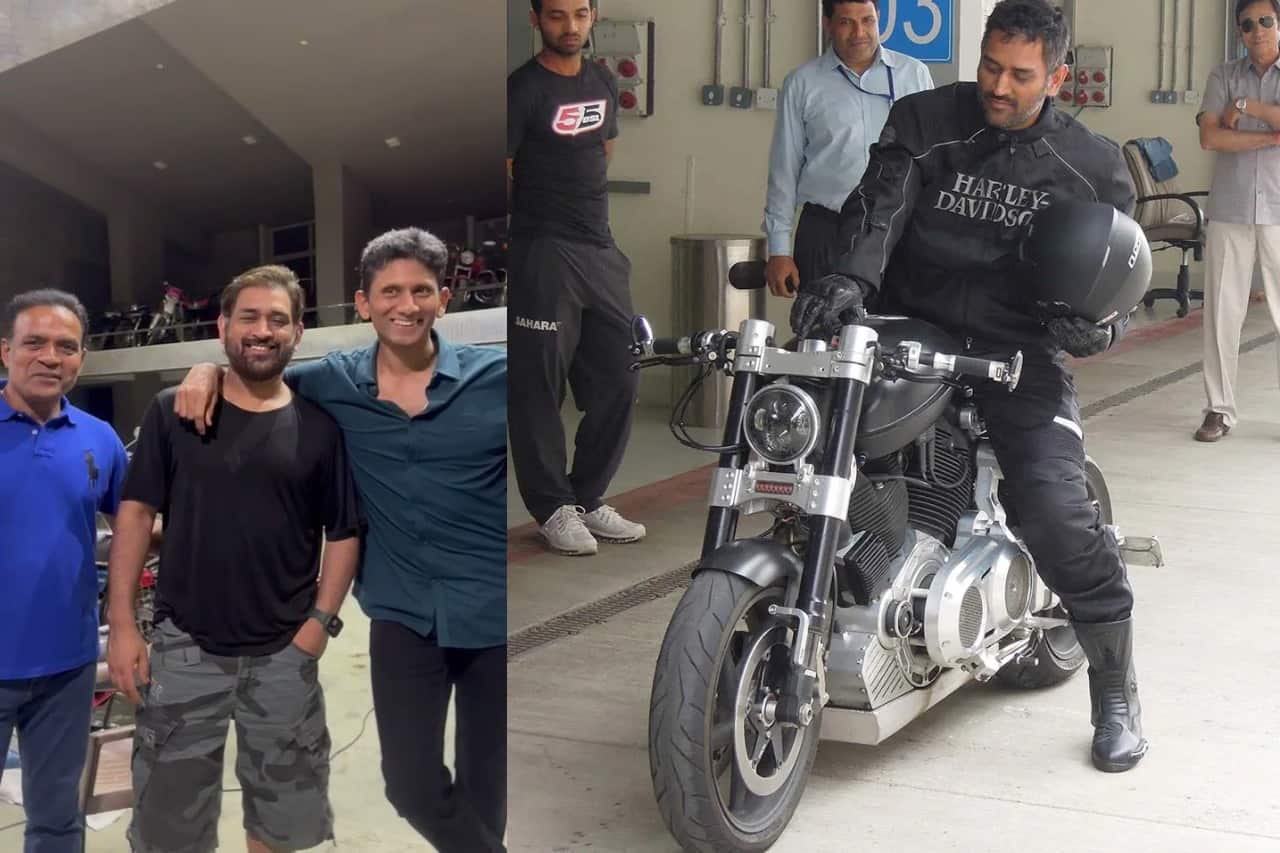 Sunil Joshi (L), MS Dhoni & Venkatesh Prasad (R) | Source: Twitter
MS Dhoni is passionate about a lot of things in life. But one thing he is most passionate about, after cricket, is his unwavering love for bikes. We have heard a great deal about his extensive bike collection and caught glimpses of it here and there.
However, for the first time, fans have had the opportunity to take a virtual tour of his bike collection, courtesy of Venkatesh Prasad, who recently visited Dhoni's farmhouse in Ranchi, where the CSK skipper took him through his impressive bike collection, which resembled nothing less than a showroom itself.
Taking to Twitter, former Indian bowler Venkatesh Prasad shared a video which gives you an unseen view of MS Dhoni's garage in Ranchi where he has parked all his bikes and cars. Here's what Prasad wrote:
"One of the craziest passion i have seen in a person. What a collection and what a man MSD is . A great achiever and a even more incredible person. This is a glimpse of his collection of bikes and cars in his Ranchi house. Just blown away by the man and his passion."
Watch Video:
While shooting the video, MS Dhoni's wife, Sakshi Dhoni can be heard asking the former India captain for his deep affection and passion for motorbikes, to which he replied:
"Because you took everything no, and I had to have something of my own so this is the only thing you allowed. That also you wanted (the garage) after the badminton court, I said 'No, it'll be before the badminton court'."
Furthermore, Venkatesh Prasad, who was left awestruck after seeing the massive bike collection, can be heard saying that unless and until someone is mad about this, you can't have these many bikes.:
"Bike showroom ho sakta hay yeh (This can be a bike showroom). Someone needs to have a hell of a lot of passion to have something else, I'm telling you. Unless and until someone is mad about this, you can't (have these many bikes)," said Prasad.
The video finished with a touching story from one of MS Dhoni's close friends, recalling the tale of his first bike. He reminisced about the times they ran out of fuel and would make desperate calls to someone at home, who would quickly arrive with a car filled with fuel.