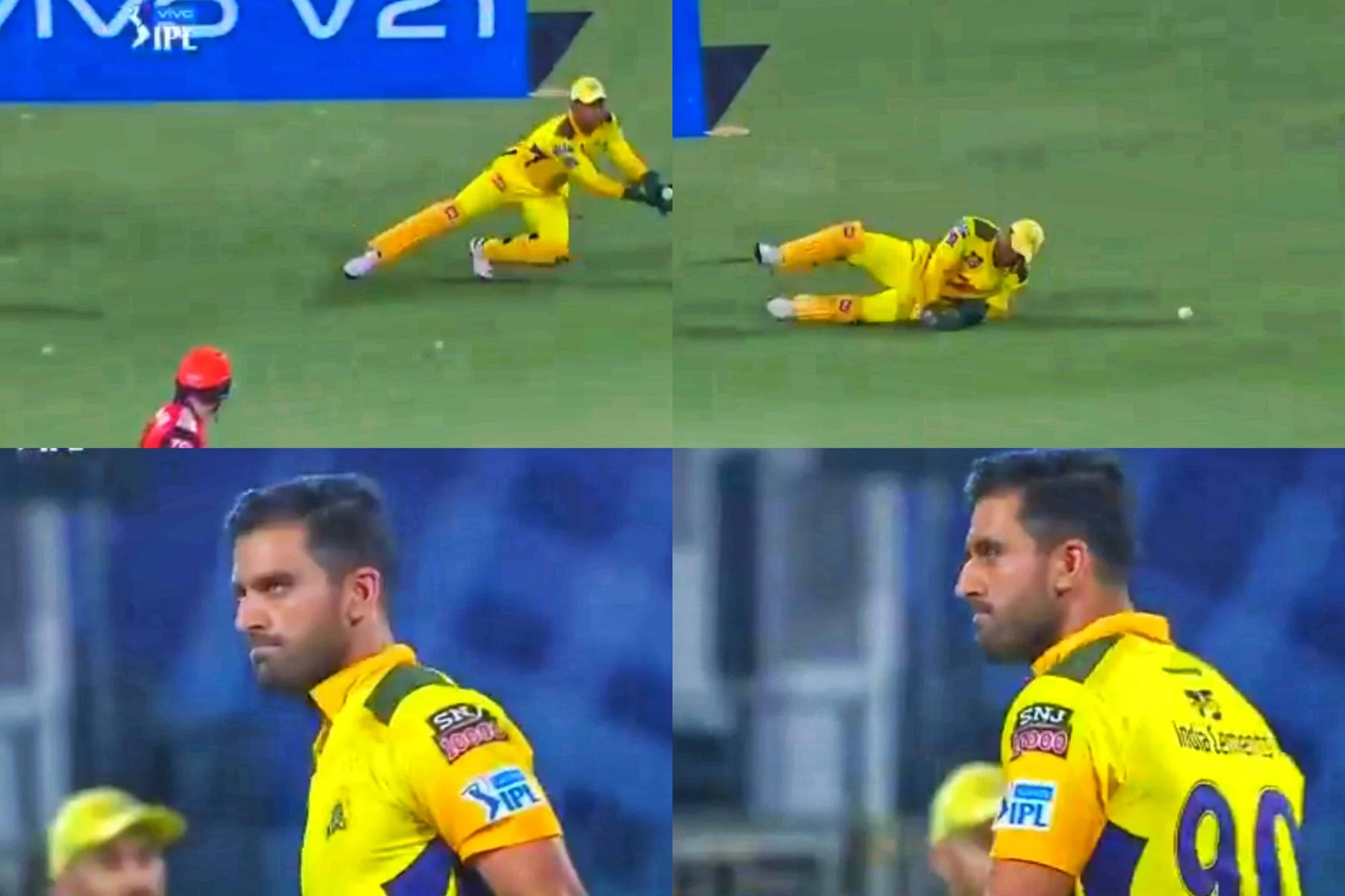 Deepak Chahar and MS Dhoni | Source: Twitter
MS Dhoni may have announced his retirement from international cricket, but the former India captain is still considered as one of the fittest cricketers around.
Dhoni, captain of the Chennai Super Kings may not have opened his hands broad with bat but the three-time IPL winning captain, in terms of wicket-keeping, is still one of the best in business.
One can call him the best gloveman in the game and he seldom makes any mistake behind the stumps. But on Wednesday, against the Sunrisers Hyderabad, he dropped a catch which evoked a stern look from the bowler, Deepak Chahar.
It was CSK's 6th game of the season, with 4 victories already in the bag, a win over SunRisers Hyderabad would make them take the numero uno position on the points table – which they eventually did.
Sunrisers captain David Warner won the toss and opted to bat, and it was off only the second ball of the SRH innings that Dhoni was guilty of grassing a relatively easy chance.
Off the bowling of fast bowler Deepak Chahar, SRH opening batsman Jonny Bairstow took a couple of steps forward. Looking at the batter moving ahead, the bowler shortened his length but sprayed it down the leg side. He glanced the ball safely but got a thick inside edge which was then dropped by MS Dhoni, who shifted to his left and moved his hands a bit too much as the ball popped out of his mittens.
Deepak Chahar looked completely unhappy with MS Dhoni but he didn't utter a word and refrained from venting out his anger with the catch being dropped. On his way back, Chahar had a sheepish smile on his face realizing there isn't much he could have said to his skipper on the catch lapse, which he may have if it were any other fielder.
Watch Video:
Here is How Twitter Reacted to This:
As long as the match is concerned, Chennai Super Kings won the it by 7 wickets. It was CSK's fifth win in the tournament, while they have lost only one. They are currently placed at the top of the points table with 10 points in their account. However, things have only got messed up for Sunrisers Hyderabad as they lost their fifth match amd currently have just one win under their belt. Undoubtedly, they are languishing at the bottom of the points table.