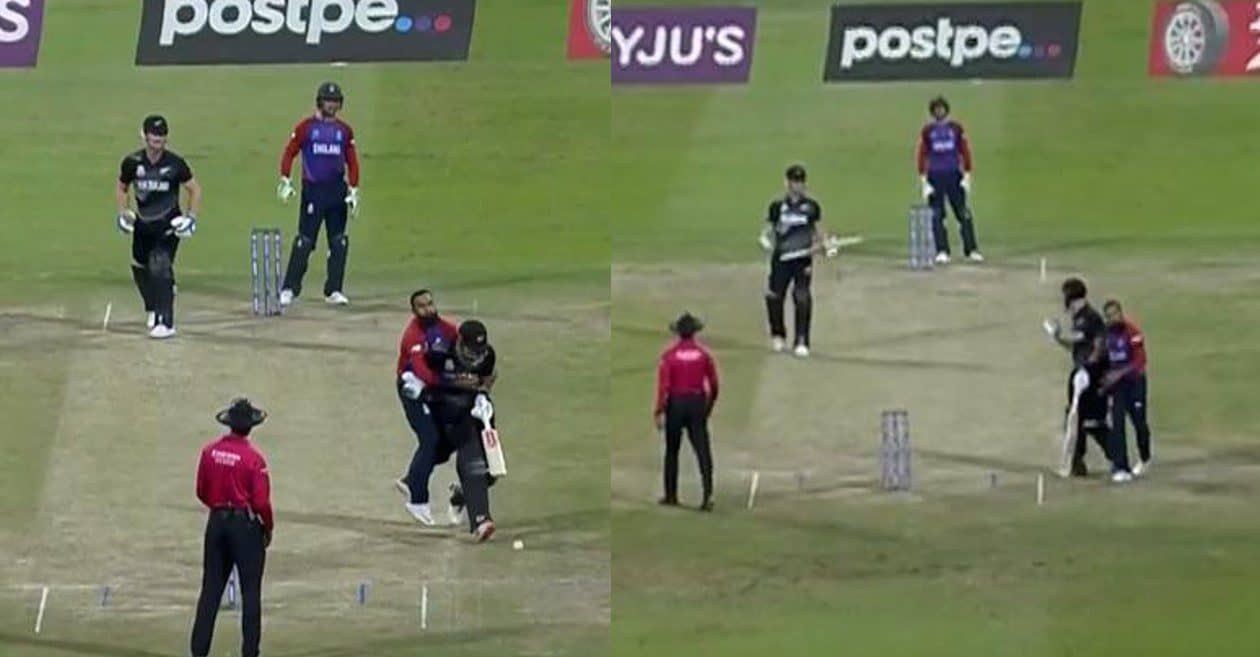 The New Zealand cricket team, on Wednesday once again showed why they are almost everyone's second favorite team. It all happened during the first semi-final of the ongoing T20 World Cup 2021 between New Zealand and England in Abu Dhabi.
Kane Williamson and co avenged their 2019 World Cup final defeat by knocking out England in the T20 World Cup semi-final stage. New Zealand opener Daryl Mitchell was their star of the match as he scored 72 runs of 47 balls to guide the team to victory with an over to spare.
However, apart from the match-winning knock, Daryl Mitchell has also been hailed for his act of sportsmanship during the crucial T20 World Cup 2021 semi-final match.
It all happened in the 18th over New Zealand's chase when leg-spinner Adil Rashid came to bowl. On the first ball of Rashid, Neesham punched a slightly short-pitched delivery down the ground and in an attempt to stop the ball, Adil Rashid ran into non-striker Daryl Mitchell.
The duo had an opportunity to run a single, but Daryl Mitchell denied it because he came in the way of the spinner. This sweet gesture from New Zealand opener captured everyone's attention as even in such a crunch situation, the Kiwi players maintained the 'Spirit of the Game'.
Former England captain Nasser Hussain, who was on air when the heartwarming moment took place also appreciated the sportsman spirit of the New Zealand opener.
"They'll sneak a single. Are they going to take a run or not? No, that is very good. That is so New Zealand; it really is. So easy to take a run there, and the non-striker said, 'no, I got in the way of Adil'. If anything sums up New Zealand cricket, it was that," said Nasser.
The 'Nice boys' of this game will face the winner of second semi-final (Pakistan vs Australia) on 14th November in Dubai International Stadium, Dubai.