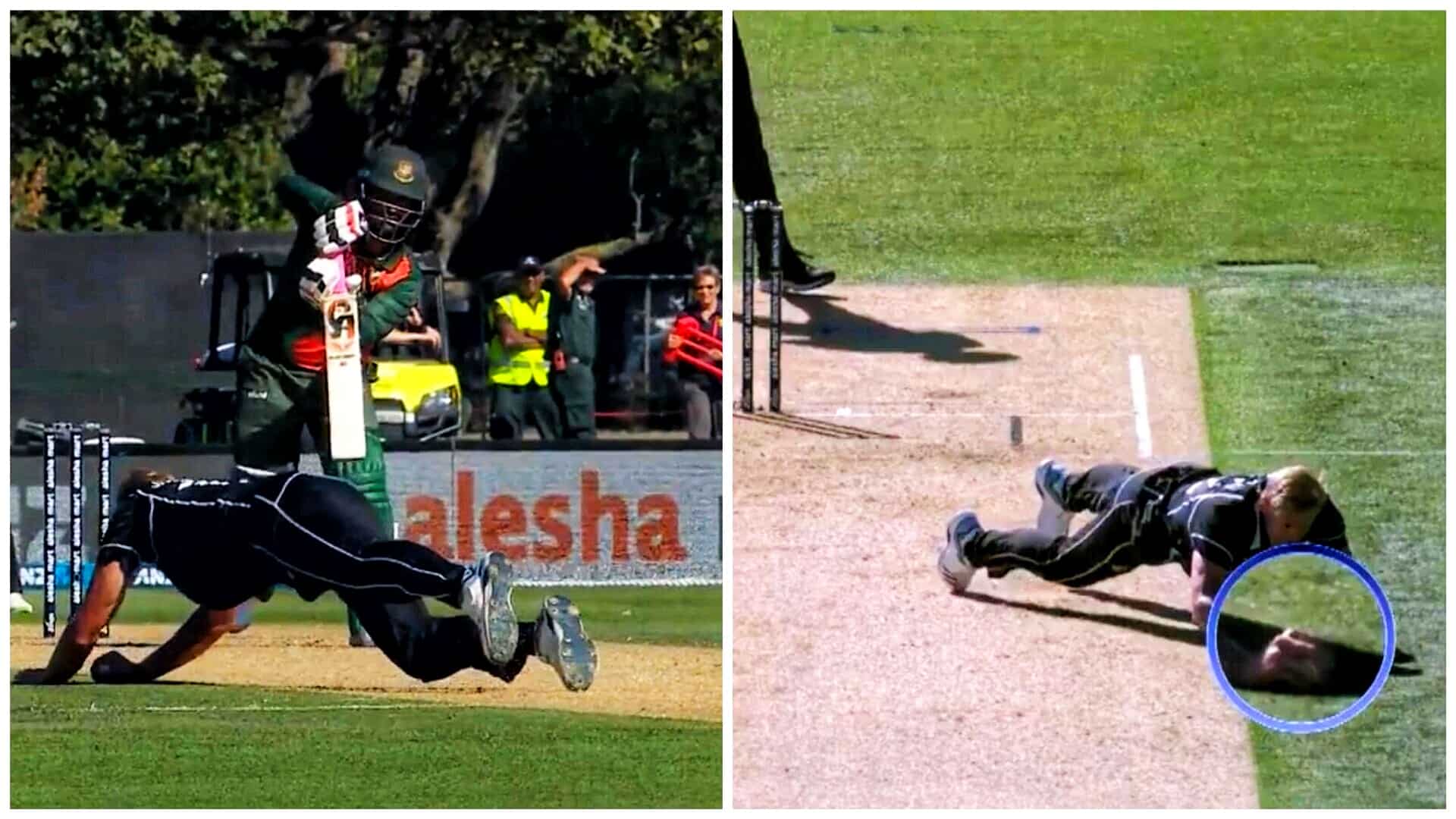 Kyle Jamieson while catching a ball | Source: Twitter
The on-field umpire's soft-signal has been a subject of debate of late. While the 4th T20I between India and England triggered a controversy after Suryakumar Yadav's catch, taken by Dawid Malan, was considered valid, another similar controversy erupted in the 2nd ODI between Bangladesh and New Zealand where the decision went against the bowler Kyle Jamieson who seemed to have taken a clean catch.
The incident took place during the 15th over of Bangladesh's innings when their captain Tamim Iqbal uppishly drove a fuller delivery back to Kyle Jamieson. In his follow-through, the bowler went low to his left and pulled off what seemed like a brilliant catch.
Given how close the ball was to the ground, the decision was bound to get referred to third umpire Chris Gaffaney. However, an "out" soft signal from the on-field umpire had given hopes of the hosts picking their second wicket at the Hagley Oval.
Was Tamim Iqbal out in NZ vs BAN Christchurch ODI?
Multiple replays resulted in Gaffaney overturning the on-field umpire's decision which was hard to digest for Jamieson. In the process of taking the catch, Jamieson did ground the ball but the question was whether the ball was grounded while the fielder was in control of himself or still in the act of completing the catch.
Watch Video:
As for the rulebook, the MCC law states:
"The striker is out caught if a ball delivered by the bowler, not being a no-ball, touches his/her bat without having previously been in contact with any fielder, and is subsequently held by a fielder as a fair catch, as described in 33.2 and 33.3 before it touches the ground."
Rule 33.3 states:
"The act of making a catch shall start from the time when the ball first comes into contact with a fielder's person and shall end when a fielder obtains complete control over both the ball and his/her own movement."
As for the controversial dropped catch, the incident took place when Tamim was batting on 34. The opening batsman went on to score 78 runs off 108 balls before being run out by James Neesham.
Twitter Reactions to Kyle Jamieson Catch Controversy
Following the decision, many cricket fans took to Twitter to express their views on the incident. While some claimed that Kyle Jamieson had clearly taken the catch, others hailed the TV umpire for making the 'right' decision. Here are some Twitter reactions: