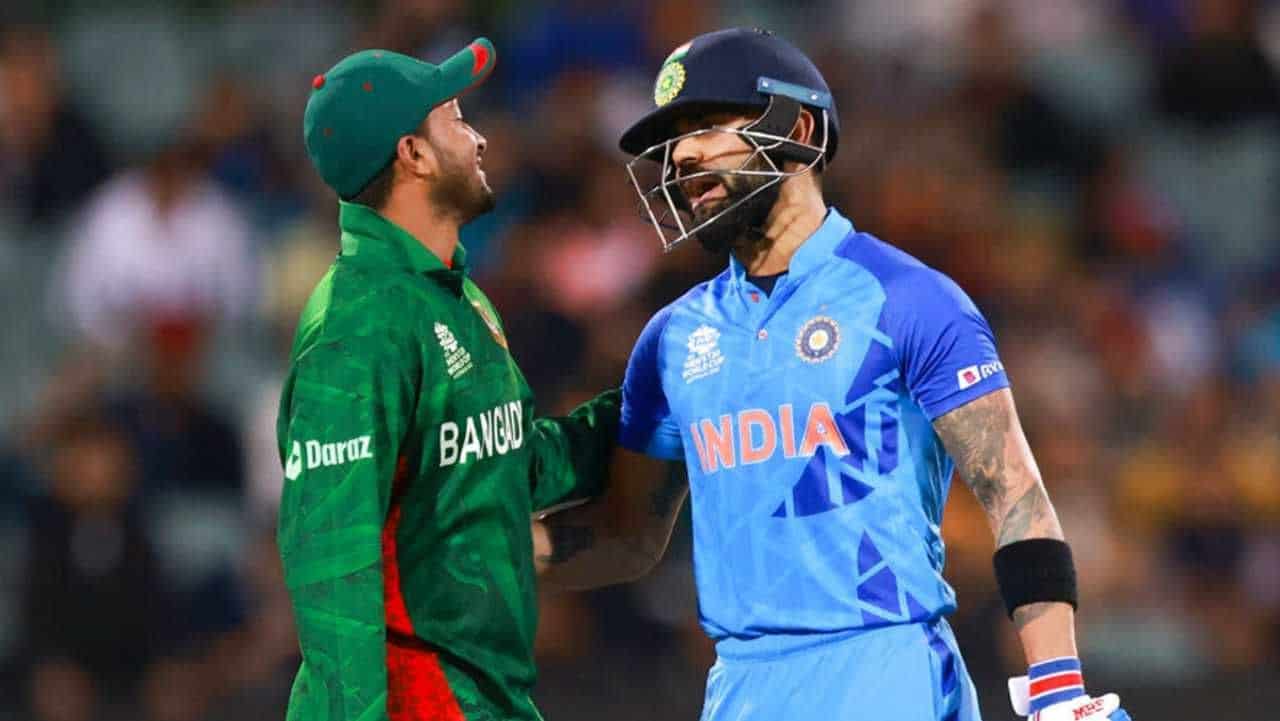 Shakib Al Hasan and Virat Kohli | Source: Twitter

Team India registered a thrilling five-run victory via DLS method over Bangladesh in their Super 12 contest of the T20 World Cup 2022 in Adelaide on Wednesday, October 2 and took another step towards semi-finals qualification.
However, in one shocking turn of events, Bangladesh wicketkeeper-batter Nurul Hasan accused former India captain Virat Kohli of "cheating" and "fake fielding", which went unnoticed by the on-field umpires.
The incident took place in the seventh over during Bangladesh's run chase when Liton Das played the ball towards the deep off-side field off Axar Patel. Arshdeep Singh collected the ball and threw it to the keeper.
Kohli, who was stationed at point, feigned a throw at the non-striker's end. At that time, it went unnoticed in the field, as the on-field umpires, Marais Erasmus and Chris Brown didn't take action.
Speaking after the match, Bangladesh batter Nurul Hasan said:
"We all saw that it was wet ground. Eventually, when we talk about these things, there was also a fake throw. It could have been a five-run penalty. That also could have gone our way, but unfortunately, even that didn't materialise."
ICC rules state:
"It is unfair for any fielder wilfully to attempt, by word or action, to distract, deceive or obstruct either batsman after the striker has received the ball."
While Nurul Hasan accused Kohli of fake fielding, he didn't mention "distraction and deception" part in the rule.
Even during the throw, neither Shanto nor Litton was looking at Kohli, and hence, they were not distracted or deceived.
Having said that, there is a possibility that Nurul might be sanctioned for criticising the match officials.