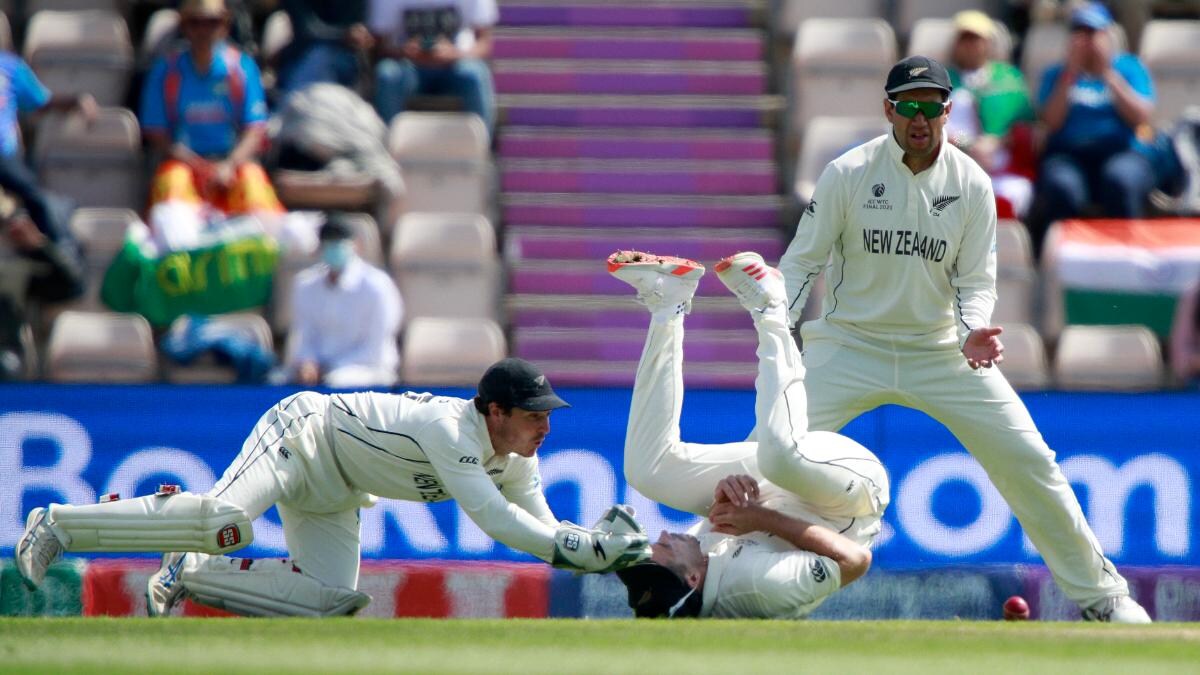 Tim Southee dropping Rishabh Pant's catch | Source: Twitter
New Zealand was spectacular in the final of the World Test Championship against India. Be it their batting, bowling or fielding, they never disappointed their fans. However, there was a moment when Tim Southee gave mini heart attacks to the Kiwi supporters as he dropped the catch of India wicket-keeper batsman Rishabh Pant, the one who single handedly won the Border Gavaskar trophy.
Pant was batting at five in India's second innings when he edged player of the match Kyle Jamieson off the last ball of the 40th over to second slip where Southee was standing. Southee dived to his right in front of the first slip but missed the catch.
Speaking with Matt & Jerry on the Hauraki Breakfast from MIQ, Tim Southee said that dropping a catch is the worst feeling on the cricket field. He further said that Rishabh Pant is a kind of player who can take 'match away from you' within five or six overs.
"I'd be lying if I said it didn't go through my head. Just because of the nature of the way that Pant played," Southee on The Matt and Jerry Show when asked if he thought he had cost New Zealand the match when he dropped Pant.
Notably, Pant was India's highest scorer in the second innings with 41 runs. However, it was not enough as India bundled up for just 170 and New Zealand chased down their target of 139 with ease.
"He can take the game away from you in the space of five or six overs. It was already a tight game and so there were some demons throwing around inside my head. But I had to drop those (thoughts) as I had to bowl the next over. You've just got to suck it up and move on. But I was very relieved when Pant was out," said Southee.
"It was a horrible feeling. Probably the worst feeling for a cricketer when you drop a catch, you feel like you're letting your mates down," Southee said.
"No, two years ago we lost our first test to Sri Lanka but like any world event, your hope on entering it is that you're there in the end. We played some pretty good cricket along the way and we managed to find ourselves in the last two with a bit of luck along the way as well," he said.Live TV
Tim Southee had a brilliant outing in the WTC final, picking up five wickets over the course of two innings. He also made a fair contribution with the bat lower down the order by adding 30 crucial runs in the first innings.