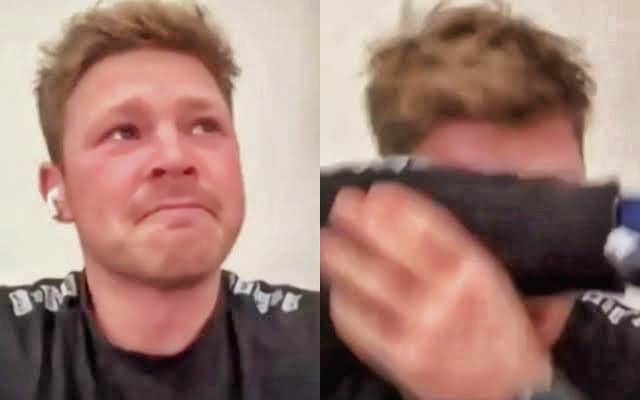 New Zealand cricketer Tim Seifert broke down during an online media interaction as he recalled his experience after testing positive for the coronavirus and missed the chartered flight back home from India earlier this month.
Seifert had to stay back in India after testing positive for the virus during the now-suspended Indian Premier League even as his national side teammates left home on a chartered plane.
Seifert was the third player from the Kolkata Knight Riders (KKR) camp to test positive for Covid-19. Varun Chakravarthy and Sandeep Warrier were the other two players who contracted the virus in the KKR camp.
"That was the toughest time. Just getting told that I had COVID and the CSK manager showin me the positive ( referring to the positive test report)on the test. That's kind of the world stops a little bit. I just couldn't think what was really next and that was the scary part of it", said Tim Seifert during a media interaction on a Zoom call on Tuesday.
"You hear about the bad things and I thought that was going to happen to me", he said as he broke down.
Seifert is currently undergoing his mandatory 14-day quarantine period after recovering and returning to his home country last week. The 26-year-old stated how Brendon McCullum and Stephen Fleming helping him through the difficult phase.
"They (McCullum and Fleming) made everything a lot easier. They made sure that things would be put in place and the CSK management and CEO of Kolkata Knight Riders, they made life easy for me to know that everything would be alright and when that time was to come home, they'd try everything to get me home safely.
"That was definitely hard but, once a few days had gone by, everything had kind of calmed down a little bit, but the New Zealand boys had gone so then I just knew that it was the time of getting through it, looking at the positives, getting married in two months. That is exciting. So I think you just had to look at the positives and know that I was healthy", he added.
He said one of the biggest positives that helped him through the tough times was that he was getting married in a couple of months.
"My fiancée was quite happy I'm back a bit earlier so I can help with all the planning," Seifert added.
In his career for the Kiwis, Seifert has played three ODIs and 35 T20Is in which he managed 33 and 695 runs respectively with five half-centuries.