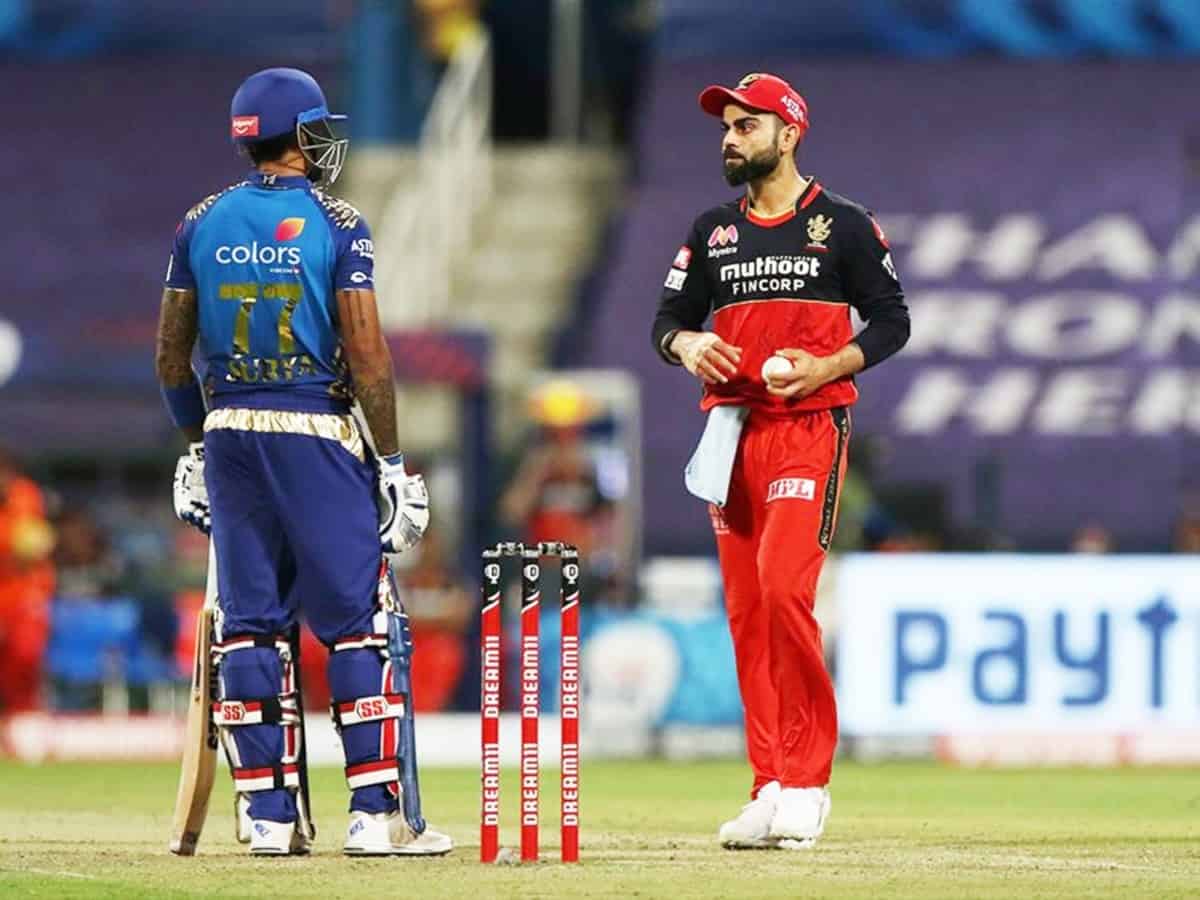 Virat Kohli and Suryakumar Yadav | Source: Twitter
India and Mumbai Indians batsman Suryakumar Yadav recalled his on field 'stare' battle with Virat Kohli during an IPL 2020 match between Mumbai Indians and Royal Challengers Bangalore. Yadav even revealed that he loved and was happy when Virat Kohli sledged him.
Mumbai Indians were chasing 165 and Suryakumar Yadav slammed an unbeaten 79 to help MI win a tight contest and as things heated up in the match, Virat Kohli was seen saying something to the Mumbai batsman in order to distract him, but Suryakumar Yadav just ignored what was said and remained unmoved.
"Happy He Sledged Me": Suryakumar Yadav
Speaking about the incident during a live chat on Mumbai Indians' Instagram handle, the batsman said that he was happy that Kohli was having a go at him, as it meant that the RCB skipper wanted to get him out.
He went on to say that as he was in the zone during the match and determined to finish the game for his team, he was too focused to be distracted by anything.
Suryakumar Yadav said that Kohli is "electrifying" on the pitch and goes hard at any batsman up against him.
"It's not just me, he goes hard at any batsman batting against him," Suryakumar Yadav said about Kohli.
"I was happy that he sledged me," he said. "It means even Kohli knew that if I bat on, we will win the match and if they got my wicket, then maybe they could slow us down and create a chance to win."
There Was That Moment In Abu Dhabi: Suryakumar Yadav
Suryakumar said the staring was a heat of the moment thing, and said he respected Kohli.
"I am a cool and calm customer on the pitch, so I don't get into these rivalries. But there was that moment in Abu Dhabi, so I guess that can go down as one," he said.
Suryakumar broke into the Indian team on the back of some superb performance in IPL 2020. In an Instagram chat with his fans recently, he called Kohli an 'inspiration' and MS Dhoni a 'legend'.
Suryakumar Yadav IPL Stats
In terms of IPL, Suryakumar Yadav has played 108 matches till now in which he has scored 2197 runs with a strike-rate of 135.28. In IPL 2021, Suryakumar Yadav looked solid, however the cricketer could not stretch his solid start into a big total.
As a result in the seven matches played during IPL 2021, the MI stalwart scored only one half-century and amassed a total of 173 runs with a strike rate of 144.16.