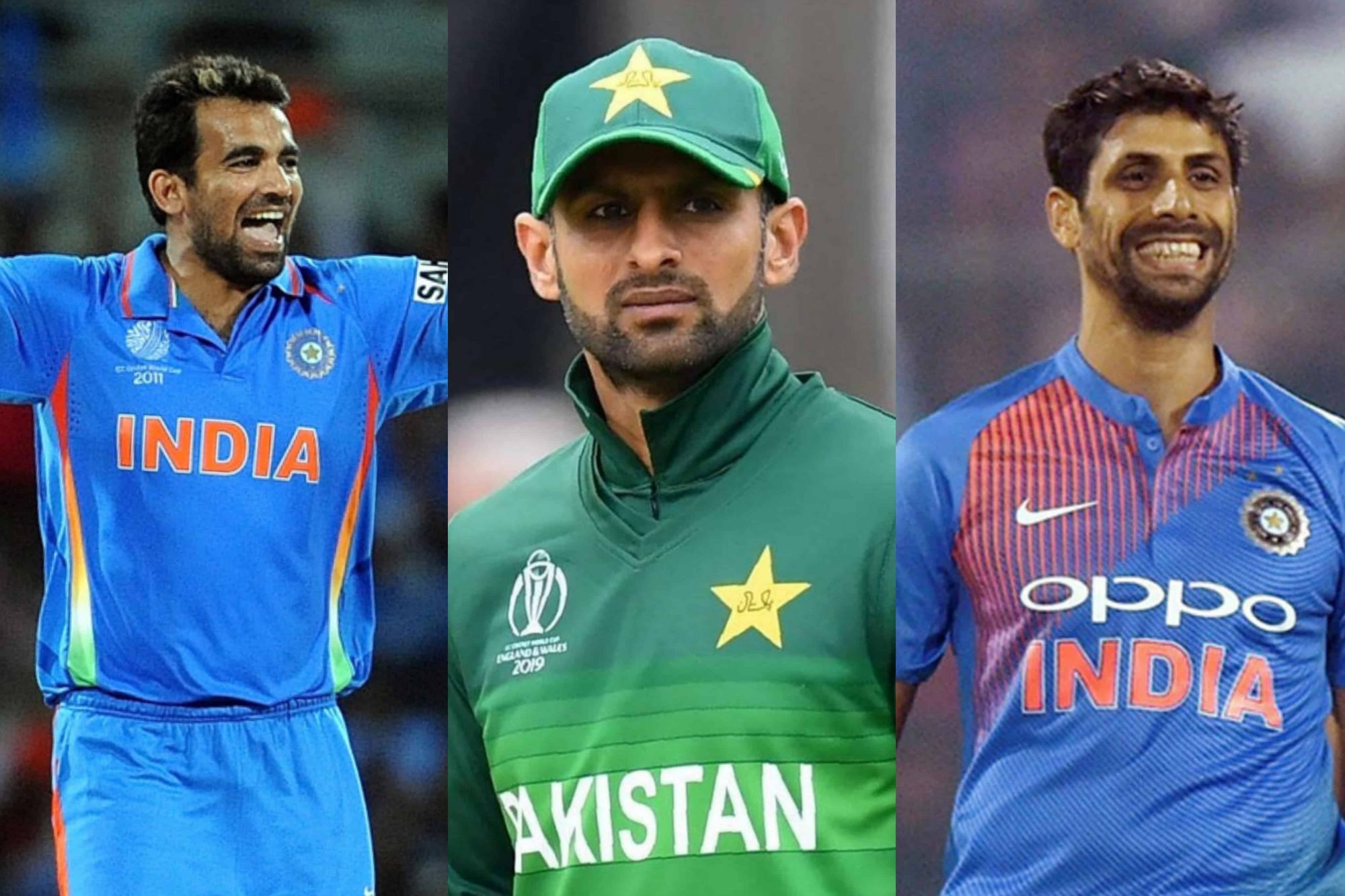 Zaheer Khan, Shoaib Malik, Ashish Nehra | Source: Twitter
Former Pakistan captain, Shoaib Malik, explains why he and most other Pakistani batsmen struggled against India's pace bowling duo of Ashish Nehra and Zaheer Khan.
Both seamers were the key players in India's success in the 2000s, culminating in the 2011 World Cup win. Khan and Shahid Afridi shared the World Cup wicket-taking lead with 21 wickets each.
Shoaib Malik, who debuted for Pakistan in 1999, appeared in a number of games against India. In one-day internationals, he amassed 1782 runs at an average of 46.89 versus the Men in Blue.
However, as the batter admits, he struggled against Khan and Nehra, since both left-arm pacers, who are skilled at moving the ball laterally, attacked both of his bat's edges. In fact, in ODIs, Zaheer had dismissed the right-hander six times.
"Zaheer Khan and Ashish Nehra targeted the edges of the bat. Hence, they took many wickets against Pakistan. If a bowler targets the edge, he will be more successful," Shoaib Malik said in an interview with Cricwick.
Although Shoaib Malik struggled against Khan and Nehra, he thrashed Irfan Pathan, another left-arm pacer. In one-day internationals, he averaged 90 against Pathan. Shoaib Malik attributes his victory over Pathan to his ability to play inswingers well, as the bowler had yet to develop outswingers or the angle across delivery as Nehra and Zaheer did.
"I feel my ability to play the in-swinging deliveries helped me do well against Irfan. My average against Irfan Pathan is good because I play the inswing well. At that time, Irfan did not bowl out-swingers. He added it to his arsenal later, but early in his career, he majorly bowled in-swinging deliveries. So, I knew he would bowl an in-swinger, and I prepared myself accordingly," the 39-year-old stated.
A Close Look To Shoaib Malik's Stats Vs India
In ODIs against India, Malik has scored 1782 runs in 48 matches with the help of 4 tons and 11 fifties. Malik has also played 8 T20Is against the Men in Blue where he averages 27.33, his highest score being 57 not out. He has also played 3 Tests against India where he has just 89 runs to his name.
Given the political tensions between the two countries, India and Pakistan now lock horns only in ICC tournaments. The two sides last met on the cricket field in ICC World Cup 2019 – where India maintained its unbeaten run against the Men in Green in World Cup history. The two sides will now lock horns in the upcoming T20 World Cup which is scheduled to be played in India later this year.
Malik, who is 39, is likely to hang up his boots from the shortest format after the showpiece event. He has already retired from Tests as well as ODIs.