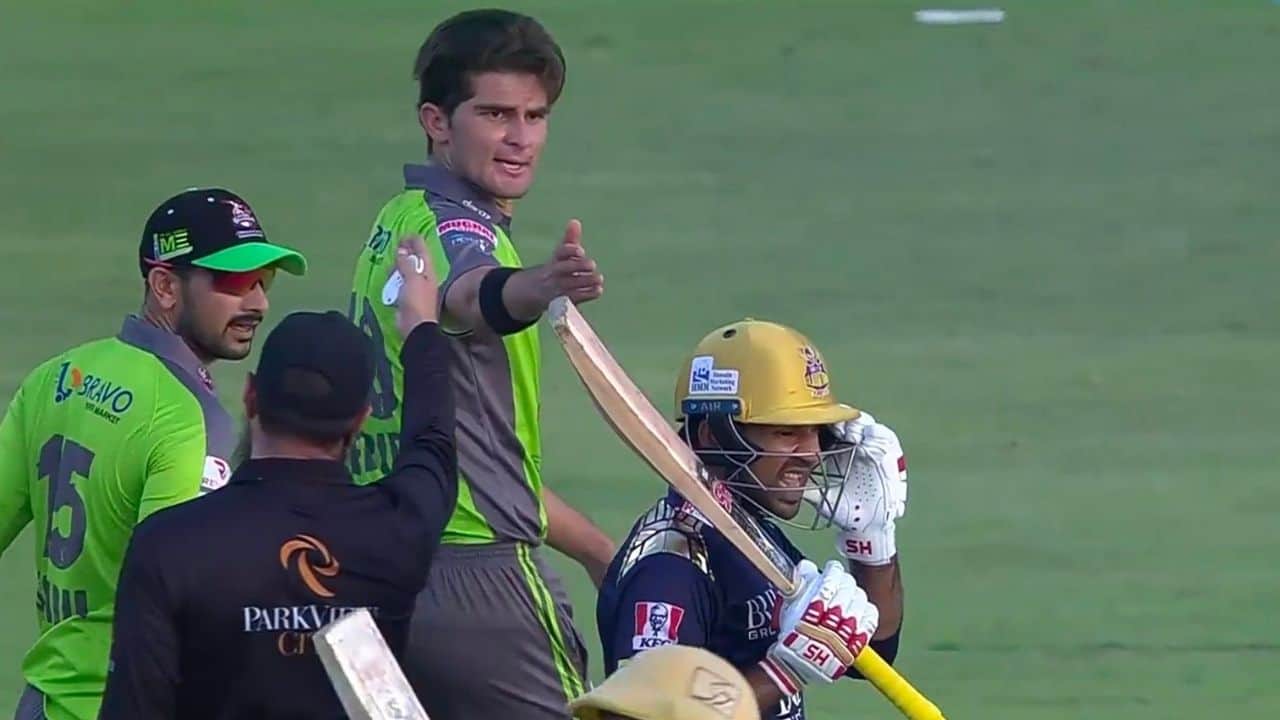 Shaheen Shah Afridi | Source: Twitter

Pakistan fast bowler Shaheen Shah Afridi seemed apologetic for his behaviour on the field after his heated exchange with Sarfaraz Ahmed in the Pakistan Super League 2021 on Tuesday.
Former Pakistan captain Sarfaraz Ahmed and left-arm pacer Shaheen Shah Afridi were involved in a heated exchange during the Lahore Qalandars and Quetta Gladiators match of the PSL taking place in Abu Dhabi.
The incident took place in the 19th over – the penultimate one – of the Gladiators' innings when a bouncer from Afridi hit Sarfraz on the helmet and it was signalled as a no-ball from the umpire.
The ball hit the former Pakistan captain on the helmet and went to third man as Sarfaraz and his partner Hassan Khan took a single. However, upon reached the non-striker's end, Sarfaraz had something to say to Afridi, which was not received by the young pacer too kindly. In fact, the left-arm quick, in an aggressive reaction, walked towards Sarfaraz for a face-off.
Afridi tried to get close to Sarfaraz but just when things looked like getting out of hands, the umpires intervened and cooler heads prevailed. Qalandars' Mohammad Hafeez and captain Sohail Akhtar joined in to cool the situation down. Even as the innings ended and the Qalandars walked out to bat, Sarfaraz was seen speaking to the umpire about the altercation with Afridi.
However, Afridi regretted his actions later and said that he should have kept quiet out of respect for Sarfaraz.
"Saifi bhai is the pride of all of us. He was and will always remain a captain for me. Whatever happened in the game that day was heat of the moment.
"I should have stayed quiet in respect of him. I have always respected my seniors and pray and wish the best for @SarfarazA_54 bhai," Afridi tweeted.
Former Pakistani cricketer and commentator Shoaib Akhtar replied to Afridi's tweet, saying:
" Sarfraz deserve lot more respect then this as he was the best captain of Pakistan can ever ask for… but Great gesture by Saheen shah proud of you…"
Ahmed quickly forgave his junior, retweeting Afridi's apology saying:
"It's all good bro. Whatever happened in the field it should stay in the field. You are the star of Pakistan too. May Allah give you more success in life. You are little brother to me. All is well."
As long as the match is concerned, Quetta Gladiators beat Lahore Qalandars by 18 runs on Tuesday, marking their second win of the season out of nine games.