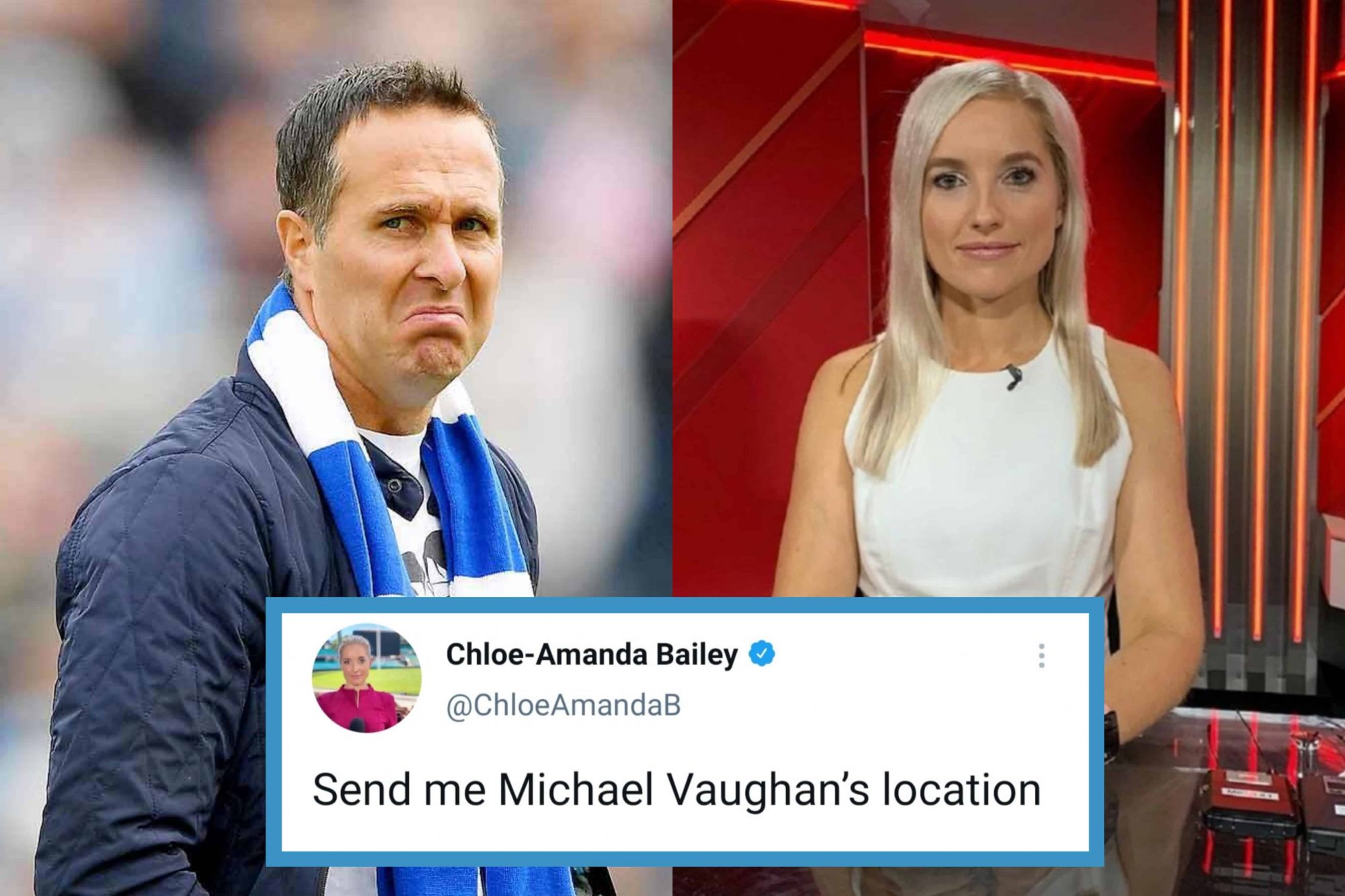 Michael Vaughan and Chloe-Amanda Bailey | Source: Twitter
Michael Vaughan has constantly been in the limelight for quite some time now after England's tour of India. The former English captain has not shied away from expressing his views on the happenings of the tour in support of the visitors.
Vaughan has even gone about blaming the pitches in the tour and has also belittled the Indian team, especially the T20I outfit, stating that the Mumbai Indians are a better team than them.
Vaughan once again garnered negative attention on social media for his comments on Virat Kohli and Kane Williamson. As per Vaughan, Williamson would have been the greatest player in the world if he was an Indian. Speaking to Spark Sport, Vaughan also said that people call Kohli the best to get more likes and few more clicks.
He has been at the receiving end of a lot of retorts from fans not only in India but around the world as well. He got one such reply on Monday when Australian journalist Chloe-Amanda Bailey who is quite popular among the Indian fans trolled him while replying to one of his fans who asked her about her views on the matter.
A fans asked the Australian sports journalist about her views on the Vaughan's comments.
"Micheal Vaughan was saying that kane Williamson is better player than virat kohli . What's your thought about that?," fan asked Chloe-Amanda on the micro-blogging website Twitter.
Replying to a Tweet, Chloe-Amanda wrote:
"Send me Michael Vaughan's comments."
Chloe Amanda Bailey, who seems to be a great fan of Virat Kohli and co., is often seen giving her opinion on cricket-based matters and is often interacting with the fans.
Chloe-Amanda Bailey's Tweet:
What Did Michael Vaughan Initially Say?
In an interview with Spark Sports, Vaughan said that if Williamson was Indian he would be the greatest player in the world not Virat Kohli.
"If Kane Williamson was Indian, he would be the greatest player in the world. But he's not because you're not allowed to say that Virat Kohli is not the greatest, because you'd get an absolute pelting on social media. So, you all say Virat is the best purely to get a few more clicks and likes, few more numbers following here. Kane Williamson, across formats, is equally the best. I think the way he plays, the calm demeanour, his humbleness, the fact that he is silent about what he does," said Vaughan.
The former English skipper also went on to say that Kane Williamson will score more than Virat Kohli this summer and the Kiwi skipper is right right up there with the great players across the three formats.
"I'm not just saying it because I'm speaking to you guys in New Zealand but I think Kane Williamson is right up there with the great players across the three formats and certainly matches Virat Kohli. It's just that he doesn't have the 100 million followers on Instagram and doesn't earn the $30-40 million or whatever Virat gets every year for his commercial endorsements. But in terms of quality and what he brings on the pitch and his consistency, I wouldn't back against Kane Williamson getting more runs. I think Kane may score a few more runs than Virat this summer," Vaughan added.