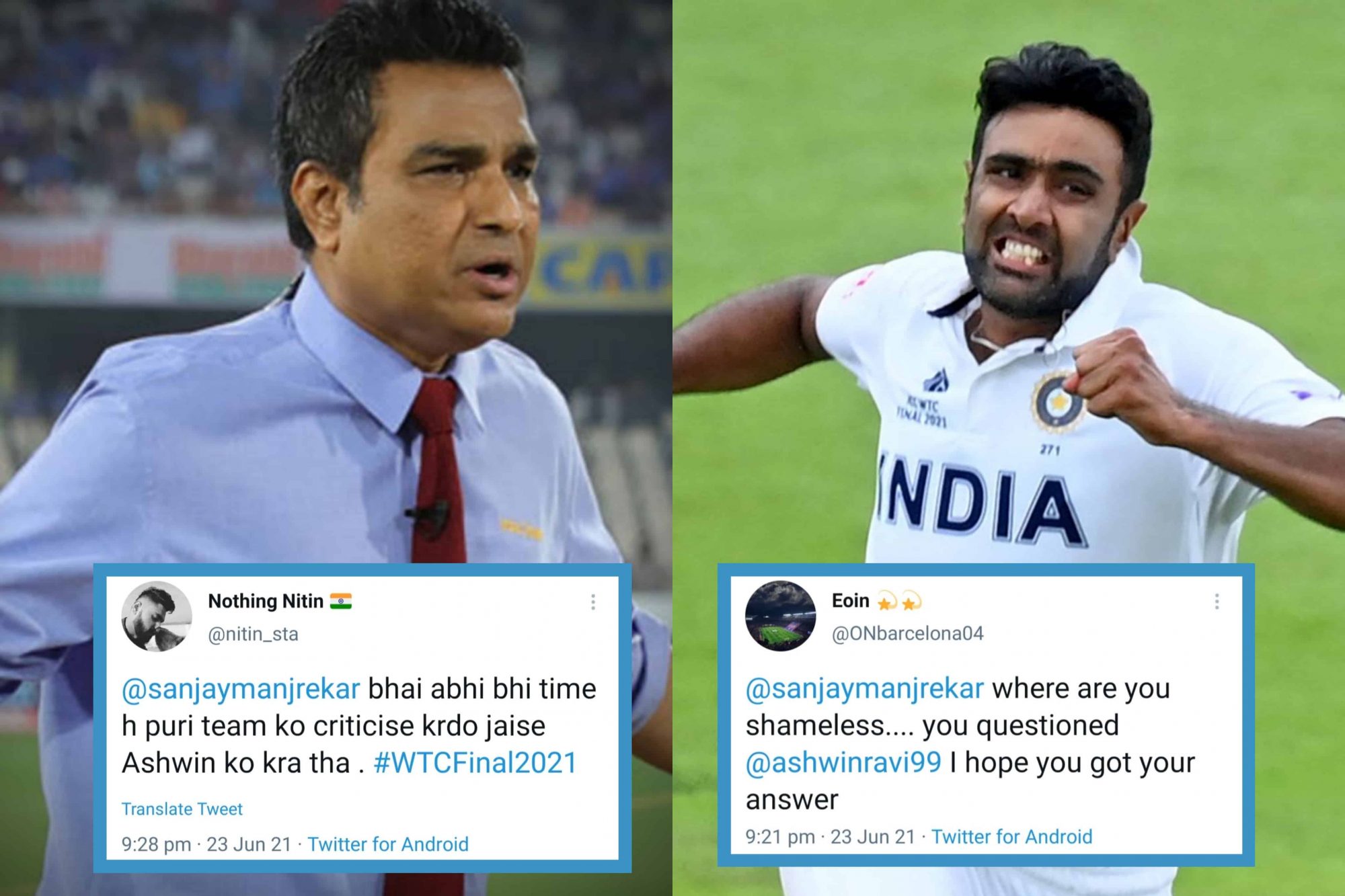 Sanjay Manjrekar and R Ashwin | Source: Twitter
Ravichandran Ashwin, on Wednesday become the highest wicket-taker in the World Test Championship, going past Australia's Pat Cummins (70 wickets) for the feat.
Ashwin dismissed Devon Conway (19 off 47) and claimed his 71st wicket in the WTC final to achieve the feat. The off-spinner dismissed both the openers, Tom Latham and Conway in the 139-run chase in the final.
Ashwin has been instrumental in India's triumphs in the World Test Championship, which began back in 2019 against the West Indies. In 2019, the off-spinner took the most wickets in the home series against South Africa, and he followed the momentum with solid efforts against Bangladesh in the same year.
Not just this, the 34-year-old was India's second-highest wicket-taker during India's tour of Australia with 12 wickets, despite missing the final Test in Brisbane due to injury. With 32 wickets in four Tests against England earlier this year, Ashwin once again finished as the series' leading wicket-taker.
The Tamil Nadu off-spinner will also finish the WTC with 4 five-wicket hauls, which is the joint-second most five-fors, along with Nathan Lyon (Australia) and teammate Axar Patel. New Zealand all-rounder Kyle Jamieson tops the tally with a stunning 5 Test five-fors in just 8 games.
Meanwhile, one name which has started trending on Twitter as soon as Ashwin became highest wicket taker of WTC was that of former India batsman Sanjay Manjrekar. We have picked some top tweets for you. Have a look:
Twitter Reactions:
How is Sanjay Manjrekar Related To R Ashwin?
Recently, in an interview with ESPNCricinfo, Manjrekar said that he has a few problems with people calling Ashwin an all-time great because of his record in SENA (South Africa, England, New Zealand, Australia) countries. The former Indian cricketer pointed out that Ashwin does not have a five-wicket haul in SENA countries.
Also, he said that Ashwin gets wickets in spinner-friendly sub-continent conditions where Ravindra Jadeja matches him and recently Axar Patel got more wickets than him against England in the home series.
Manjrekar feels that players like Don Bradman, Garfield Sobers, Sunil Gavaskar, Sachin Tendulkar, Virat Kohli and others are all-time greats and not Ashwin.
"One basic problem I have with Ashwin is that when you look at SENA countries, places where Indians find themselves outside their comfort zone, it's amazing to see that he doesn't have a single five-wicket haul. Not one five-wicket haul in all these countries," Manjrekar had said on ESPNcricinfo's program 'Run Order'.
"The other thing – you talk about him running through sides on Indian pitches, when pitches are suited to his kind of bowling. But in the last four years, Ravindra Jadeja has matched him with wicket-taking ability throughout a series. So, Ashwin is not a guy who soars above the others. And interestingly, in the last series against England, Axar Patel got more wickets than Ashwin on similar pitches. That is my problem with accepting Ashwin as an all-time great," he had added.
Later, the cricketer-turned commentator also made a tweet to explain what an 'all-time great' means after receiving flak over his assessment of Ashwin.
"'All- time great' is the highest praise & acknowledgment given to a cricketer. Cricketers like Don Bradman, Sobers, Gavaskar, Tendulkar, Virat etc are all time greats in my book. With due respect, Ashwin not quite there as an all-time great yet," Majrekar tweeted.
India vs New Zealand WTC Final Update:
Earlier in the day, team India were bowled out for 170 on the reserve day of the Test after having dismissed New Zealand for 249 on Day 5. Wicketkeeper-batsman Rishabh Pant (41) was the top scorer for India. Rohit Sharma (30) was the second-highest scorer, and apart from these two, no other Indian batter crossed the 20-run mark.
New Zealand is at 80 for the loss of two wickets with Kane Williamson batting at 14 off 42 balls while Ross Taylor is batting at 26 runs from 47 balls at the time of writing. They still need 59 runs from 23.4 overs. While India need 8 wickets to win.