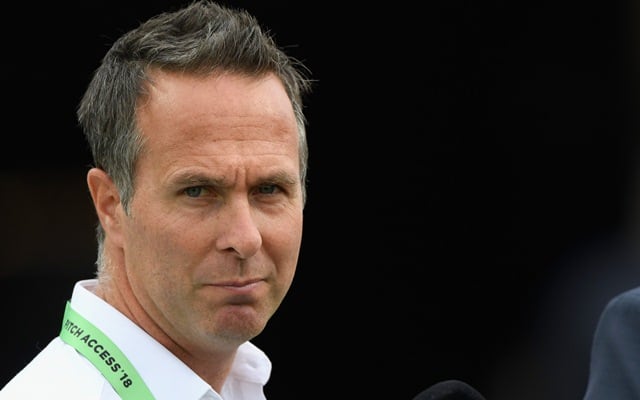 Michael Vaughan | Source: Twitter
Former England captain Michael Vaughan has expressed his disappointment regarding star India all-rounder Ravindra Jadeja's grade in BCCI's central contracts for 2020-21.
The Board Of Control For Cricket In India announced the annual contracts list for the Indian players and only three cricketers have been kept in its Elite A+ grade which will see Virat Kohli, Rohit Sharma and Jasprit Bumrah earn Rs 7 crore per year.
The ace Indian all-rounder has been handed an A-grade contract which provides him with an annual payment of INR 5 crores. However, displeased with the current contract, Vaughan labelled it a 'disgrace' and remarked that Jadeja should be given the same pay grade as skipper Virat Kohli.
Quoting a report on Twitter, Vaughan said that Jadeja should be on the biggest contract just behind skipper Virat Kohli.
India's greatest ever fielder' Vaughan's comments come after Ravindra Jadeja's exploits against Punjab Kings in the ongoing IPL match. Jadeja's lightning-fast fielding effort within the powerplay helped CSK dismiss Punjab skipper KL Rahul cheaply which eventually caused a downfall of the Punjab batting lineup.
Moreover, Jadeja leapt to pull the bowl of thin air as he helped Deepak Chahar bag his second wicket of the game. Jadeja's skills on the field prompted Michael Vaughan to heap high praise on the CSK star. Vaughan also declared that Jadeja is his favourite Indian player and the country's 'greatest-ever fielder.'
Grade A+ players will get Rs 7 crore for the period between October 2020 to September 2021. Grade A players will get Rs 5 crore, Grade B Rs 3 crore and Grade C Rs 1 crore.
BCCI Annual Retainership for 2020-21

Grade A+: Virat Kohli, Rohit Sharma, Jasprit Bumrah
Grade A: Ravichandran Ashwin, Ravindra Jadeja, Cheteshwar Pujara, Ajinkya Rahane, Shikhar Dhawan, KL Rahul, Mohammad Shami, Ishant Sharma, Rishabh Pant, Hardik Pandya.
Grade B: Wriddhiman Saha, Umesh Yadav, Bhuvneshwar Kumar, Shardul Thakur, Mayank Agarwal.
Grade C: Kuldeep Yadav, Navdeep Saini, Deepak Chahar, Shubman Gill, Hanuma Vihari, Axar Patel, Shreyas Iyer, Washington Sundar, Yuzvendra Chahal, Mohammad Siraj