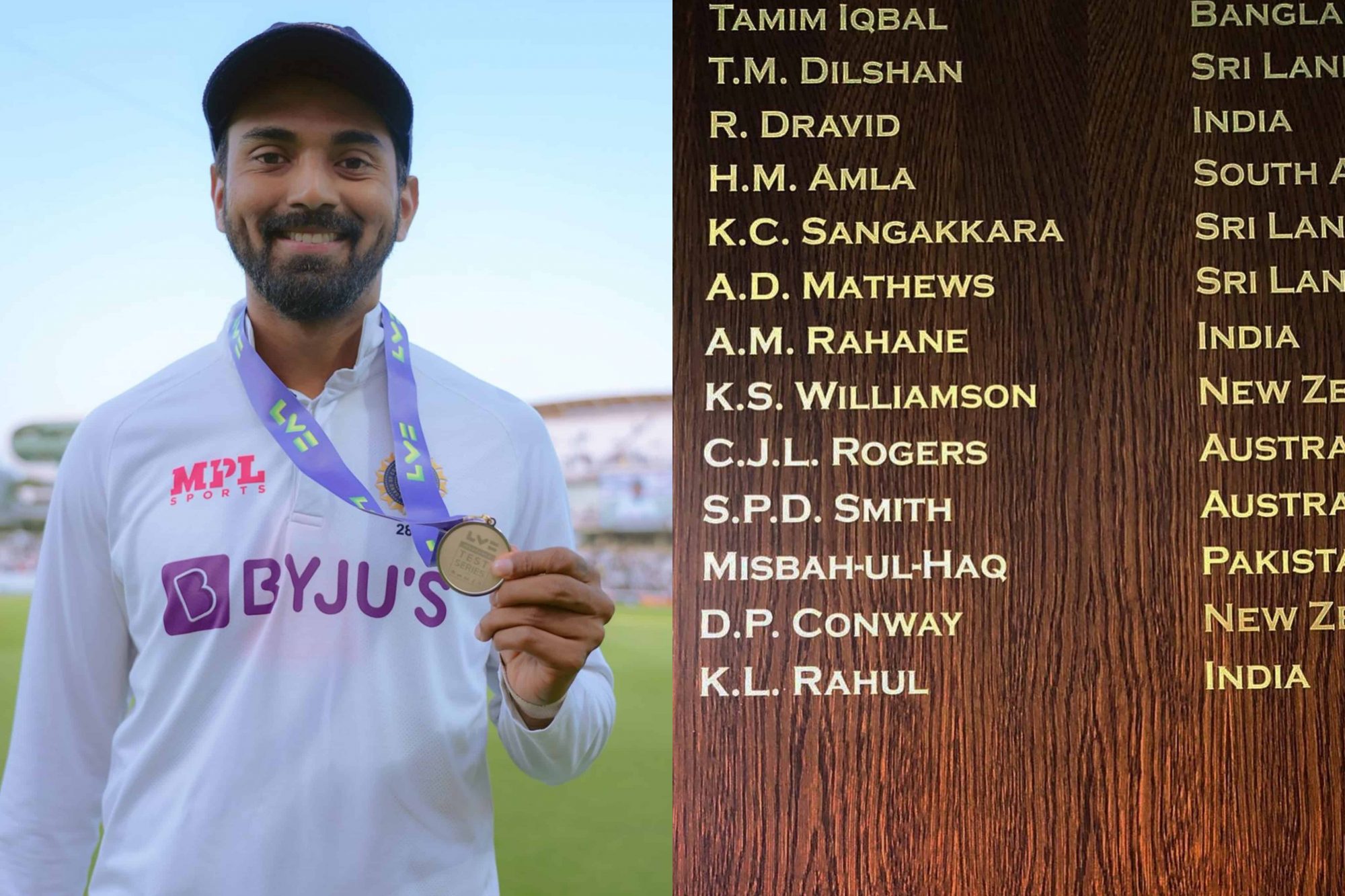 Image Source: Twitter
KL Rahul's name has now etched in gold on the Lord's Honours Board after the Indian opener smashed a classy unbeaten hundred during the opening day of the second Test between India and England at the Lord's Cricket Stadium.
KL Rahul, who made a remarkable comeback to the red ball cricket in England has finally something to feel proud of. The Indian opener, who replaced Mayank Agarwal at the top went on to smash 129 runs on the opening day of the Lord's Test, becoming the only 10th Indian to achieve this feat at the Mecca of Cricket.
The other 9 players are:
Vinoo Mankad (1952)
Dilip Vengsarkar (1979, 1982, 1986)
Gundappa Viswanath (1979)
Ravi Shastri (1990)
Mohammad Azharuddin (1990)
Sourav Ganguly (1996)
Ajit Agarkar (2002)
Rahul Dravid (2011)
Ajinkya Rahane (2014)
KL Rahul (2021)
Also, he is also the only 3rd Indian opener to score a century at Lord's. Last Indian Opening batsman before KL Rahul to score a century at Lord's Cricket Ground was Ravi Shastri in 1990.
Talking about the match, the Lord's was conquered by Virat Kohli and men on August 16. The match saw some dramatic twists before an unbeaten 89-run stand between Mohammed Shami and Jasprit Bumrah allowed India to declare just after Lunch and then bowl England out with less than nine overs to record their massive 151-run victory.
The match also witnessed couple of heated moments between the two sides. The England players were after Bumrah after he had tried some bouncers to Anderson in England's first innings.
KL Rahul was adjudged 'Man of The Match' for his classy knock. In a post match conference, he said that the on-field chatter ended up motivating the team to go for the win.
"With two competitive teams you're going to see a lot of heart and great skills and some words," the India opener said after the win.
"We don't mind a bit of banter, but if you go after one of our guys all eleven will come right back," Rahul said."That got us going, and the bowlers were really pumped to go out and have a crack," he said about the on-field chat.