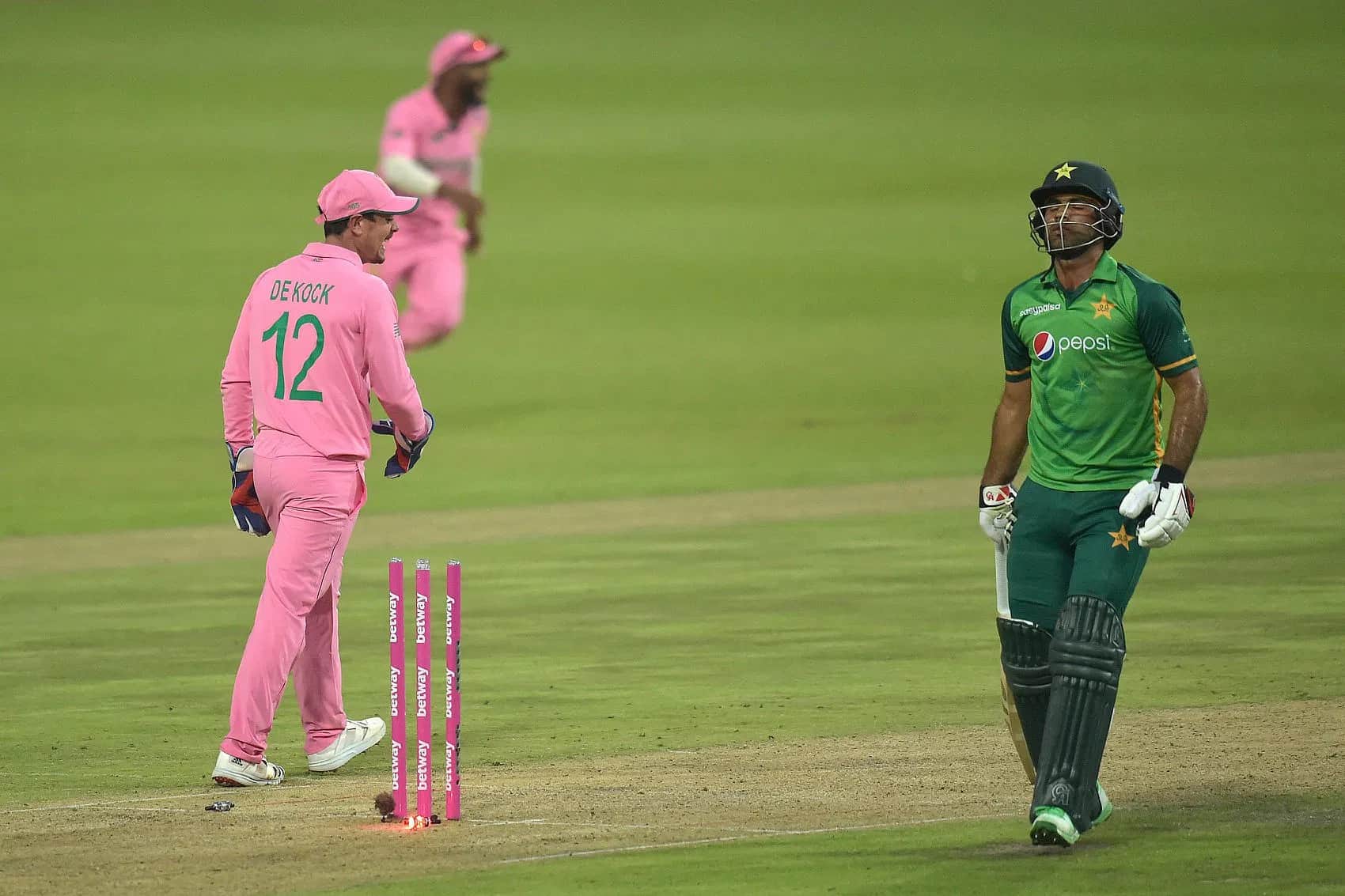 Quinton de Kock and Fakhar Zaman | Source: Twitter
Pakistan's middle-order batsman Fakhar Zaman came up with a challenging effort at The Wanderers Stadium in Johannesburg on Sunday as he smashed a massive hundred to help Pakistan chase a mammoth target. Zaman was on his way to smash his second ODI-Double hundred before the South Africa wicketkeeper-batsman ran him out and ended Pakistan's hopes of a win.
Chasing 342, Fakhar was in the middle of an epic knock of 193, nearly taking Pakistan to victory from the jaws of defeat.
Fakhar Zaman hit 10 sixes and 18 boundaries for his 155-ball 193 but he did not get support from the rest of the Pakistan batsmen who failed to trouble the scorers much in the 2nd ODI of a 3-match series. Captain Babar Azam's 31 was the next-best score for Pakistan who failed to provide Zaman the helping hand he needed.
Watch: Quinton de Kock Fools Fakhar Zaman And Denies Him Of An ODI Double Hundred
With 31 needed off the last 6 balls, Zaman drove pacer Lungi Ngidi to long off and came back for a second run. Spotting an opportunity for a wicket, De Kock seemingly pointed to the non striker's end even after the throw was completed, which led to Fakhar thinking the throw was not coming to his end. However, the throw was in his direction and a run out caught him short.
It was indeed a comical moment in the match but International Cricket Council's Fair Play laws don't allow 'Fake Fielding'.
Following is a section of MCC Fair and Unfair Play Rule.
"41.5 Deliberate distraction, deception or obstruction of batsman"
41.5: it is unfair for any fielder wilfully to attempt, by word or action, to distract, deceive or obstruct either batsman after the striker has received the ball.
Former Pakistan fast bowler Shoaib Akhtar took to social media and questioned his fans whether Quinton de Kock's gesture was in the spirit of the game.
"Was this run out by @QuinnyDeKock69 against the spirit of the game? I'd leave it for you guys to decide," he wrote.
Meanwhile, Netizens are not happy with De Kock's antics. The dismissal was reminiscent of former Sri Lankan skipper Kumar Sangakkara's tactics against Ahmed Shehzad, though the batter didn't get out and had to dive in to save his wicket.
Twitter Reactions: