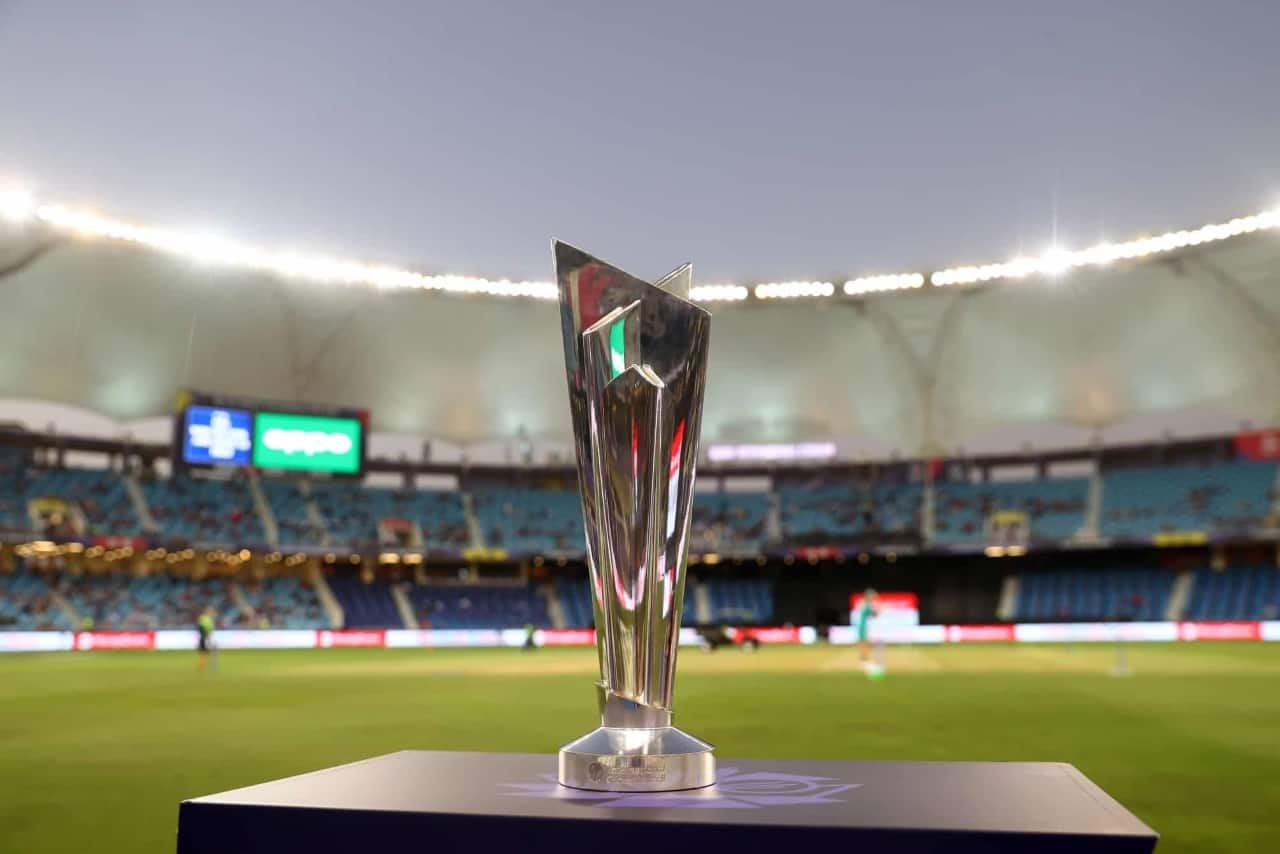 T20 World Cup 2021 Trophy | Source: GettyImages
"We can complain because rose bushes have thorns, or rejoice because thorns have roses."
We can both accommodate an optimist and a pessimist while walking in a rose garden but one has to be a realist when it comes to cricket and its future.
A lot seems to be going wrong or not perfect at least at the ongoing ICC Men's T20 World Cup in UAE. One-sided matches, lopsided scheduling, lack of crowds & a never-dying debate of how many associates can be accommodated in cricket are a few of the many issues ICC has to deal with going forward.
In 2007, when the inaugural t20 world cup was staged, the light at the end of the tunnel got brighter & bigger. A T20 game— which could get over in 3 hrs gave the custodians the shot in the arm they were looking for — it made the sport more accessible and palatable for young audiences and paved the way for IPL (Indian Premier League) & other T20 leagues that brought sponsor money & increased the number of professionally contracted players. ICC began to generate revenue it had never before. Taking cricket into the United States, China or even Latin America seemed a distinct possibility.
But the problem doesn't lie with the money being generated, with cricket in India arguably in its healthiest state, more and money will keep on pouring. It's the health of the game outside of 'big 3' in test nations and amongst all of the associate nations that should be giving ICC headaches if not sleepless nights yet.
Look at Africa only to get a better picture of where things stand.
Zimbabwe has been flirting with danger for a better part of 2 decades now, they have not played two successive ICC white-ball tournaments.
Kenya, are nowhere in the picture today and this generation wouldn't believe they played against India in the semi-finals of the 2003 World Cup (yes I'm not in a mood to joke).
South Africa seems to be following the same path with more & more elite cricketers leaving the country and their transformation targets not allowing them to field their best possible team on the park. Yes, it's outside of the ICC domain to interfere in any country's socio-political matters but at least it can do better about rampant corruption and mishandlings in CSA.
Namibia seems to be doing good while you are reading this piece but is ICC doing enough to ensure they also don't go Kenya's or Zimbabwe's way? Ironically, they defeated Ireland to reach the super 12s. the same Irish boys who used to be the toast of associate world but struggling big time since getting full member status a few years ago.
How deep and far a sport can grow defines its potential global nature. from Afghans to Rhodesians, from Scots to Arabs, it's the variety of flowers & fragrances that make a bouquet more attractive. On one hand, ICC says they are trying their level best to globalize the game, but in reality, they are not ready to loosen the grip of 'elite' nations over cricket.
Any other major team sport walks the talk of expanding the game by including more nations at the showpiece event. Soccer for example will have 32 teams at 2022 WC but will expand to 48 in 2026. Cricket on the other hand takes the reverse route.
In 2007 The World Cup featured a record of 16 teams, but with Pakistan and India shockingly taking the exit at the first round itself, ICC in consultation with major stakeholders decided to ensure it doesn't happen again and the result was a 10-team WC in 2019.
You cannot expect associate nations to improve their quality by snatching away their right to compete regularly with strong teams at the biggest stage. Hosting a full member for a bilateral tour is impossible for an associate nation without ICC funding.
To talk about funding, the layout structure is so much imbalanced when it comes to ICC as compared to other governing bodies, say FIFA, for example. In football, a European giant like France would receive the same funding as a budding African nation like Ghana from FIFA which allows the sport to develop organically in new territories.
While in cricket, a self-sustainable board like BCCI receives nearly triple what 97 other countries are allocated on a per-year basis.
As per 2017, India received – 405 Million USD while Ireland got 40 Million USD and 97 Associates split up — 160 Million USD among themselves
In 2014, the BCCI had joined hands with the ECB and CA to form the Big Three that had approved a contribution-based revenue distribution system. With India contributing to more than 70 per cent of the ICC's revenue, its projected share was $570 million for the 2015-2023 rights cycle.
In 2017, when the ICC dismantled the Big Three model, the BCCI's revenue share reduced to a little over $400 million.
In 2020, during the global body's Chief Executives' Committee (CEC) meeting, BCCI secretary Jay Shah proposed a new revenue distribution system that will look after all cricket boards.
For cricket to grow and thrive at its potential, fans will have to raise their voice for the betterment of the sport they love if the governing bodies and the players are not speaking up.
If a fan from London is happy for every six that Jason Roy hits, another fan sitting in New Delhi must be equally sad on looking at Andy Balbirnie's dejected face in UAE.
It's the emotions that drive the human race, it can only be emotions that save cricket from being the property of a handful of elite nations.