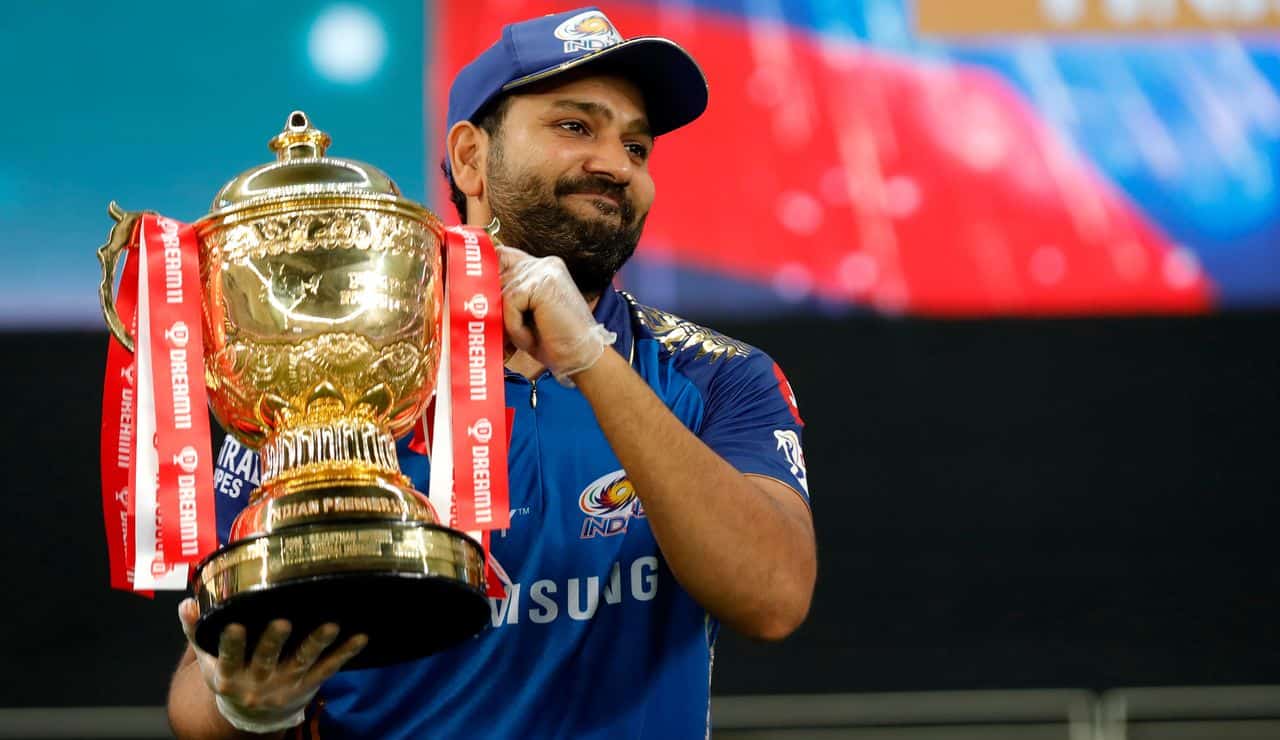 Rohit Sharma With IPL 2020 Trophy | Image: BCCI/IPL
The final match of the Dream11 IPL 2020 was played between Rohit Sharma-led Mumbai Indians and Shreyas Iyer-led Delhi Capitals on Tuesday in which Mumbai Indians and Co won the match by five wickets and lifted the IPL trophy for the fifth time in 13 years.
Earlier in the match, Delhi Capitals won the toss and elected to bat first. Batting first, they posted 156 for 7 in the allotted 20 overs.
Mumbai Indians, on the other hand, achieved the target with ease in just 18.4 overs. MI skipper Rohit Sharma (68 off 51) and Quinton de Kock (20 off 12) gave a perfect start to the team and then it goes as planned and the result is all before us. Rohit Sharma has played the most important innings for his team in the final and deserves all praises.
Wining Skipper, Rohit Sharma's Reaction:
"I'm quite happy with how things went the whole season. We said at the start that we need the winning habit. We couldn't have asked for anything more, right on the money from ball 1 and we never looked back. I think a lot of credit goes to the people who worked behind the scenes – often they go unnoticed. Our work started long before the IPL started, and we wanted to make sure we filled the gaps in previous seasons.
I had to find the balance to get the best out of them. I'm not someone who can run behind them with a stick, and it's important to instil confidence in the players. Krunal, Hardik and Pollard have done their job for a long time, they know their roles. Rahul missed out today, and we need to make sure we put an arm around him and assure him that he didn't do anything wrong and that it was a tactical move.
We made sure Ishan and Surya had confidence – just have to let Ishan loose, and Surya is a more matured player. The kind of form he was in, I should have sacrificed my wicket for Surya. But throughout the tournament, he has played some incredible shots. Unfortunately, we couldn't have the fans at the stadium. We missed playing at the Wankhede and hopefully, we can get back there next year."
Losing Skipper, Shreyas Iyer's Reaction:
"Ricky, the amount of freedom he gives us is outstanding. The way he motivates players is simply amazing. His team meetings and motivational speeches it quite incredible. The IPL always amazes you, it's one of the toughest leagues to play. I'm overwhelmed to be part of it, and I'm really proud of my boys, the way they have played to reach the final, it's not easy. Winning the IPL would have been better, but we will see to it that we lift the trophy next year. I would like to thank our fans, and we're thankful for all the support that has been showered on us throughout the season."
Player of The Match & Power Player of The Season, Trent Boult's Reaction:
"Some days I do like the powerplay. It's been a good few months, giving the franchise a good start. With everything going on, I've been welcomed in the side. To have made it across the line, it's been worth it. I wasn't aware of the talk, but I did have a niggle coming into the match. I wanted to be on the stage and happy I came through. I'd like to say I'm relatively experienced. Just another match and I was clear what I had to do. Tried to take a few early wickets, swing the new ball a little bit, that's been my role in the side."
Emerging Player of The Year, Devdutt Padikkal's Reaction:
"It's a really great achievement for me and gives me great confidence for whatever lies ahead."
Super-striker of The season, Kieron Pollard's Reaction:
"It's a great feeling, means a lot. Fifth trophy… Have been here for 11 years. We have a quiet celebration. He is a different West Indian. He goes at 6 am to the gym. The number of trophies, the amount of talent that's there, you can say MI is the best T20 team going around. The management, the support staff, the effort they put in to make. Dwayne Bravo you are behind me now (about a number of T20 titles), I have to say that on camera (smiles)."
Orange Cap Winner, KL Rahul's Reaction:
"A big thank you to all the supporters. Winning the orange cap feels nice, but it would've been nicer if we had gone further in the tournament. However, I got to learn a lot about being a leader in this tournament."
Most Valuable Player, Jofra Archer's Reaction:
"Really grateful to receive the award. It didn't go as well for the team, and hopefully, this has shown what I can do and I hope it helps the team a little more later."
Mumbai Indians Coach, Mahela Jayawardene's Reaction:
"It was a tough tournament. There were a lot of superstitions about odd years. I have to congratulate Ricky and his team, they have had a great season and they were a tough opponent today. WE had a great preparation, and we tried to manage them well and ensure they didn't overdo or underdo any of the work. Big-hitting has been in MI's DNA for a long time. We have tried to bring in the touch play a little bit to balance it out. Credit to the management who bought into our ideas and that helped create history today. It's all about helping the team preparation-wise and explain their roles to them. We have a good leadership group out there, and a great support staff who have helped them out. The boys have seen my not-so-soft side, but the group has worked off-season, and today is the culmination of all of the hard work."
Delhi Capitals Coach, Ricky Ponting's Reaction:
"MI has been the best team, they've beaten us 4 times. Being coach it's a little frustrating in the dugout but at the end of the day, I'm really proud of the job the boys have done. Iyer is a brilliant player, captain and person. He's definitely grown in stature in the last 12 months. Hopefully, we can work together a bit more in the future."