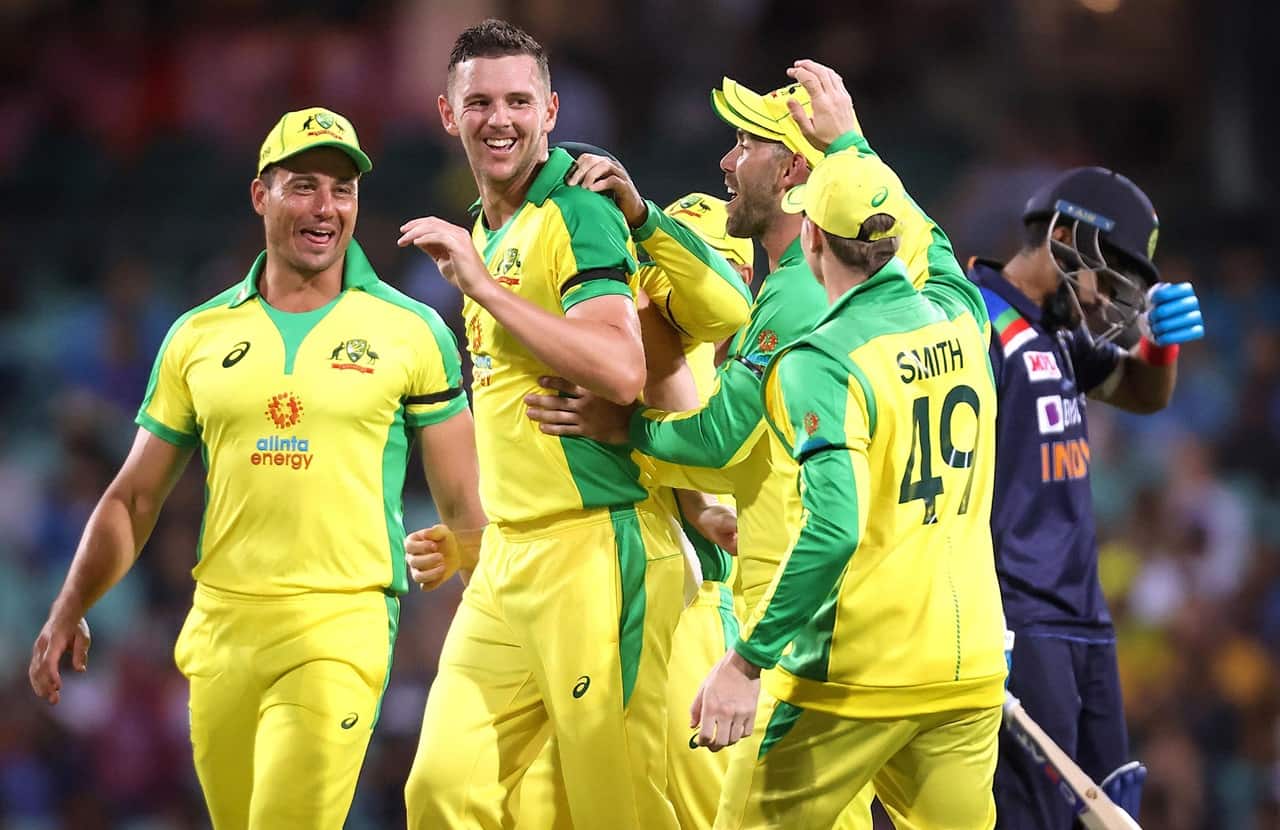 AUS defeated IND by 66 Runs | Image: Cricket Australia
AUS vs IND Highlights: Australia defeated India by 66 runs in the first match of the 3 match ODI series. The Indian team played their first ODI after 289 days. Earlier, Team India played their last ODI against New Zealand on February 11 at Mount Mounggui, losing by 5 wickets. This is India's fourth consecutive defeat. Before this, Team India had lost to New Zealand in the 3 matches ODI series in New Zealand in February itself.
At the same time, Indian captain Virat Kohli continues to perform poorly at the Sydney Cricket Ground. He has scored 57 runs in 6 matches played on this ground so far. He scored 21 runs in this match. Earlier, he had scored 21 runs, 3, 1, 8 and 3 runs in previous 5 matches he played here.
Dhawan-Hardik's Half Century
Australia won the toss and gave a target of 375 runs while batting first. In response, the Indian team could only score 308 runs after losing 8 wickets. Hardik Pandya scored the highest 90 and Shikhar Dhawan scored 74 runs. It was Dhawan's 30th ODI and Pandya's 5th Fifty.
India Lost 4 Wickets In Span of 48 Runs
The Indian team got a great start by Shikhar Dhawan and Mayank Agarwal. There was a 53-run opening partnership between the two. After this, the team lost 4 wickets in the span of 48 runs. The middle-order was a complete flop today. Then Dhawan partnered 128 runs for the 5th wicket with Hardik Pandya, but could not help to win the match.
Adam Zampa Send 4 Batsman Back to Pavilion
Adam Zampa took 4 wickets in the match. He dismissed Ravindra Jadeja (25), Hardik Pandya (90) and Shikhar Dhawan (74). Earlier, he dismissed Kl Rahul at an individual score of 12 runs. His fantastic catch was taken by Steve Smith.
Josh Hazelwood's Initial Shocks to India
Hazelwood gave the first three shocks to India. He dismissed Shreyas Iyer (2), Virat KohliMaxwel and Mayank Agarwal (22).
Australia Made The Highest Score Against India
Australia scored 374 runs after losing 6 wickets. This is Australia's highest score against India. Earlier last year in Mohali, Australia scored 359 for 6 wickets. Opener Aaron Finch and David Warner gave a strong start by partnering for 156 runs. Finch scored 114 off 124 balls and Warner smashed 69 off 76 balls. This was the 17th Hundred of Finch's ODI career and the fourth against India.
Steve Smith's Century Off 62 Balls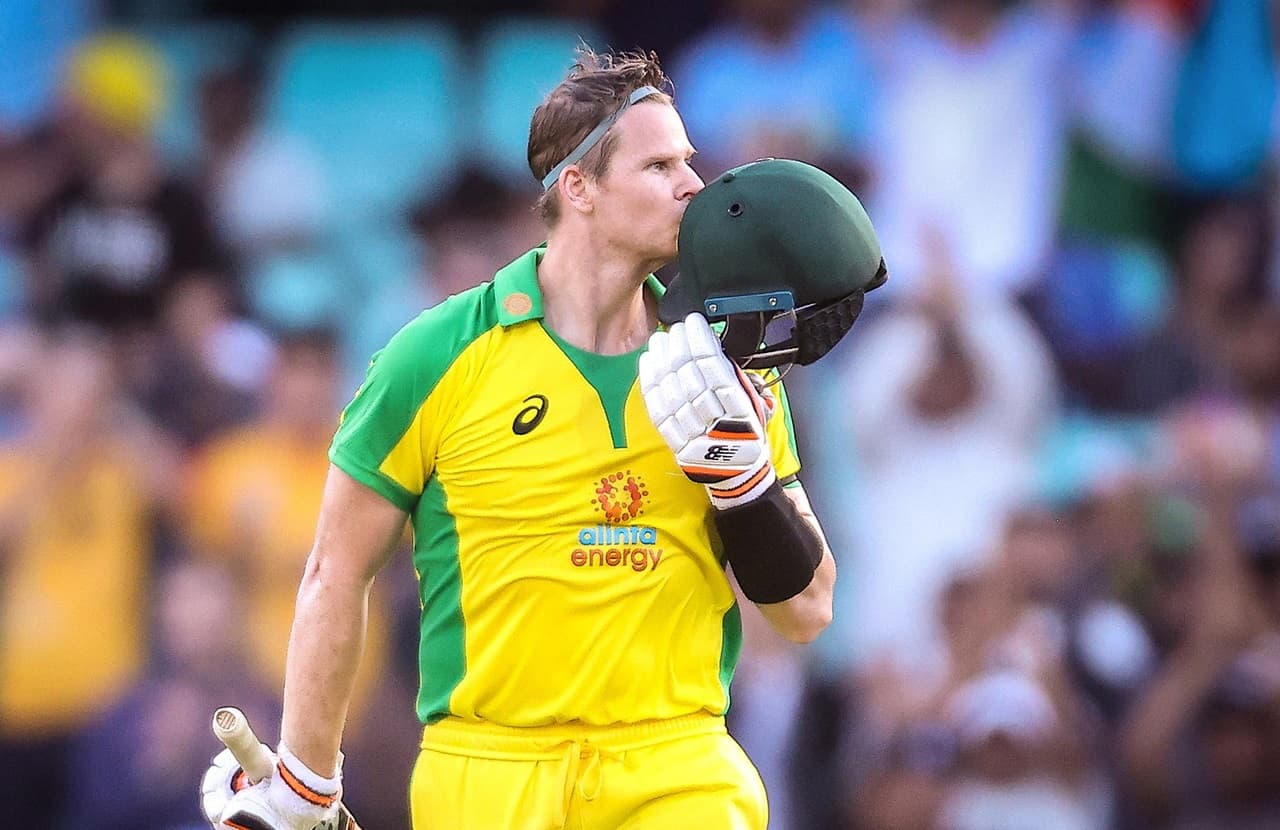 David Warner was dismissed by Mohammed Shami. Finch then extended the innings by partnering 108 runs for the second wicket with Steve Smith. Smith scored his 10th ODI century on 62 balls. He scored 105 runs off 65 balls. Meanwhile, Jasprit Bumrah sent Finch back to the pavilion, caught by wicketkeeper Lokesh Rahul.
Glenn Maxwell Missed Fifty, Stoinis Could Not Score a Single Run
Marcus Stoinis was dismissed as the third wicket without scoring a single run. Yuzvendra Chahhimdismissed him and was caught at the hands of KL Rahul. The fourth setback came as Glenn Maxwell. He was dismissed by Mohammed Shami at an individual score of 45 runs. Prior to being dismissed, he shared a 57-run partnership for the fourth wicket with Steve Smith.
Mohammed Shami got 3 wickets in the match. He dismissed Warner, Maxwell and Smith. Apart from him Jaspreet Bumrah, Navdeep Saini and Yuzvendra Chahal got 1-1 wicket.
Aaron Finch and David Warner made a partnership of 150+ runs for the most 4 times against a team. This is the most often such partnership by a pair against a team. Earlier, this record was in the names of Rohit and Kohli. He partnered 150+ runs against Sri Lanka 3 times.
Aaron Finch is Second Australian to Score Fastest 5000 Runs
Australian captain Aaron Finch has completed 5000 runs in his ODI career. He achieved this feat as he scored the 17th hundred against India. He is the second Australian player to make this record in the fastest 126 innings. At the top, David Warner, who completed 5000 runs in 115 innings.
Player of The Match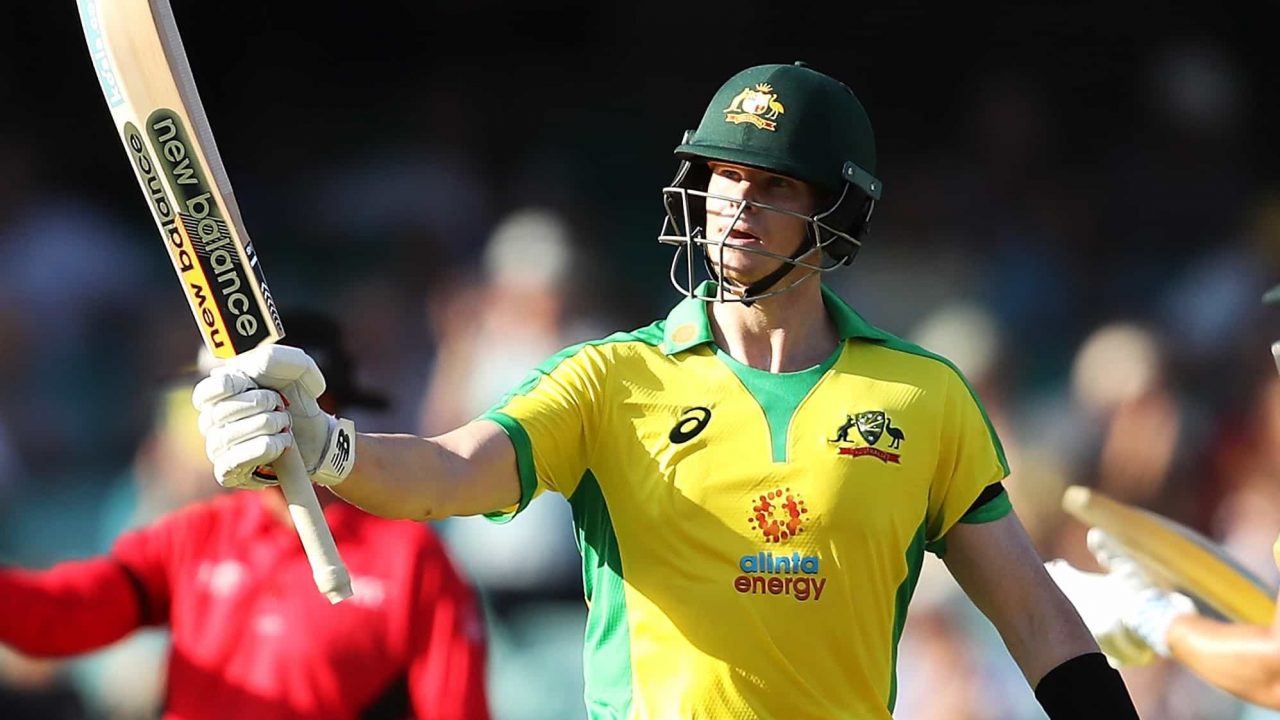 Steve Smith adjudged Player of the Match award for his fantastic knock of 105 runs off 66 deliveries with the help of 11 fours and 4 sixes at a strike rate of 159.09.
---
Australia & India Playing 11
Australia
David Warner, Aaron Finch (c), Steven Smith, Marcus Stoinis, Marnus Labuschagne, Alex Carey (wk), Glenn Maxwell, Pat Cummins, Mitchell Starc, Adam Zampa, Josh Hazlewood
India
Shikhar Dhawan, Mayank Agarwal, Virat Kohli (c), Shreyas Iyer, KL Rahul (wk), Hardik Pandya, Ravindra Jadeja, Mohammed Shami, Yuzvendra Chahal, Navdeep Saini, Jasprit Bumrah