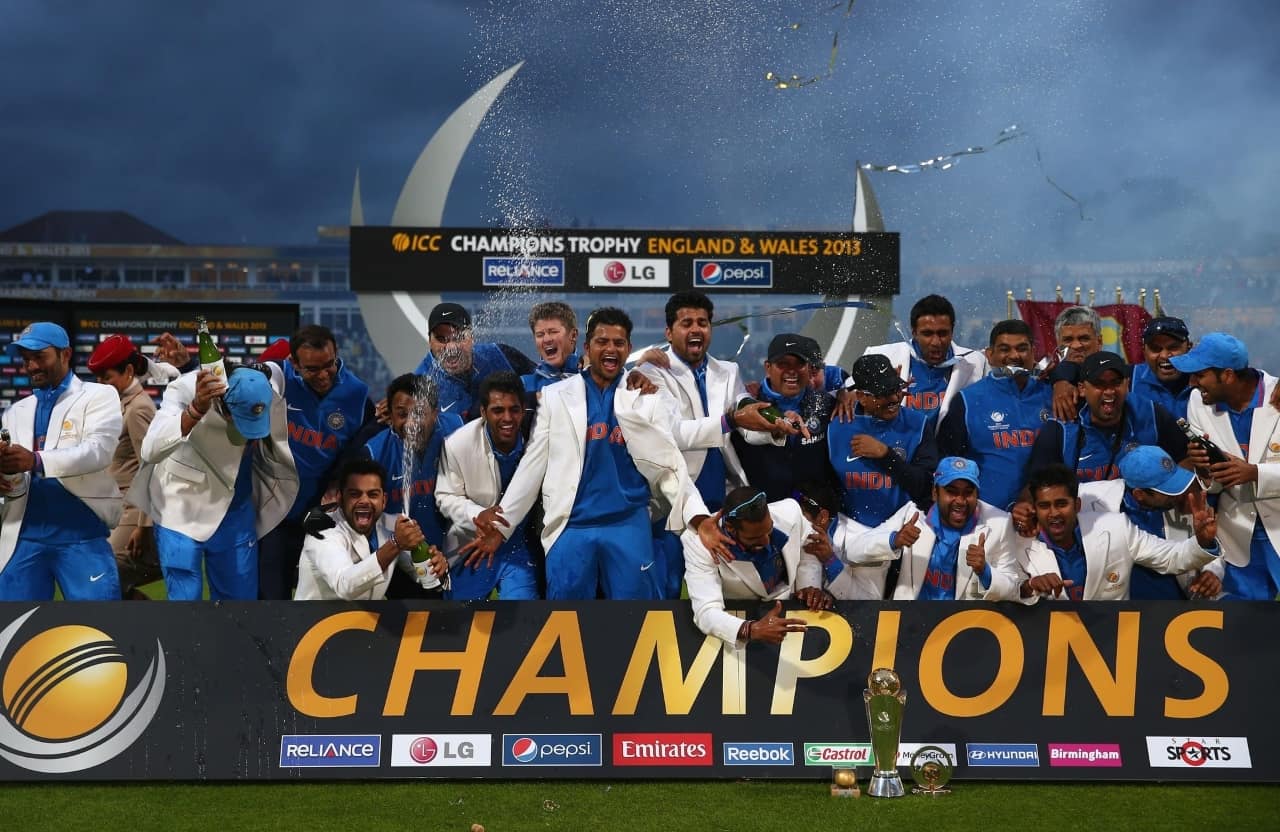 India Champions Trophy 2013 Winner | Source: Twitter
Ever since MS Dhoni's captaincy era, India's luck at ICC events took a nosedive. They've been in four finals and hit the semis four times, but luck hasn't been on their side.
To add to the frustration, they have recently suffered another World Test Championship (WTC) final loss, following their defeat to New Zealand in the first edition in 2021.
Given the talent pool at India's disposal, it's a head-scratcher for India fans how they stumble on the big stage, especially during nail-biting and high-pressure knockouts.
With the upcoming World Cup at home in October-November, the legendary cricketer Ian Bishop sheds light on why India has been trophy-less in ICC events for the past decade.
During the 'Behind The Stumps' talkfest by OneCricket, the ex-speedster echoed the lack of readiness for India in the WTC finals. He also shared his take on what India needs to do to finally break their ICC trophy jinx.
"Hard to really pinpoint any one thing. The World Test Championship finals were played in England. And there's an acclimatisation process, just a small example that you need when you go to England to compete well. And the two times they've made it, New Zealand were already playing Test cricket in England, and so they were ahead of the game. And then they encountered Australia there, and India had to fly in and turn things around in a short space of time," Ian Bishop said.
Furthermore, Ian Bishop pointed out the importance of having your fast bowlers in top form and health for the big-ticket clashes and high-profile matches. Notably, India's top gun Jasprit Bumrah has been on the sidelines for almost a year due to injury, and his absence was sorely felt during the WTC final in England.
"The other thing is you need your fast bowling resources if you're going to win ICC tournaments and trophies in the west. You need your group of fast bowlers healthy and functioning well. And I think combine that with the obvious batting talent, I think they'll win one somewhere along the line. They just need to align all of those," the legendary West Indian added.
The spotlight's on Bumrah now that he's back in action – the big question is, how will he fare? He is set to be India's key player not just for the Asia Cup but also for the much-anticipated 2023 World Cup, happening on home turf.