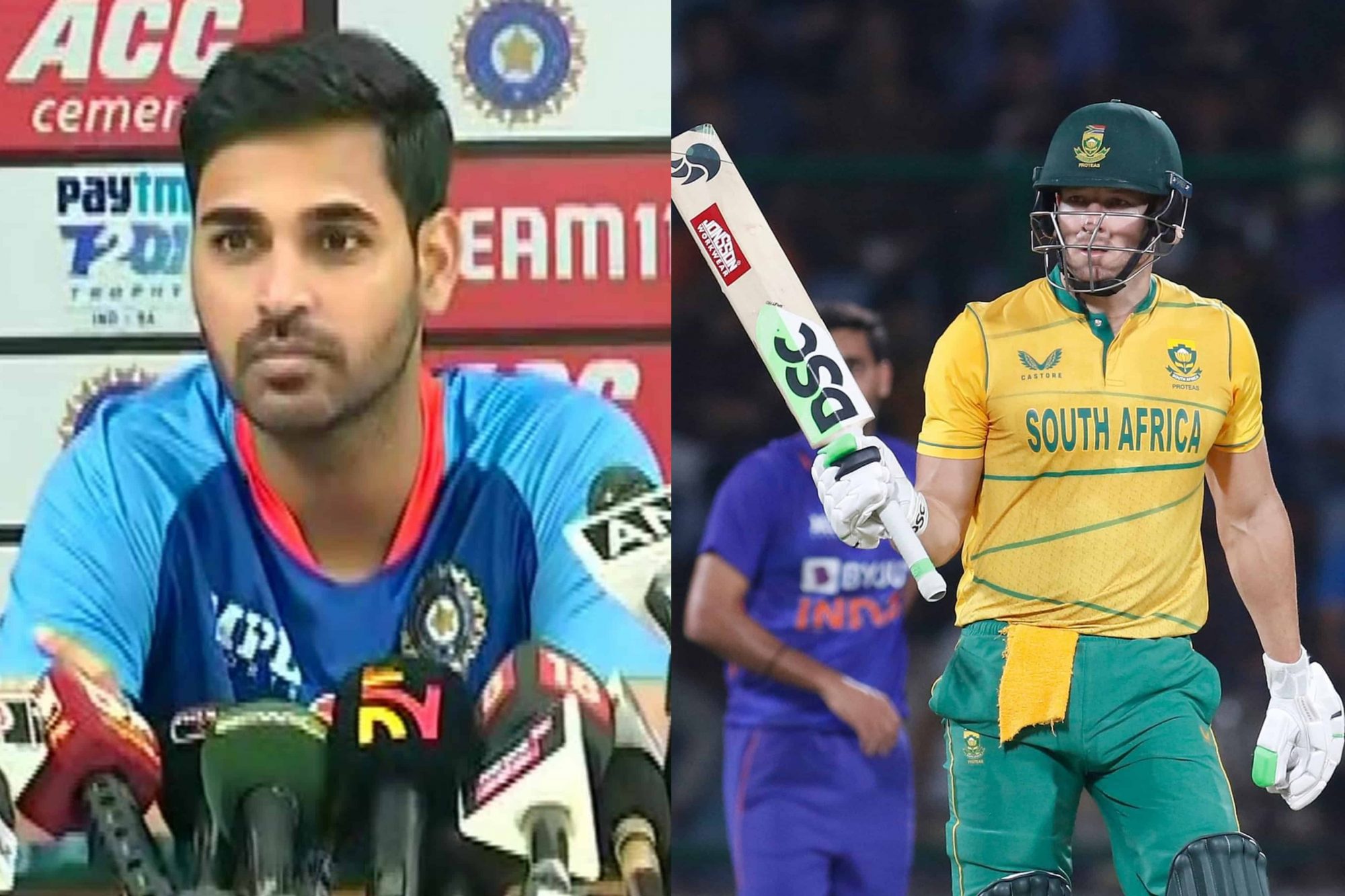 Bhuvneshwar Kumar & David Miller | Source: Twitter

The 5-match T20I series between India and South Africa kicked off on Thursday (June 09) at the Arun Jaitley Stadium in Delhi, with the visitors winning the 1st T20I by seven wickets and going 1-0 up in the series.
David Miller was the main man for the Temba Bavuma-led side as he helped South Africa complete the 212-run chase, smashing a brilliant 31-ball 64 and remaining unbeaten. Miller continued his terrific form from the latest edition of the Indian Premier League (IPL) where he played a finishing role for Gujarat Titans and helped GT finish the games on various occasions.
India paceman Bhuvaneshwar Kumar, meanwhile speaking to the media ahead of the 2nd T20I against South Africa at the Barabati Stadium in Cuttack, admitted that it was not easy to bowl against David Miller, the Proteas who is in the form of his life.
"It is difficult, bowling to Miller. He is in such good form," Bhuvaneshwar Kumar said.
The medium-pacer was further asked about the team's plan on stopping Miller in the next match and the player gave a hilarious reply to the query by saying that he would like the South Africa team to drop him from the second T20I.
"I would want South Africa to drop him but they would not do so. He batted so well in the IPL, we know his calibre. Bowling to him would be a challenge," the veteran said.
The right-arm seamer further acknowledged that the performance of Indian bowlers in the first T20I against South Africa wasn't very impressive and is confident that India will come back strong against the visitors in the second T20I.
"As you said, the bowling was not up to the mark in the first game so we are expecting that we bowl better in the second T20I and we can win to level the series. We have four games remaining in this series, we have a chance to win the series. We have to bowl better, and we need to bat in the same fashion as the previous game.
"We discussed what went wrong. It was the first game of the series, everyone is coming out of the IPL and almost everyone who is in the team had a good IPL. So everyone knows what needs to be done and the things we can improve on. As a bowling unit, we had an off day and we all want to make a comeback in the second T20I," he added.