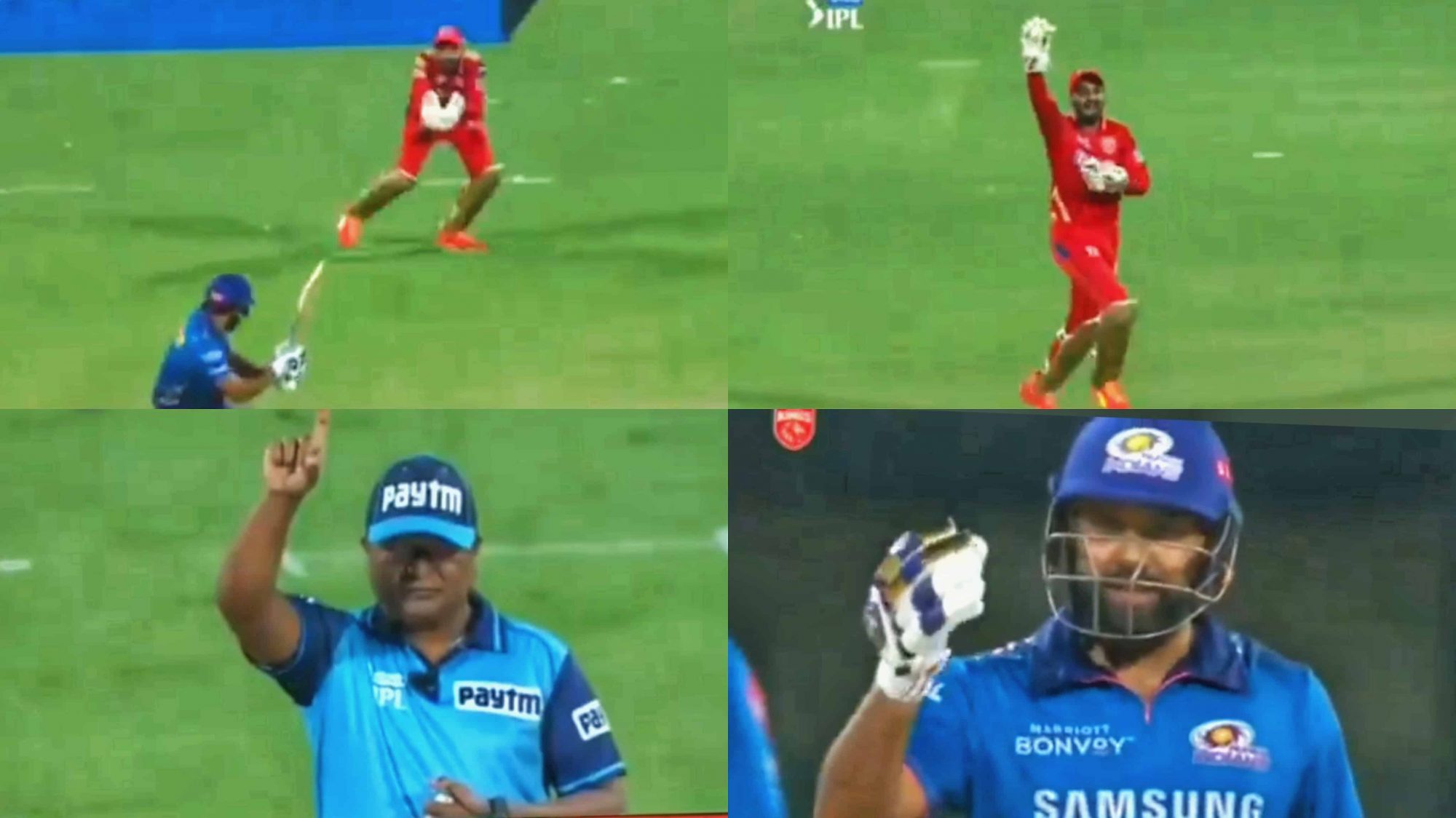 KL Rahul and Rohit Sharma During MI vs PBKS | Source: Twitter
Aggression at an umpire's decision is something that might put a player in trouble or can cost him a match. Even if the umpire is wrong, the player is not expected to indulge in showing displeasure, as cricket is known as a 'Gentleman's Game'.

One such incident where a player showed dissent over an umpiring decision took place in the match between Mumbai Indians (MI) and Punjab Kings (PBKS) on 23rd April 2021.
It all happened in the 1st over of the Mumbai Indians innings when it seemed Rohit Sharma had been caught down the leg side. It was a innocuous delivery from Moises Henriques which and it seemed Rohit had been strangled down the leg side.
The wicket-keeper KL Rahul immediately appealed and the umpire raised his finger. Rohit was furious with the decision and did not take a second to take the decision review system (DRS). The review confirmed that Rohit had not nicked the ball. Rohit knew that the ball had hit his thigh pad not the bat and it was a shocking decision by umpire Shamsuddin. As soon as the umpire made his decision, the 'Hitman' looked frustrated.
After he did so, he gestured towards the umpire while saying something, apparently upset at the decision. However, the IPL Code of Conduct states that the wrong decision given by the umpire should not be used as a 'defence' by a player.
"It shall not be a defence to any charge brought under this article to show that the umpire might have, or in fact did, get any decision wrong," states the IPL Code of Conduct.
Watch Video:
If charged, Rohit Sharma could be guilty of a level one or two offense, though it would likely be the former. This would bring a fine of up to 50 percent of his match fee, while another such charge could see him face a ban. He has already been fined once for slow over-rate and was docked Rs 12 lakhs of his match fees.
Twitter Reactions:
Talking about the match, KL Rahul and Chris Gayle anchored Punjab's run chase as they gunned down the target of 132 in just 17.4 overs on a difficult pitch in Chennai to end their 3-match losing streak this season. The win also helped PBKS rise up to the 5th position on the table with 4 points from 4 games.
Rahul and Gayle both had to hold back on their natural attacking games and adapt to a more cautious approach during their unbroken 71-run partnership for the second wicket on a surface which was assisting spinners.
Earlier in the match, Rohit Sharma-led Mumbai Indians were restricted to 131 for 6 in 20 overs. Not only did MI's batsmen, barring Rohit and Suryakumar Yadav, failed to fire once again, their top-order struggles continued to haunt the defending champions and was one of the main reasons behind their third defeat in 5 games.