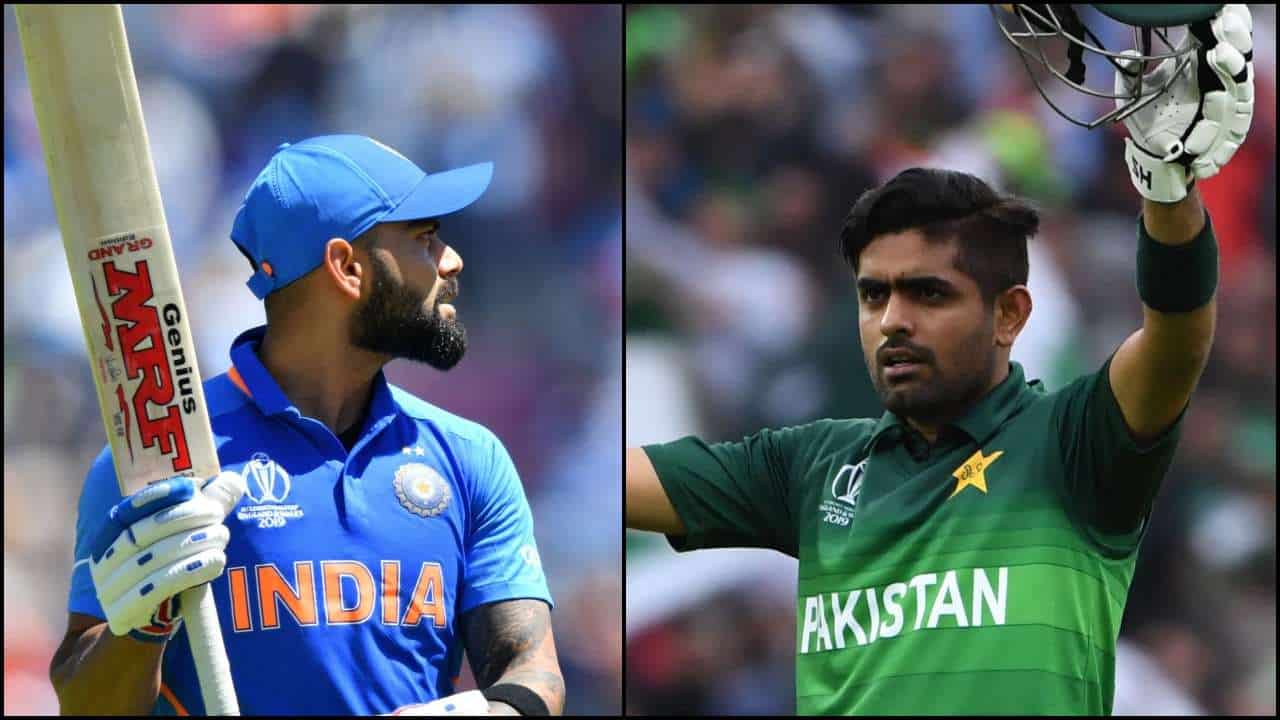 Virat Kohli and Babar Azam
Pakistan skipper Babar Azam has been in form and has guided his side to victories against South Africa in the recently concluded ODI and in the ongoing T20I as well.
Owing to Babar's performance, former Pakistan pacer Aaqib Javed has come up with a controversial statement. He feels that Indian skipper Virat Kohli should take a leaf out out of Babar Azam's style of play to improve technique.
Javed feels that although better equipped with his range of shots, Virat Kohli lacks behind Babar Azam in terms of technique against the swinging ball. While for Azam, he wants Pakistan skipper to follow Kohli's fitness routine.
"Virat Kohli has a better range [of shots] as compared to Babar Azam but he also has one area of weakness. If the ball swings, he tends to get trapped around the off-stump such as against [James] Anderson in England," said Aaqib Javed.
Babar Azam, the 25-year-old Pakistan ODI, and T20I captain had gained fame with his batting in a short period of his international career. Many experts say that he has a reflection of India's captain Virat Kohli's batting.
Javed, who is the head coach of Pakistan Super League (PSL) side Lahore Qalandars even compared Babar to Sachin Tendulkar and said that the former doesn't have many weak areas just like the Master Blaster.
"When you look at Babar, you don't see any weak areas. Just like, [Sachin] Tendulkar who also didn't have any weak areas. Babar is technically more safe and sound but if he follows Kohli's fitness routine he will become an even better player. Meanwhile, Kohli can improve his technique by looking at Babar so that he doesn't get trapped," Javed who played 163 ODIs and 22 Tests for Paksitan, added.
Babar Azam is 50 Percent Of Pakistan's Batting: Aaqib Javed
Aaqib Javed also praised Babar Azam for being the backbone of the Pakistan team over the past couple of years. Babar Azam has captained Pakistan in 6 ODIs, 15 T20Is, and 2 Tests.
"During the past two or three years, Babar Azam is 50 percent of Pakistan's batting. I never thought that he would be this consistent and even go past Virat Kohli [in ODI rankings]. Pakistan is very lucky, he came when the team was struggling and has single-handedly put the team on the right track. Even, captaincy hasn't affected his form," he concluded.
Virat Kohli trumps Babar in several departments, including the number of runs, centuries, captaincy record etc. However, the one thing that seems to be going the Pakistan captain's way and not his Indian counterpart is scoring centuries.
While it's been a year and nearly five months that Kohli has not scored an international century, Babar recently registered an ODI ton against South Africa, surpassing Kohli and South Africa great Hashim Amla as the quickest to notch up 13 centuries on the format.