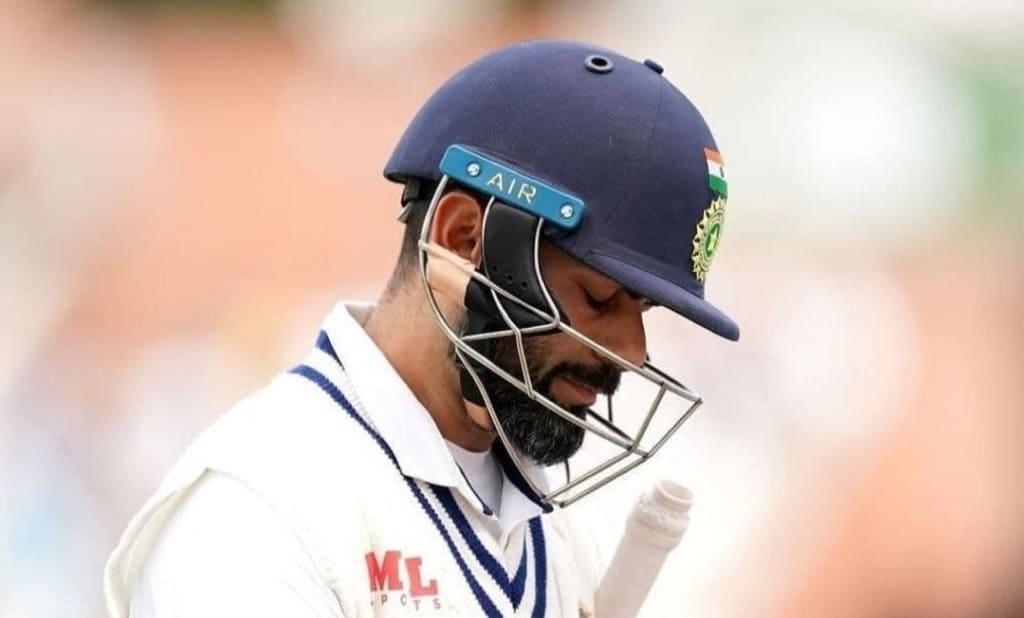 Virat Kohli | Source: Twitter
Virat Kohli had a dismal start to the five-match Test series against England in Nottingham as he was sent back to the pavilion on golden duck by no other than his old rival James Anderson.
First, Anderson had Cheteshwar Pujara out caught behind for four, which brought out Kohli on field. However, his presence in the middle lasted only one ball, as the India captain poked at the ball and nicked Anderson to Jos Buttler for a duck.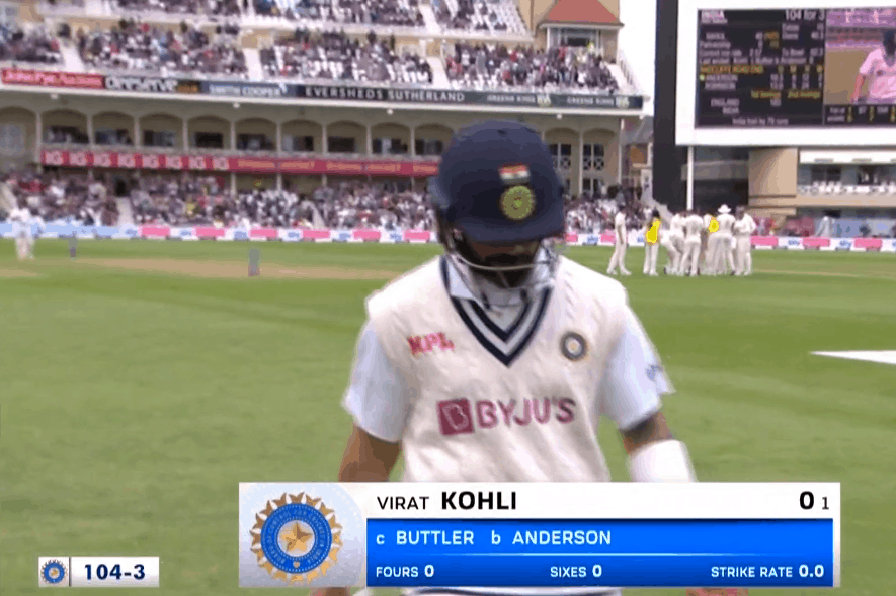 The Indian skipper, however stood there and watched in disbelief before walking off, as the England players looked extremely happy with world's number one batsman's dismissal.
Meanwhile, this was the first time in twelve Tests, that Anderson managed to pick the wicket of the Indian skipper. The last time he dismissed Kohli in a Test, it was back in 2014 at Old Trafford, Manchester.
This was Anderson's 619th Test wicket and with this the English pacer has equalled India spinner Anil Kumble's wickets in Tests.
Golden Ducks For Virat Kohli in Tests
This was the fifth instance when Kohli has been dismissed on a golden duck in Tests and this is his second consecutive duck against England in England in Test cricket.
vs Aus MCG 2011/12 (Ben Hilfenhaus)
vs Eng Lord's 2014 (Liam Plunkett)
vs Eng Oval 2018 (Stuart Broad)
vs WI Kingston 2019 (Kemar Roach)
vs Eng Trent Bridge (James Anderson)
This was Kohli's 9th duck in Tests and he has now surpassed former skipper MS Dhoni's tally of most ducks by an Indian captain.
Most Ducks For Indian Captains in Tests:
Ahead of the first Test, Kohli had said about Anderson:
"Jimmy Anderson is a world-class bowler. I probably would have thought way too much about how to handle him in England in 2014. From there onwards, I have treated every bowler as someone, who is running in with the ball, as I need to play the ball not the bowler."
Anderson, on the other hand was equally excited for their face-off:
"He always wants to play big against the bowlers and it's great to face that challenge. I know he has a big influence on the team, both as a captain and as a batsman. Really excited for the face-off and challenge against one of the best in the world and I don't mind if I take his wicket or somebody else does."