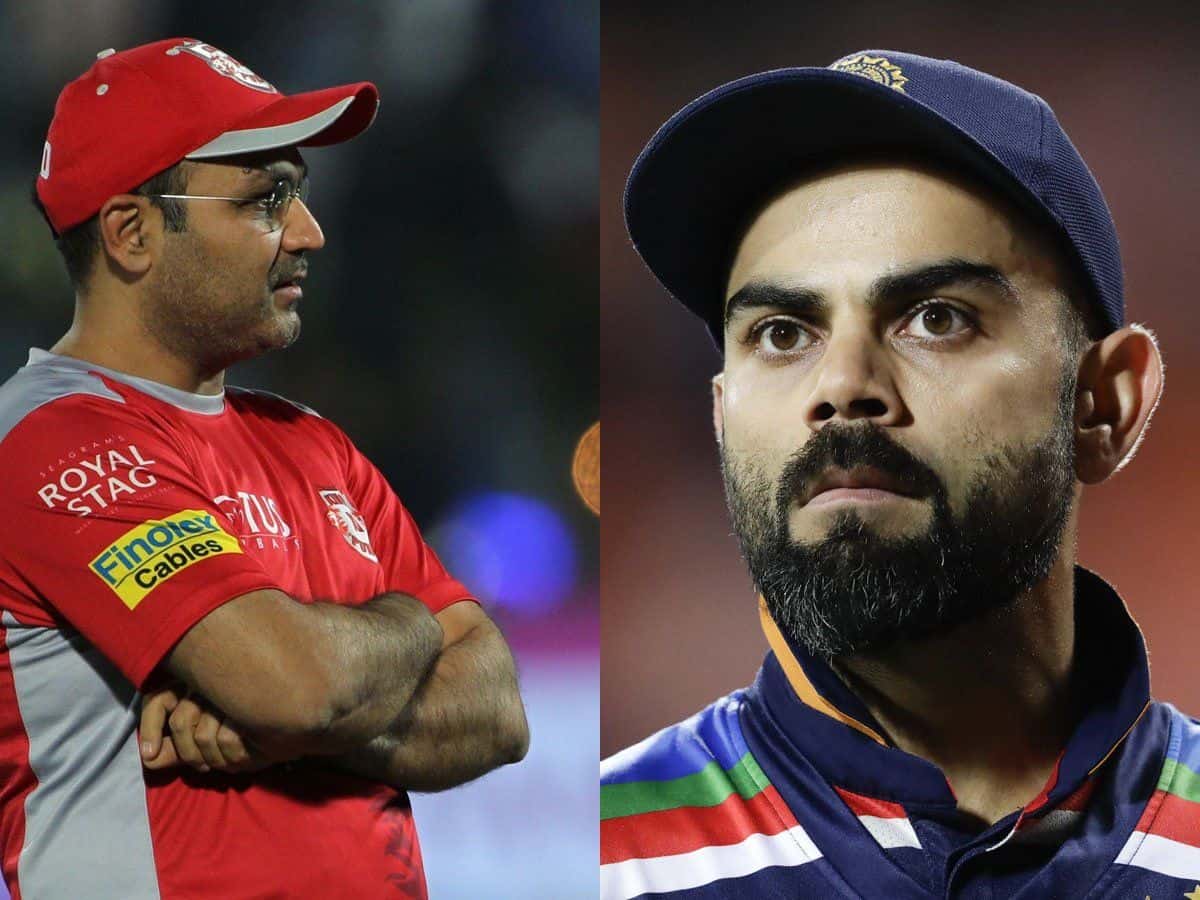 Virender Sehwag & Virat Kohli | Source: Twitter
Former Indian cricketers Ajay Jadeja and Virender Sehwag have slammed the Indian captain Virat Kohli on his decision to rest in-form opener, Rohit Sharma, for the first two T20Is against England.
When Virat Kohli at the toss of the first T20I revealed his playing XI for the match, the absence of Rohit Sharma had shocked many fans and experts and Virender Sehwag, Ajay Jadeja were among those experts.
It was all surprising as less than 24 hours ago, Kohli himself had said at the pre-series press conference that Sharma will open the innings with KL Rahul. Yet, the Indian captain said that Rohit has been rested for the first couple of T20Is.
The decision to rest Rohit backfired heavily as India succumbed to an embarrassing eight-wicket defeat. Speaking on CricBuzz Live, Ajay Jadeja criticized the decision of team to rest Rohit Sharma, stating that no batsman wants to take rest when he is in such good form. He added that this is the exact thing that England did in the Test series for which they ended up playing heavily.
"No batsman wants to rest. This game runs on rhythm, so when you are in form, you always want to continue batting. This is exactly what England was trying to do in the Test matches. They rested their key players and the scoreline says it all," Ajay Jadeja said on the show.
After this, Sehwag soon jumped on the wagon to fire some shots at captain Kohli.
"It was said that Rohit Sharma will take a break in a couple of matches, but does this rule apply for Virat Kohli as well. As a captain, I don't think he comes and says that I will take a break for the next two or three matches. I don't remember a time captain Kohli has taken a break by himself. If the skipper is not taking a break, so how does he give others the break? That should depend on the player," Sehwag said on the show.
Sehwag said that given the form that Rohit Sharma was in during the Test series, he would have been a great addition to the team. Rohit was in superb form with the bat in the Test series. He scored 345 runs in 7 innings at an average of 57.50. Rohit was India's highest run-getter and in good touch with the bat.
"If Rohit has played the four Tests and performed well and he is in form, so he would be waiting desperately to get back to white-ball cricket and transfer that form. In Test cricket, you don't get the freedom to express yourself, so when the white-ball comes players generally think 'why should I defend when I can bat freely, hit fours and sixes while entertaining myself and the crowd as well'," Sehwag further added.
Sehwag then went on to raise the question that if Rohit comes back in the side, will Kohli take his share of rest.
"So the question is whether Virat Kohli will rest himself when Rohit comebacks and plays? Whenever you feel like, you (Kohli) give a break to Rohit, Ishant Sharma, Mohammad Shami, Jasprit Bumrah, but the same doesn't apply to you?"