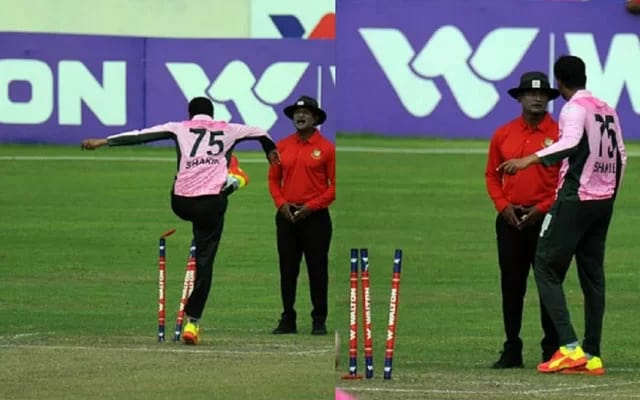 Shakib Al Hasan Mis Behave | Source: Twitter
Bangladesh's star all-rounder Shakib Al Hasan vented out his frustration on the field after the umpire signalled not out over his spirited appeal. Not just this, he even went on to kick the stumps in anger after seeing his LBW appeal didn't work, before furiously arguing with the umpire.
A Twitter user uploaded a video of the incident, slamming Shakib Al Hasan for his unsportsmanlike behaviour.
It all happened during a Dhaka Premier League (DPL) match between Mohammedan Sporting Club and Abahani Limited when the all-rounder showed dissent at the umpire's decision in a rather distasteful manner.
During a match, Shakib twice lost his control and was seen kicking and uprooting the stumps and arguing with umpire both the times.
The first incident took place after the all-rounder made a huge LBW appeal against Abahani and his Bangladesh teammate Mushfiqur Rahim, but umpire signalled not out both the times.
Furious with the umpire's decision, Shakib went back and kicked the stumps and got into a heated argument with the umpire.
Watch Video: Shakib-Al-Hasan Misbehaves With Umpire
In the second incident, Shakib was seen charging towards the umpire with the batsman leaving the pitch. After coming close to the umpire, the cricketer uprooted all the three stumps and once again started arguing with the official.
Watch Video: Shakib-Al-Hasan Angrily Rips Stumps
The Shakib Al Hasan umpire fight video went viral in no time and drew a lot of responses. Several reactions poured in as fans slammed the cricketer for his unacceptable behaviour and asked for him to be punished severely. Here's a look at how fans reacted to the Shakib Al Hasan umpire fight video.