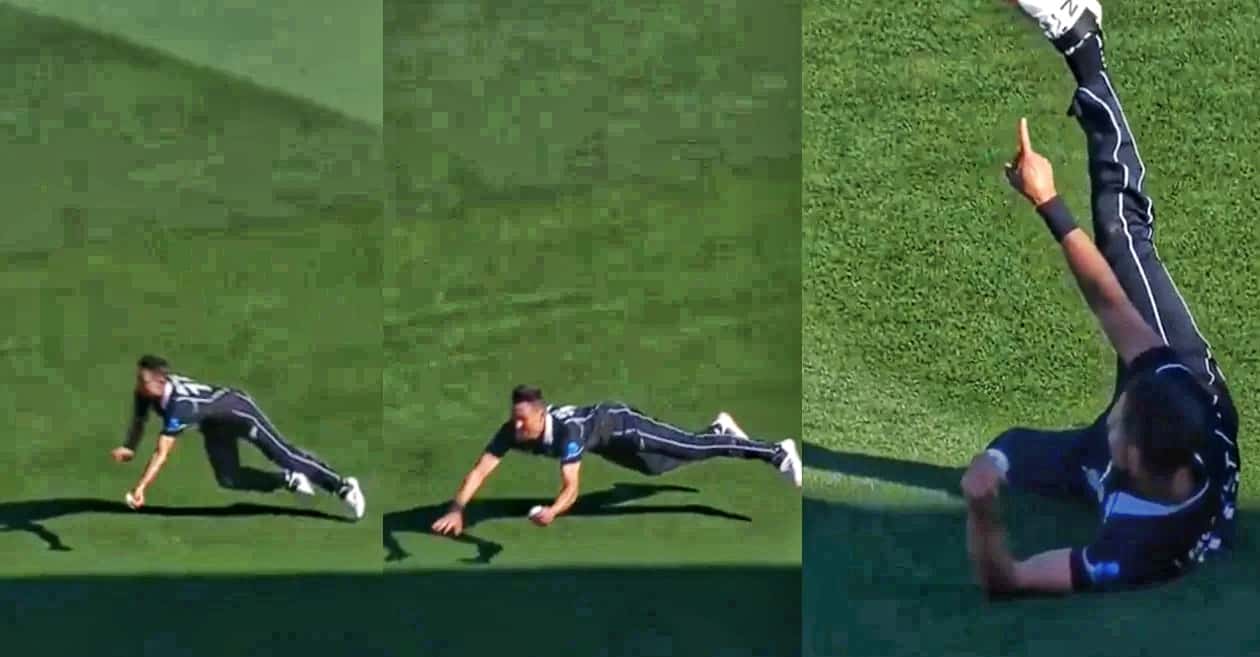 Trent Boult | Source: Twitter
New Zealand fast bowler Trent Boult is one of the most skilful fielders in world cricket at present. His athleticism was on display once again on Friday in Wellington against Bangladesh where he took a stunning one-handed catch to dismiss Liton Das.
The pacer ran full tilt to his left and dived full length to snap the ball in the air by one hand, holding on quite literally by his fingertips. It was a stunner of a catch, to be watched on repeat as he threw himself parallel to the ground and plucked off the catch with his outstretched hand.
The wicketkeeper-batsman was looking set at 21 with three boundaries, but in an attempt to pull a short delivery by Matt Henry, he lost his wicket.
Watch Video:
Earlier in the match, Bangladesh were invited to bat first and were at 130/2 in the 31st over. Opener Liton Das went for a duck, while coming in at third Soumya Sarkar made 32 and assisted Iqbal before he was sent back. Meanwhile, Iqbal had earlier survived a close call when he was given not out by the third umpire. He made good use of the lifeline and went on to score 78 runs off 108 deliveries.
The veteran batsman was set and looked to convert his impressive score into a century, but a mix up in the middle with Mushfiqur Rahim saw him walk back to the dugout.
In the 31st over, the duo attempted to steal a single when Rahim dropped the ball down in the crease near Iqbal and called for a single run.
The Bangladesh skipper who was at the non-striker's end responded but was unaware of Neesham's fancy footwork. The Kiwi all-rounder quickly ran forward and flicked the ball with his left leg onto the stumps. His attempt was full of precision as the ball hit the stumps and left Iqbal run out as he was found short of his crease.