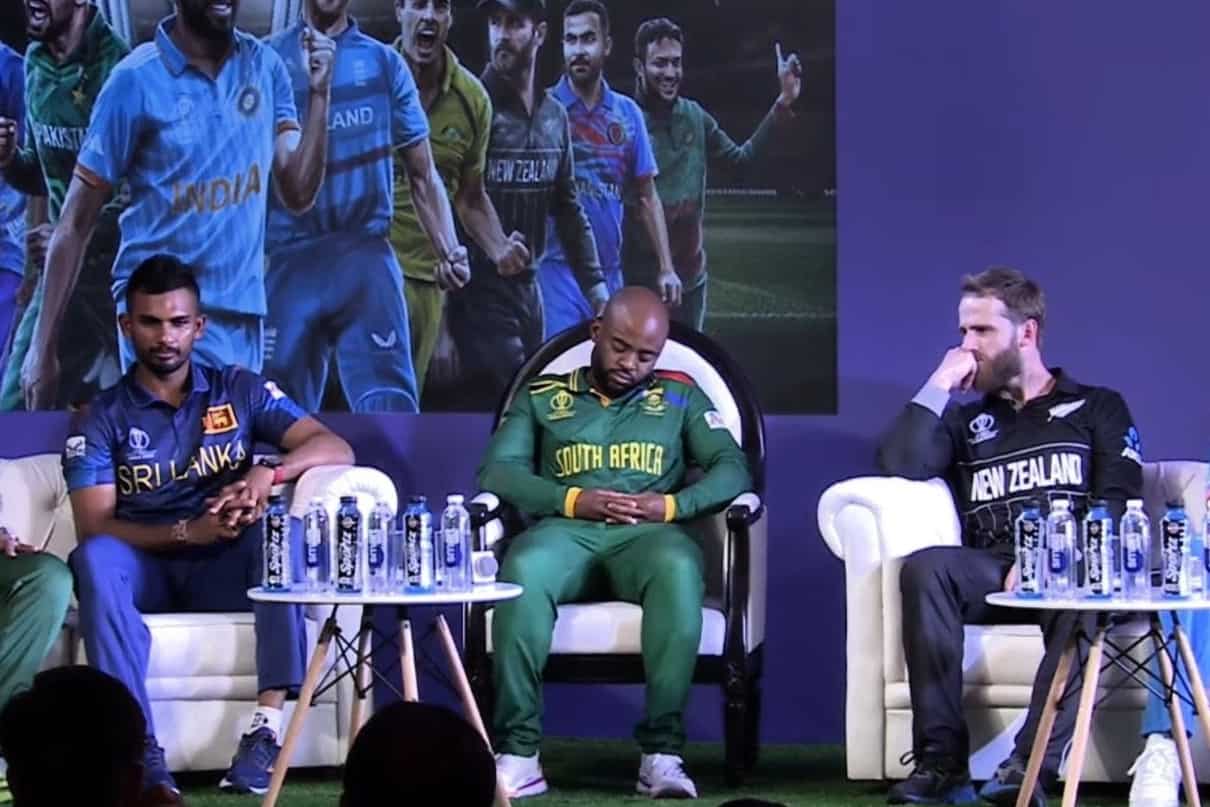 Temba Bavuma sleeping during ICC World Cup 2023 event | Source: X.com
With the ICC World Cup 2023 just around the corner, set to begin in India on October 5, it seems that the excitement shared by fans globally doesn't quite extend to South Africa's captain, Temba Bavuma. 
The South African captain, Temba Bavuma, dozed off during Wednesday's ICC Cricket World Cup 2023 Captains Day event in Ahmedabad, just a day before the tournament's commencement. 
Bavuma was spotted taking a nap while the event was in progress. Notably, the South African skipper recently travelled back to South Africa for the family emergency before reuniting with the team this week. 
While the rest of the South African squad was in Delhi preparing for the opening match, their captain had to fly to Ahmedabad for the event. With all the travelling, Bavuma likely didn't get a chance to sleep and must have been exhausted.
While speaking at the event, Temba Bavuma discussed the experiences of South African players when it comes to playing in India. Many members of the Proteas squad have had the opportunity to participate in the IPL.
However, Bavuma doesn't consider this experience to be a unique advantage, as other teams also have IPL-seasoned players in their squad. Here's what Temba Bavuma had to say:
"It is something relevant to all the teams lot of the teams have guys who play in India and have done well in India I wouldn't really say it is an advantage for us all we can really do us is guys who have that experience and knowledge they can share it amongst teams or use it in terms of strength and plans I wouldn't say it is an advantage unique to us as a team."
The ICC World Cup 2023 is set to kick off from October 5 with the final of the tournament set to be played on November 19. South Africa will open their tournament campaign against Sri Lanka on October 7 in Delhi.