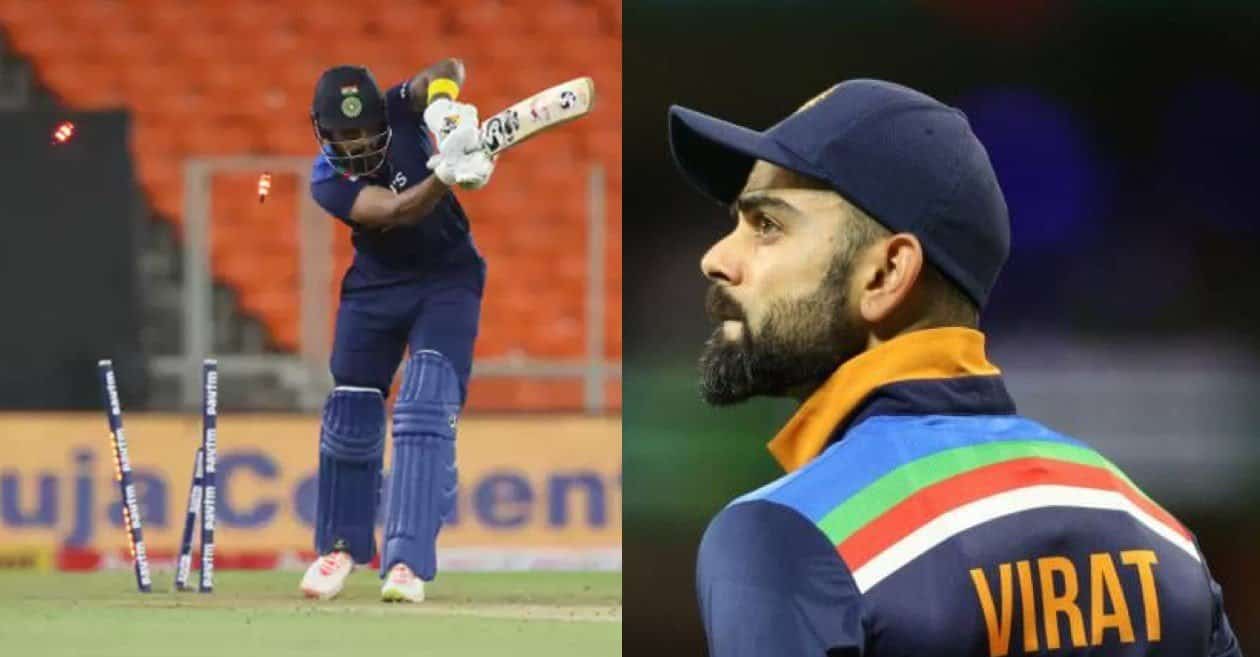 KL Rahul and Virat Kohli | Source: Twitter
India faced a humiliating defeat in the third T20I at Narendra Modi Stadium in Ahmedabad on Tuesday (March 16). The hosts got off to a disastrous start after being asked to bat first as opening batsman KL Rahul was dismissed for a duck in the very first over of the match.
Rahul, who performed brilliantly with the bat last year, has been going through a lean patch with scores of 1, 0, 0 in his last three T20Is. He may have registered consecutive ducks in the last two matches, but KL Rahul has received the backing of India captain Virat Kohli, who feels the batsman is a 'champion player' in T20 cricket and continues to be one of the key India batsmen along with Rohit Sharma at the top.
Asked about Rahul's lean run at the post-match presentation, Kohli told host broadcaster Star Sports that form in T20 cricket could turn around anytime, pointing to his own example where he shrugged off a run of poor scores to hit 73* and 77* in the last two T20Is.
"Well I was going through a lean patch about two games ago," Kohli smiled.
"These things turn around very quickly. For us, he's been a champion player. If you look at his stats in the last two-three years, they are probably better than anyone in world cricket in T20s. He'll continue to be one of our main batters along with Rohit at the top of the order. We don't have any concerns there. T20 is a game which is a very instinctive game. We know once he starts playing positively and a few shots come off, it's a matter of five-six balls in this format and suddenly you're back in this zone."
Vikram Rathour Backed KL Rahul as T20I Opener
Batting coach Vikram Rathour have also unequivocally backed Rahul, describing him as among the best in the world, and in Team India.
"Anybody can have a lean phase," Rathour said at the post-match press conference.
"Last one year, I think KL has been our best batsman in the T20 format. He's averaging more than 40 with a strike rate of 145 [Rahul averaged 44.70 with a strike rate of 141.52 since January 2019 till the start of this series]. So three failures does not change that fact, that he's maybe the best batsman we have in that format, and he's done really well for us in the past year. I think this is the time that, as a team, we need to support him. Absolutely sure he will come out of this lean phase that he's going through."
Rahul's last 10 T20I innings give fans a sorry picture. He has scored 250 runs at an average and strike rate of 27.77 and 121.35 respectively which also includes a couple of overseas half-centuries. With massive competition for the opening slot, Rahul would have to get back in touch.
Rathour, at the same time also cleared that the team management were aware of what their best XI was, and intended to continue backing them.
"It's great that we have this kind of bench strength. People are doing well and we have lots of players who can fill up places in case we need them," he said.
"But as a team management, we know and understand which is our best XI, and those are the players we need to back. So unless there is a real, real big fall in form or some injury, I think we should stick to our best XI and hopefully they'll come good.
"Whoever is the player we feel will do the job for the team should be playing. People go through lean phases, that happens in cricket. Sometimes you will get out early. But if you're talking about KL Rahul again, he's done so well for us in the past year, a couple of failures does not change the fact that he is one of the main players we have for this format."